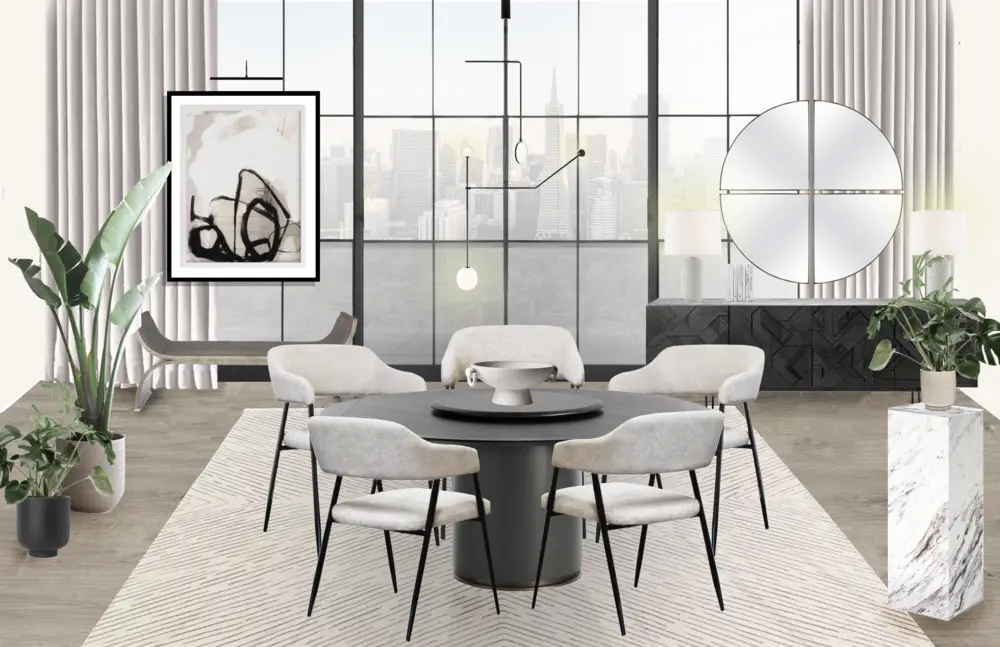 I'm back at it again giving you a play-by-play of another one of my e-design projects! This time, it's a dining room design!
Dining rooms are a fairly simple room to design, but that's also what can make them so difficult. There isn't much furniture to pick out other than the table, chairs, and maybe a credenza or bookcase, so you need to make your choices count.
Lighting is also a biggie when it comes to dining rooms. Setting the mood is a must for any room, but especially in the dining room! Let's face it… none of your guests want to sit under bright and stark lighting at your dinner party. But, that's not to say you don't need that type of bright light- maybe you and your family play board games around the table. In that case, it's perfect!
For this particular dining room e-design my client requested a simple color palette of creams and beiges with an occasional pop of black. Since the color palette is fairly soft and simple, I chose pieces with sculptural and geometric accents and ones with lots and lots of texture.
For each project, I typically choose three to five focus words to better define the style and concept of the space, and for this dining room design, my focus words were sculptural, contemporary and textural.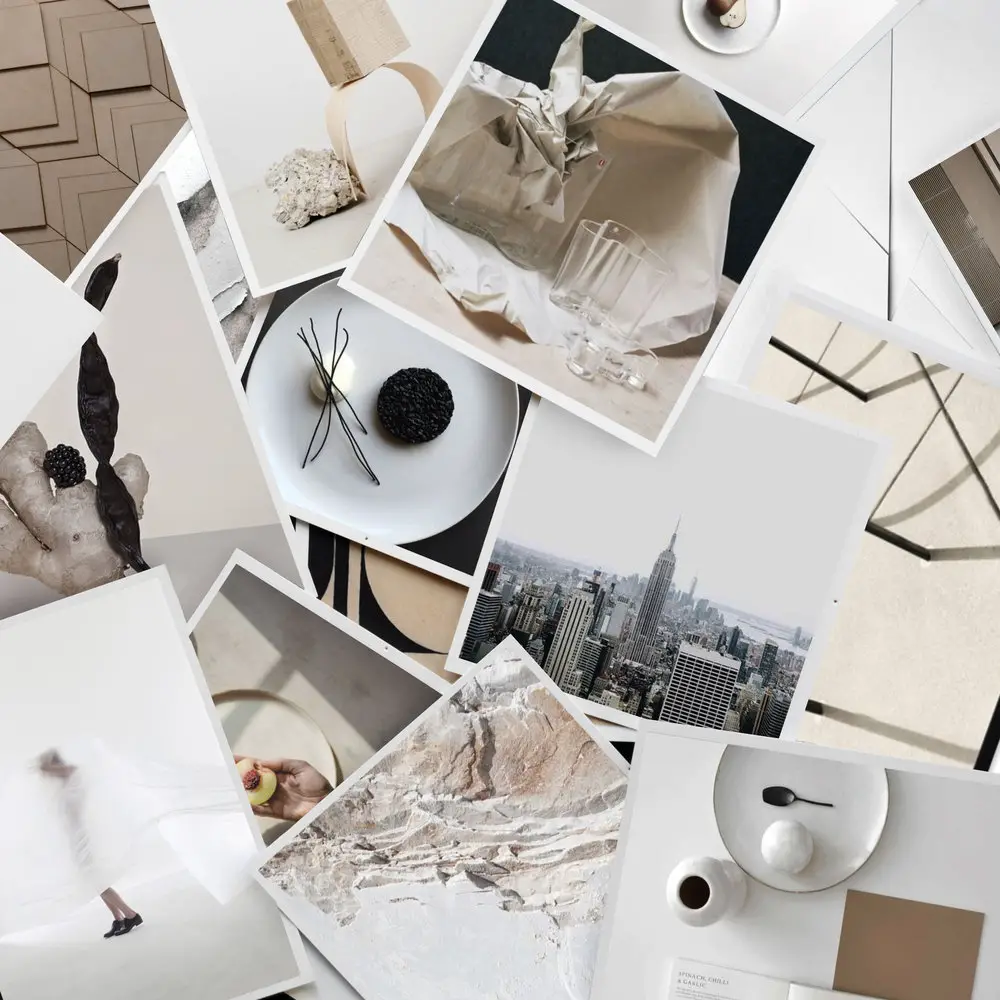 Focus Words: Sculptural, Contemporary, Textural
Ready to see how I put this dining room design together so you can get the look yourself? Let's get into it!
Furniture
Like any room, I like to start by picking out all the big pieces of furniture. For this contemporary dining room, that included the rug, table, and chairs… basically all the main components of the space.
We decided on a simple, round dining table… and, although it's simple, it's also quite a substantial piece. The round shape of the table helps to keep the flow of traffic open between the outdoor terrace and kitchen. And to offset the heaviness of the table, I chose dining chairs that have dainty black frames in a cream fabric.
Lighting
If you take a peek at the floor plan you'll notice that the dining room is open to the kitchen and island on the other side of the room. Because of this, I wanted to keep a clear visual path from the kitchen to the terrace, and vice versa. I placed a sleek and minimal black chandelier above the round dining table, which is a sculpture all on its own. It looks like a piece of art when the lights are off but also doesn't obstruct the view, no matter what part of the room you're in. The room already had can lighting, so next I focused on adding more lighting on each side of the space.
On the west-facing wall, I placed an oversize piece of artwork and lit it up by placing a simple black picture frame light above the piece in the same finish as the chandelier. Below the artwork, I placed a long, sculptural bench for extra seating, if necessary.
Accessories
On the adjacent wall, I chose a long credenza with plenty of storage. The piece looks subtle at first glance but has a ton of visual interest, texture, and geometric accents. I chose two tall table lamps to place on either side of the credenza for more mood lighting options.
In each room, there are always some weird or awkward spots that just need a little something. You know what I'm talking about? And let's just say that the corners of this room were no exception. I placed a couple of plants in the corners, as well a marble plinth to provide some visual interest and a little privacy, not to mention a little life to the space! Moral of the story? Plants and plinths are a designer's best friend for filling in weird corners and empty spots!
Savvy Tip:
Have a weird corner that needs a little something?
Houseplants and plinths are the easiest way to fill in small, awkward spaces!
Shop this look
FURNITURE
Tyshawn Upholstered Dining Chair via Wayfair | Wooden Table via ArchiProducts | Benton Bench via France & Son | Teak Sideboard via ArchiProducts | Calcutta Marble Laminate Pedestal via Pedestal Source
LIGHTING
Mobile Chandelier via Michael Anastassiades | Classic 1 Light Frame Picture Light via Wayfair | Darina Large Table Lamp via Circa Lighting
ACCESSORIES
Black Impact Wall Art Print via Minted | Wooden Plant Pot via H&M Home | Extra Large Cement Planter via Etsy | Cylinder Planter via Etsy | Vessel via ER Studio | Quarter, Handmade Contemporary Mirror in Blackened Steel via 1st Dibs
TEXTILES
Brushed Cotton Twill Drapery via Restoration Hardware | Sterling Oak via Home Depot | Performance Setta Rug via Restoration Hardware
Where you're looking for inspiration or looking to completely remodel your space, I hope this posts give you some insight about ways to design a textural and sculptural dining room of your own!
What do you think of this contemporary dining room edesign? I'd love to know your favorite part in the comments below!