Images via Anna Leena Interiors
I'm back with the third installment of Savvy Favorites! This time around, I focused on ivory, cream, and off-white rugs that have tons of texture, but are minimal enough to transition into any space. There's nothing better than laying the base for a new room with a white or cream rug. They look so chic and go with practically anything and everything!
But what about kids…and pets?!
Sure, they might not be ideal for every household, BUT you also don't have to put it in the most high-traffic area, either. Formal living rooms, bedrooms, and offices are all the great contenders for a chic, ivory colored rug. Or just have a zero-shoes-allowed-on-the-rug-or-I'm-going-to-scream policy, like we do in our house. haha!
While I was working on this post and sourcing all the rugs, I decided I needed to be a little more savvy with how I picked them. So, I'm switching it up a little and adding some parameters around each favorite I choose. From now on, each pick is either:
from an online retailer, and has a customer rating of four stars or above
a piece I've used in a design for a clientor
something that I've seen in person to approve the quality and appearance
I've also added a more realistic approach and made three different savvy favorites, depending on the price. I know… it's kind of like 21 favorites now, but I wanted you to have quality options no matter what your budget!
$ – Under $500
$$ – $500-$1000
$$$ – $1000- $2000
Images via POCO Design & Liljencranz Design
Ok, let's talk price. Prices for rugs can vary… like a lot. Depending on how it's made, where it's made, what it's made of, and ….the size. Oh the size. There's nothing worse than shopping online, clicking on a rug because it seems like such a steal, and come to find out it's for a 2×3' rug. Who wants that?!
The size of a rug is an important factor for any room, as you'll want to make sure it's large enough to fit all your pieces of furniture. I decided to choose rugs that have an approximate 8'x10' footprint. I feel like this is important because an 8'x10' rug should fit nicely in a lot of spaces. Not everyone's, but I feel like it's a good standard size to go off of.
Obviously, measure your space and plan accordingly, but I hope this gets you pointed in the right direction!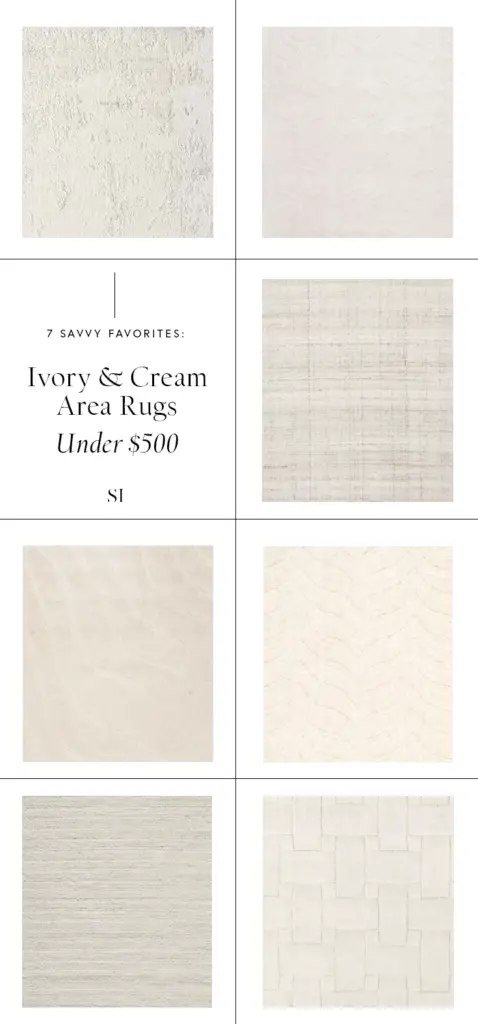 Shop Top-Rated Ivory Area Rugs Under $500
1. Mulvihill Ivory/Beige Area Rug via Wayfair
2. Ivory Honeycomb Monochrome via Rugs USA
3. Dressler Hand-Tufted Ivory Area Rug via Wayfair
4. Stacie Cream Area Rug via Wayfair
5. Ivory Carved Chevron Monochrome Area Rug via Rugs USA
6. Clevenger Hand Woven Wool Ivory Area Rug via Wayfair
7. Ivory Basket weave Wool Rug via Target
Shop Top-Rated Ivory Area Rugs Under $500
1. Laine Ivory Area Rug via Carpet Mart
2. Boucle Wool Jute Rug via Pottery Barn
3| Dalton Shag Rug via Pottery Barn
4. Catalano Solid Design Cream/Ivory Area Rug via Wayfair
5. Claverham Hand Woven Wool Cream Area Rug via Wayfair
6. Checotah Hand-Braided Wool Ivory Area Rug via All Modern
7. Mae Diamond Tufted Rug in Ivory via Pottery Barn
Shop Cream & Ivory Area Rugs $1000 – $2000
1. Sanctuary Hand Woven Silk Ivory Area Rug via Wayfair
2. Lunar Hand-Knotted Luminescent Rib Beige Area Rug via Wayfair
3. Sanctuary  Hand Woven Silk Light Beige Area Rug via Perigold
4. Erin Gates by Momeni Ledgebrook Washington Wool Area Rug via Houzz
5. Claverham Hand Woven Wool Cream Area Rug via Wayfair
6. Safavieh Mirage Hand Loomed Rug via Houzz
7. Gleam Ivory Area Rug via Perigold
What do you think of these off-white and ivory area rugs? And do you like the new parameters I put around Savvy Favorites? I'd love to know your thoughts in the comments below, and while you're there, tell me what savvy favorites item you want to see next!