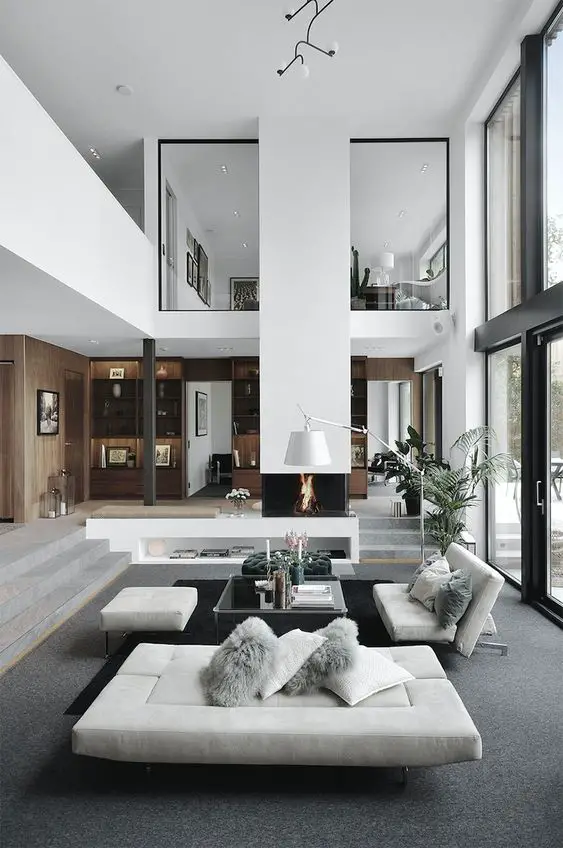 Images via  Isabella Löwengrip & Unknown
The living room is the heart of the home, just like the kitchen is. From nightly homework to a good Netflix binge, it's used for all sorts of occasions. When it comes to arranging furniture in a space with so many potential uses, an effective layout is essential for a functional and inviting space.
Not only do you want it to look great, but you also want it to be functional for every way you might use it, right? So to help you with planning a layout for your own living room, I'm sharing five foolproof floor-plans, plus a couple of tips and tricks for arranging furniture!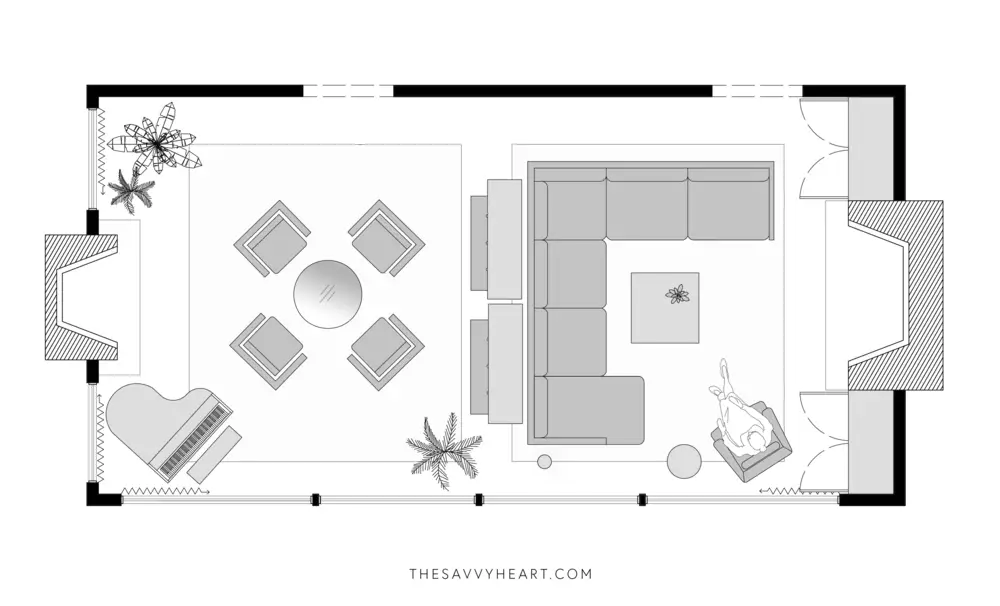 Layout Idea #1 | A living room with a double entrance
In this first floor plan, the living room has two entrances and two fireplaces, so I separated the room into two different seating areas; a lounging area and an entertaining area- each focused around a fireplace.
I placed a sectional sofa by the largest fireplace and placed two console tables behind the sectional to create a divider between the spaces. In the second area, there are four swivel chairs surrounding a large coffee table. Perfect for sipping some wine and talking with friends, or for kids…they'll love a chair that swivels! If you're looking for a swivel chair, be sure to check out my post, "7 Savvy Favorites: Swivel Chairs for a Modern Living Room"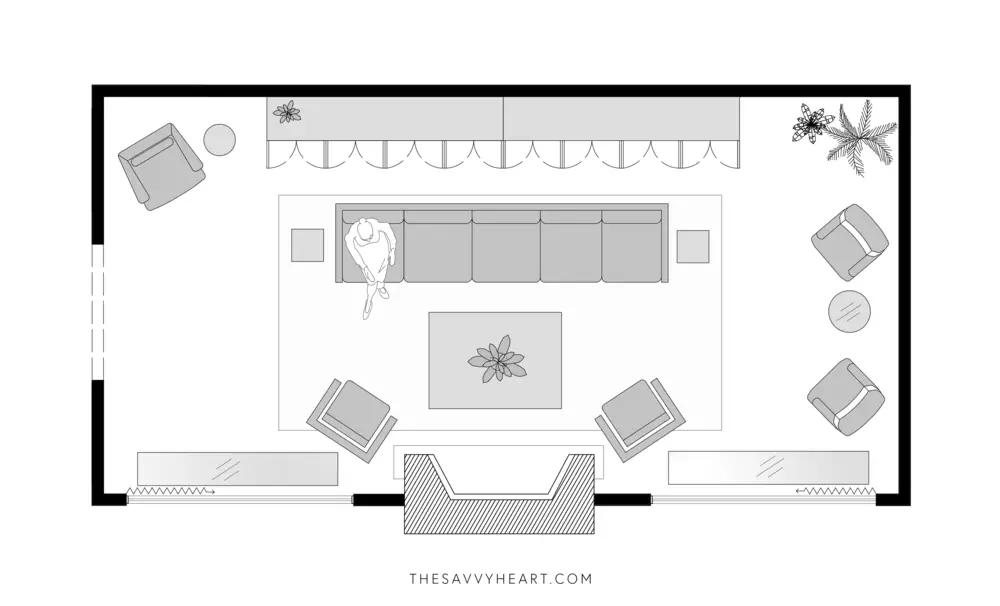 Layout Idea #2 | A long and narrow living room
In this second idea, the entrance is on the shortest wall, so I kept the foot traffic flowing in a linear, central path throughout the room. I placed a sofa parallel to the fireplace, and for balance, I placed two chairs facing it and used matching console tables on both sides of the fireplace. I love me some symmetry!
On the back wall, I placed two huge bookcases to add some height and help balance out the fireplace wall. You could also fill the entire back wall with bookcases if you wanted to! Go big or go home, right?!
To finish, I filled in the remaining areas with some accent chairs and small tables, perfect for games and reading.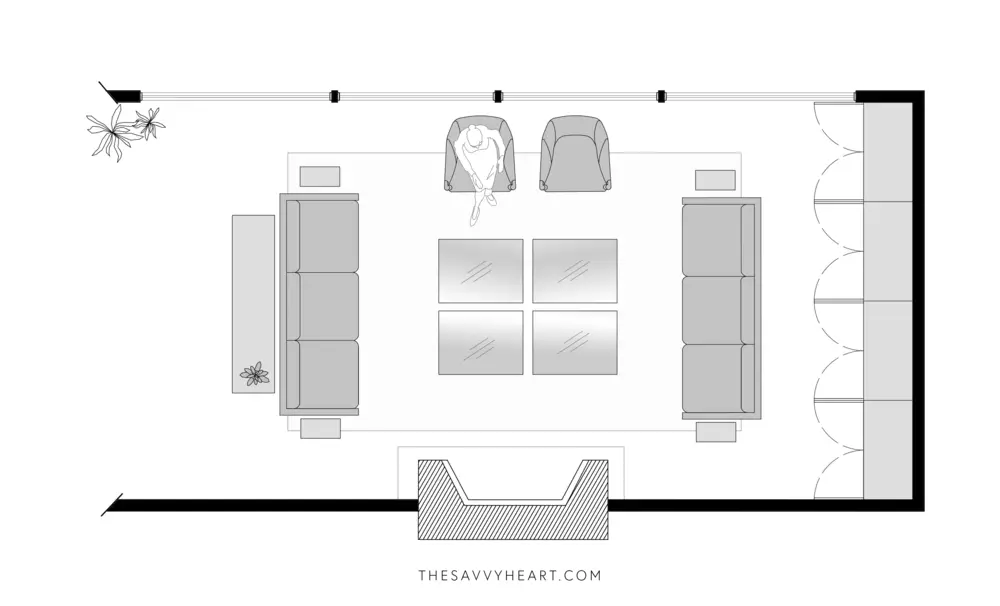 Layout Idea #3 | A long and narrow open concept living room
This third example is similar to number two, except it has more of an open-concept. I started by defining the space with a rug and placed two identical sofas at opposite ends and then balanced out the window wall with a couple of accent chairs.
As for the coffee table, only one would have been TINY for this type of layout, so instead, I placed four identical coffee tables next to one another, creating the illusion of one large one. You can also achieve this look with ottomans, for a more versatile approach! When in doubt, double up…or in this case, quadruple up!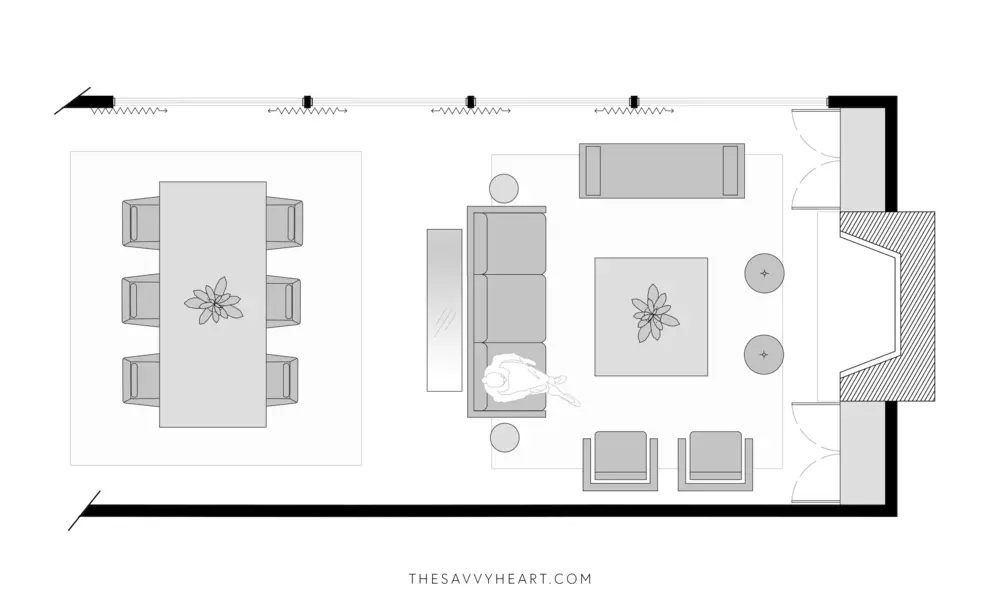 Layout Idea #4 | A living room open to the dining room
In the fourth example above, the living room is directly open to the dining area, so to create some separation, I started by placing a console table and sofa facing the fireplace. A large rug also helps to create a boundary for each seating area. To keep it as open as possible, I opted for a long bench/daybed along the window wall and two chairs on the opposite side.
Two small stools sit in front of the fireplace, which can easily be moved around the space, depending on what activity is going on.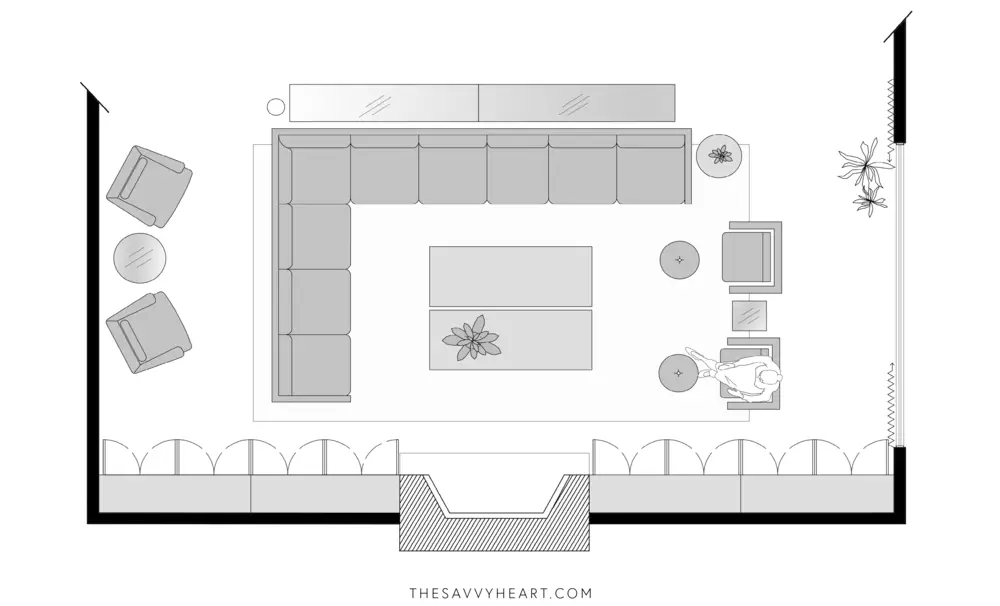 Layout Idea #5 | A large, open concept living room
This last example is perfect for a large living room that is connected to another room, like a kitchen or dining room.
I created one sitting area with an enormous sectional and balanced it out with two side chairs. I placed two coffee tables side-by-side to create the illusion of one large table. On both sides of the fireplace, the plan shows built-in bookcases, but if you don't have built-ins, you could opt for console tables or a credenza. And to pull it all together, I placed two small accents chairs with another table for an additional seating area. It's all about mixing up those seating arrangements!
I hope that these five furniture layout ideas will give you some inspiration for your living room! If you're looking for more furniture layouts and space planning tips, check out my e-design services. Also, be sure to snag this free download: 17 Floor Plans Ideas for Rectangle & Square Living Rooms, or check out the Savvy Room Planner where you can create your own floor plan and test hundreds of ideas!
Until next time,
Cheers!