If you're shopping for the home décor lover in your life and looking for a few gift ideas, you're in the right spot! Since I happen to be a home décor lover myself, I thought it was only fitting that I round up 15 modern home décor pieces that any home décor lover would want!
The best part? All the home decor items are from small businesses on Etsy!
I hope you'll find these gift ideas for the home decor lover helpful, and hopefully, you'll get introduced to some small businesses you've never heard of!
Ok, enough chit-chat, let's get into my fifteen picks!
---
no. 1
Glass Pitcher from Shop Vanilla Bean
You may think pitchers are only for entertaining, but I use one every single day! Am I the only one?
Every morning I fill up a large pitcher of water. Sometimes I'll add mint or cucumber if I'm feeling fancy… and it's my cute reminder to get my daily water in!
And speaking of cute… this gorgeous pitcher by Shop Vanilla Bean would give anyone the motivation to drink more water. And when it's not in use it'll also look cute styled on a shelf in the kitchen- a total win-win!
---
no. 2
Linen Calendar Book from Kajet Handmade
With the new year right around the corner, what's a better gift than a new calendar?!
But let's skip that glossy pin-up calendar and step it up for 2021 with this gorgeous linen book calendar by Kajet Handmade!
I love that it looks like a beautiful coffee table book, which means it's going to look amazing on a bookshelf or a desk when it's not in use!
The home decor lover in your life is going to be obsessed… trust me.
---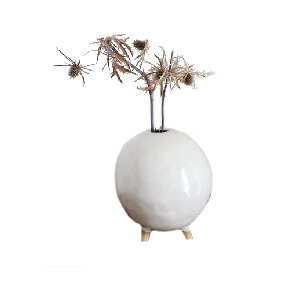 no. 3
Round Vase from Rachel Imsland
If you're looking for a no-fail gift that'll be a hit with the home decor lover in your life, then go with a beautiful vase and fresh flowers!
This cute white vase by Rachel Imsland is so unique but so simple. The white glaze is the perfect choice because it will go with all different décor styles.
---
no. 4
Marble Dish from Noble House Studio
I love a good trinket dish, not to mention they're such an easy gift because you can use them for anything!
I've said this before and I'll say it again… the best gifts are the ones that the recipient will use every single day!
And this beautiful marble dish is something they'll not only use, but also decorate with – perfect for the home decor lover in your life!
(p.s… it also comes in white!)
---
no. 5
Knot Candle from Special Interest Goods
Candles are one of my go-to gifts, and how chic is this knot candle by Special Interest Goods?!
Curvy furniture and home decor pieces have been a huge trend this year, so this knot candle is perfect for the trendy home decor lover in your life!
Special Interest Goods has so many shapes to choose from, and the best part is, is that they're under $20!
---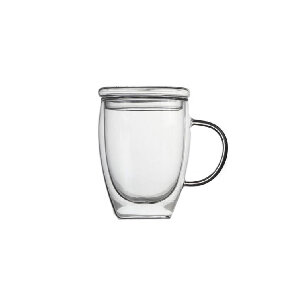 no. 6
Insulated Mug from Blooming Flower Tea
These insulated mugs are about as good as it gets, and they're becoming all the rage!
If you've never had your morning coffee in one of these, you're missing out!
The double walls prevent heat transfer, so your drink stays hotter for longer. And as far as a mug goes… these are some of the best looking ones you can find…plus this style comes with a lid, too!
---
no. 7
Marble box from RB Stoneage
I love a decorative box… I mean, who doesn't?! And when it's made from marble, how can you say no?
This cute marble box by RB Stoneage is the perfect gift that's not only beautiful and timeless, but also super practical!
The home décor lover in your life will be obsessed!
---
no. 8
Leather File Folder from nobrand
Shopping for a home décor lover that's also a student or entrepreneur?
Look no further than these gorgeous leather folders that are made to last a lifetime- ideal for making everyday life a little more beautiful.
Bonus points: Get it monogrammed for a personal touch!
---
no.9
Palo Santo Dish from Lisa Bloom Pottery
Palo Santo is a favorite in our house- the smell isn't overwhelming or too perfumey… but finding a dish to put it in can be a struggle.
Well…guess what? This dish by Lisa Bloom Pottery was made with Palo Santo and brick incense specifically in mind!
There's a spot for the Palo Santo to sit while burning! Genius, right?
Pair this little dish with a few sticks of Palo Santo for the perfect gift!
---
NO. 10
Incense Holder from The Art Room Ceramics
If the home decor lover you're shopping for loves incense, then a chic incense holder is a must! 
The ceramic material makes cleaning up the ash super easy… not to mention it would look great sitting on a table or bookshelf when it's not in use! And that's really what home decor lovers care about, right?
---
no. 11
Mud Cloth Pillow from Colin & Finn
These mud cloth pillow covers have been a huge trend this year, but they can get a little pricey… and that's what makes them the perfect gift to give!
I love these simple white ones as they'll go with almost any décor!
---
no. 12
Fluted Flower Vase from Ever Dream Craft
This ribbed and fluted texture has been a hot trend all year long, and it's still going strong!
This chic vase by Every Dream Craft is the perfect sculptural element to add to a room. Pair this with some fresh flowers for an instant, no-fail gift!
---
no. 13
Twisted Candles from MEYMY
One of my favorite ways to add some height when styling a console table or nightstand is some taper candles!
And these twisted candles take the basic taper candle to the next level! I love the twisted detail.
Gift these alone or pair with a couple of candle holders, and you have a perfect gift any home decor lover would love!
---
no. 14
Live Edge Fruit Bowl from WoodArt2600
This stunning live edge bowl looks just as beautiful empty as it does filled with fresh fruit, and would make a great gift any home decor lover!
---
no. 15
Decorative Knot from INHBT
As a home decor lover, I love decorative objects that have zero purpose and look beautiful…and my hunch is that the home decor lover in your life does too!
This black knot is on the list of beautiful objects I'm swooning over… Can't you just imagine this sitting on top of a couple of coffee table books?!
No?
Don't worry…the home decor lover in your life will totally understand!
---
There you have it- fifteen gift ideas for the home décor lover in your life!
If you're looking for some more gift ideas, be sure to check out the gifting section on my blog or Etsy's gift guides– there are tons of amazing items!!
Until next time,
Cheers!
Terra
---
Just a heads up! This post contains affiliate links. What's that mean? It means that if you click on a link and end up purchasing something, I'll earn a small commission, and you'll never pay a penny more! It's a win-win so I can continue creating free content like this! 🙂