Whether you're hosting for Thanksgiving, Christmas, or just having friends over for a weekend dinner, a nice table setting is one thing that is sure to impress your friends or family. For me, it has always been about finding that perfect balance between festive, but not too obnoxious, with a touch of modern. This simple holiday table setting that I'm going to share with you does just that. The key to this simple table setting is that it looks festive, but not overwhelmingly so and can be easily customized with different colored plates, greenery, and accents. Let me show you how to create this table setting in eight simple steps.
1 | Create a focal point on the table with some eucalyptus branches
Instead of using a traditional pine garland for the center of the table, I choose eucalyptus branches because they look slightly more modern but still feel festive. Not to mention they smell amazing. You can either trim them and make a garland, but I like to keep them in long branches because it makes for a quick setup. Line them in a row down the center of the table to achieve the look of a garland without all the hassle.
3 | Nestle in candles to create ambiance
I'm using pillar candles to keep the overall height of the table setting to a minimum for conversation.  I placed the pillar candles on our concrete tray and then added small decorative white rocks to fill the voids.  The concrete tray has a geometric shape which is a perfect contrast from all the organic shapes of the greenery.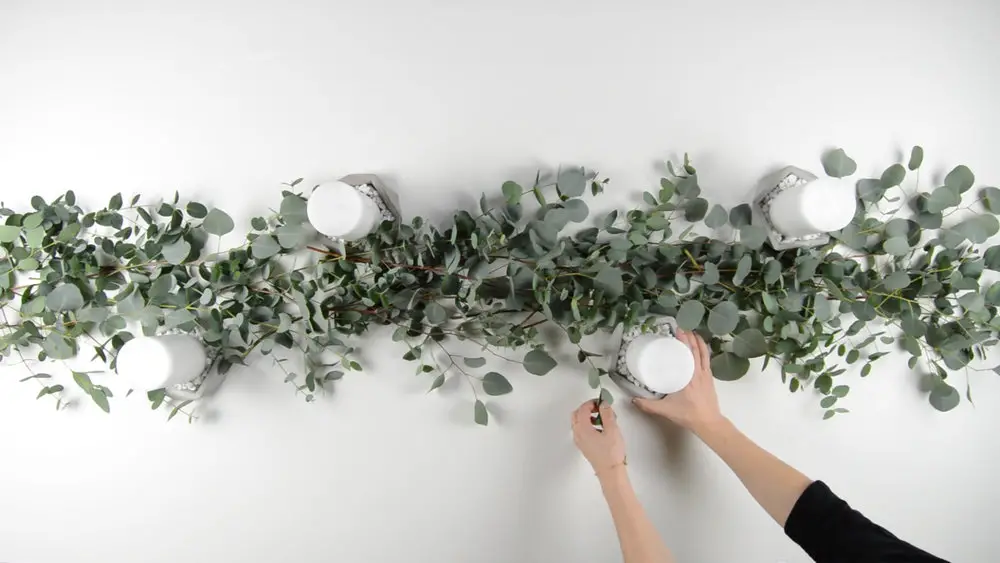 4 | Add air plants to fill in any extra holes
Air plants are a unique and low maintenance option for a table setting. They don't need much water and they will last longer than fresh cut flowers because they are an actual plant. They also add another layer and texture while complimenting the eucalyptus. To learn more about air plants, check out our blog post, "How to water and care for air plants".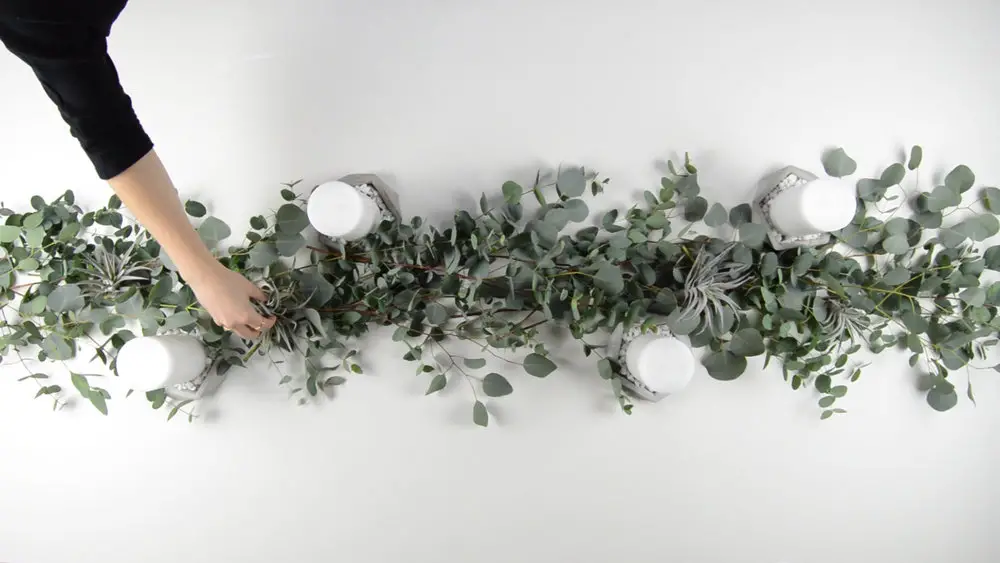 5 | Start each place setting with a large dinner plate
Start by anchoring each place setting with a large dinner plate.  I'm using these 11″ round black plates, but you could also use a charger instead of a dinner plate. I love the drama the black adds and it breaks up all the white on the table.  Remember to use a color that will compliment your table or tablecloth. 
6 | Top with salad plates
Next, add a salad plate on top of the large dinner plate.  I'm using an 8″ green plate that matches the light, muted green color of the eucalyptus and air plants. If your tabletop is a dark color, white on white plates is always a classic go-to that will always look good.
7 | Add silverware and glasses
Depending on how formal you're looking to go with your holiday table setting, the silverware and glassware can really set a specific tone depending on the amount of silverware. More formal table settings will have forks of many sizes and different knives and spoons. Of course, if you're keeping it casual, you can just stick to the basics of a knife fork and spoon. In any case, forks should be placed on the left and knives and spoons and on the right side of the plate.
8 | Finishing touches
I added an air plant on the top of everyone's plate for an added touch of greenery. And once your dinner guests have arrived, light the candles and don't forget to set the mood with a little music.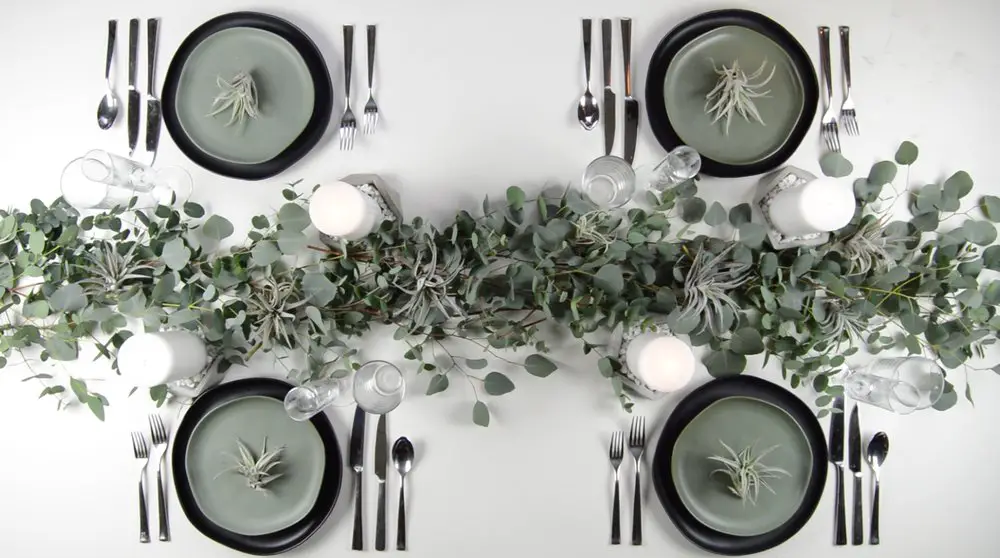 This simple holiday table setting is the perfect base to start with since you can easily add different things to customize it and add your personal touch. For example, you could add small pumpkins, pine-cones or even clear glass Christmas ornaments that have a small air plant in them. The ideas are really endless. What's your favorite thing to add to your table setting? Let me know in the comments below!