A couple of weeks ago, our intern, Emily, wrote a blog post about a couple different ways to display your art in a frame. Floating, matting and mounting to be exact. If you haven't taken a peek at that, hop over and read that post because it will give you more of an idea of what I'm talking about for this 'how to' project. But let's cover the basics quickly…
What is float mounting?
Float mounting is where all the edges of the art print or picture are exposed and then art is separated from the glass with a plastic spacer.
Float mounting because it gives your art that true gallery feel and can easily make any piece of art look more expensive.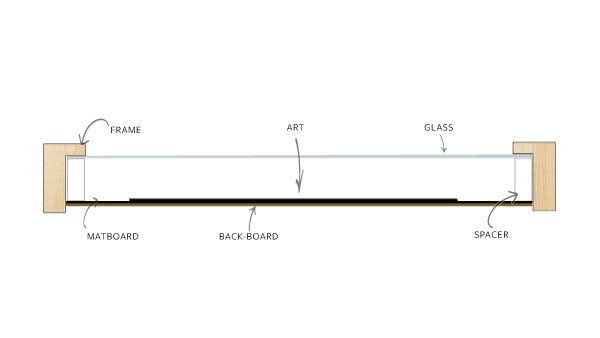 What is distance float mounting?
Distance float mounting looks very similar to normal float mounting, except the artwork is mounted to a piece of foam core, making it appear as if the art is floating in the picture frame.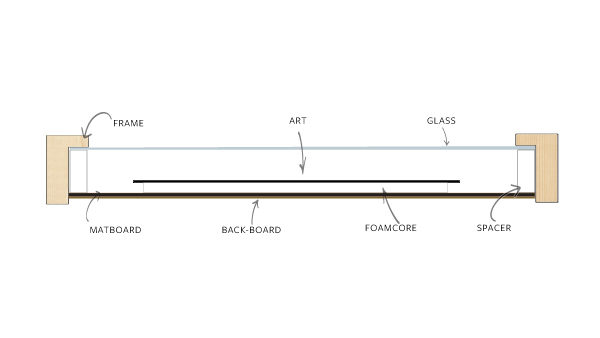 The floating style of framing is popular among museums and galleries because it allows the art to breathe and not be pressed directly up against the glass.
Letting your art touch the glass is a no-no with original drawings and finer pieces of art because there is a risk of it getting it stuck to the glass, which can cause the ink or pencil to transfer and potentially ruin it. 
There are a few particular types of art that should be float mounted, and these include:
Original drawings
Art on an interesting/ textured paper
Signed Art
Textiles
Art with unique or uneven borders
Of course, there is no right or wrong way to display framed art, it's really just a personal preference. Although, I feel like float mounting looks a little fresher than the typical matted frame.
Now that you know what float mounting is, I thought I would show you how to float mount art yourself. Specifically, how to distance float mount.
If you have ever tried to cut a mat yourself, you know it's pretty difficult and there is zero room for error. Unlike cutting picture mats, all the cuts for this project won't be visible. So if you mess up a little, it really doesn't even matter!
Let's get started so I can show you how to float mount art in a picture frame!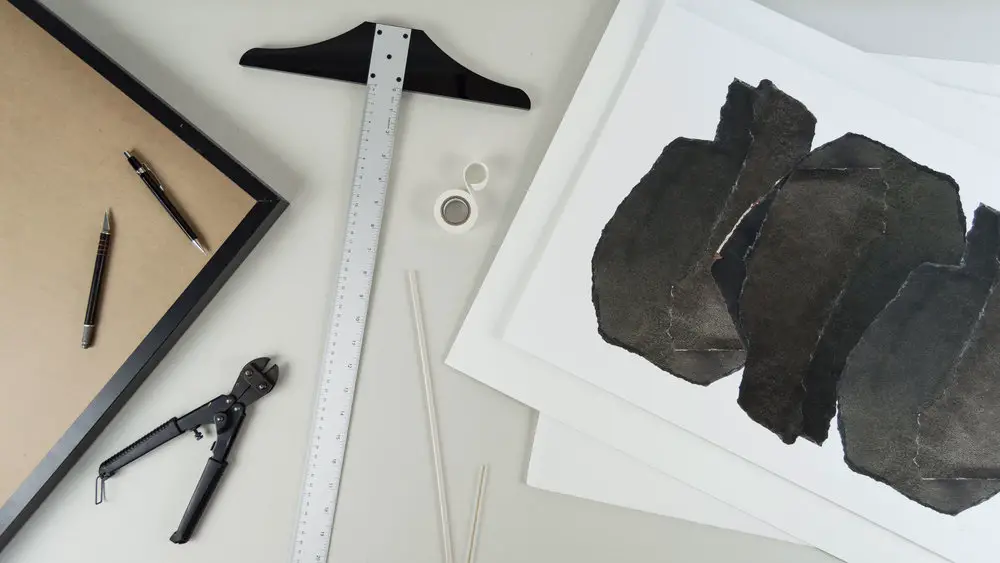 How to float mount art in a picture frame:
Cut the mat-board to the size as the backboard of the frame.
Cut a piece of foam-core about 1/4″ smaller than your art
Tape the art to the foam-core
Tape the foam-core and art to the mat-board
Measure, cut and insert the acrylic spacers  
Assemble your frame together
Materials:
Artists tape or gummed linen tape (acid-free)
Acrylic framing spacers with adhesive backing
Step 1. Cut the mat-board to the size as the backboard of the frame.
Use the backboard of the frame as a template and carefully mark and cut the matboard to that exact size. It's important to choose a matboard that works well with the art you're framing. A beautiful white or cream color is usually my go-to. If the art is drawn or printed on a smooth paper, try to find a mat-board with an ever-so-slight texture to keep it interesting. It's all about those details! 
Step 2. Cut a piece of foam-core about 1/4″ smaller than your art
I usually just eyeball this one and use the art as a reference. Foam core is a bit thicker than matboard so it might take a few slices to cut completely through it. The color of the foam core doesn't matter, although white is usually best since you won't see it through the art. 
Step 3. Tape the art to the foam-core
In a cross shape, tape two pieces of tape together and then apply to all four corners of your art. I suggest using gummed linen tape or artists tape, which is a specialty mounting tape found at art supplies and framing stores. It sticks to the art perfectly and won't ruin it if you plan on removing it later!
Step 4. Tape the foam-core and art to the mat-board
Using the same cross method, tape the foamcore onto the matboard.  You can either measure it or eyeball it to get it centered.  Press firmly with an extra piece of foamcore or matboard to make sure it adheres. Avoid using your hands to press down on the art because dirt and oil can easily transfer.
Step 5. Measure, cut and insert the acrylic spacers  
Put the piece of glass in the frame and measure the acrylic spacers to fit around the perimeter of the frame. Then, cut the spacers with wire cutters and make sure they fit correctly in the frame. Next, peel off the backing and adhere the spacers directly to the glass. These aren't permanent, so if you mess up or decided against it, you can easily remove them.
You can find these acrylic spacers at any framing supply or at a local craft store and typically come in 5-6′ lengths. They also come in a couple different sizes (1/8″ or 1/4″) depending on how far you want your art to stand away from the glass.
It's important to look at your picture frame before deciding the size of the spacer to get. In the frame that I am using for this project, notice the black tabs that keep the picture in place once it's framed. If you choose a large spacer, the tabs might not fold over the backboard once the art is in the frame. If this happens, you can pull out the black tabs and reinstall them at a different point with a tool called a dual point driver, which looks like a staple gun.
Step 6. Assemble your frame together
Next, place your artwork in the frame, then stick the backboard in and fold over the black tabs to secure it.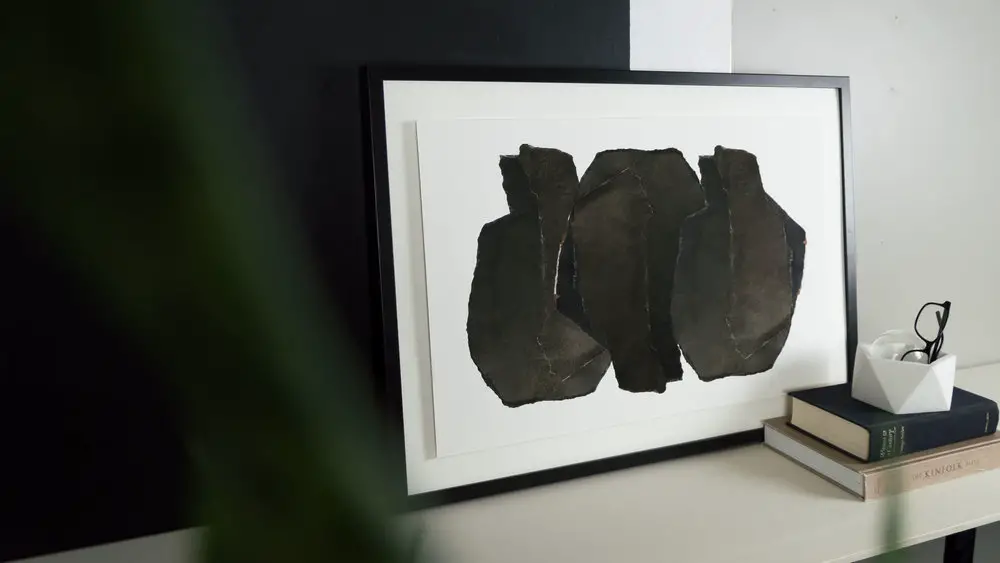 With all the different types of framing, matting, and mounting artwork, I have to say that this one is my favorite. I love, love, love the way this type of framing looks! It gives the art a bit more of a modern feel and in my opinion, gives a lot more visual interest than a standard mat.
So what do you think? Would you want to try this method the next time you have some pictures to frame? Let me know what you think in the comments section below! I hope you guys enjoyed this project about how to float mount art.