Looking for a chic way to wrap your gift for Mom this year? I got you covered. This simple gift wrapping idea only takes a few steps and it's sure to impress your Mom… I know it'll impress mine!
Growing up, my Mom would go all out for our birthdays, Christmas, and every other holiday. She wrapped all of our gifts to perfection, not to mention she bakes some insane cakes, too. So I know she'll appreciate this one! 
Ok, let's get into it…
Here's how to wrap a simple but ultra elegant gift for Mother's Day.
Materials
The gift, in a box
A mix of fresh flowers and dried botanicals/ greenery
Wrapping paper
Ribbon
Double-sided tape
Scissors
Hot glue (you may or may not need it)
Step 1. Wrap the gift
Preferably, the gift is wrapped in tissue inside a box. So the next step is to start wrapping it up.
I love using double-sided tape for gifts because it gives the finished present a seamless look, and it's one of those things that can really set apart a newbie wrapper from a pro. 
About the paper – I chose a solid black paper for two reasons. One, my Mother happens to love black just as much as I do, and two, a solid color works best for this specific look because it's an excellent backdrop for the beautiful flowers.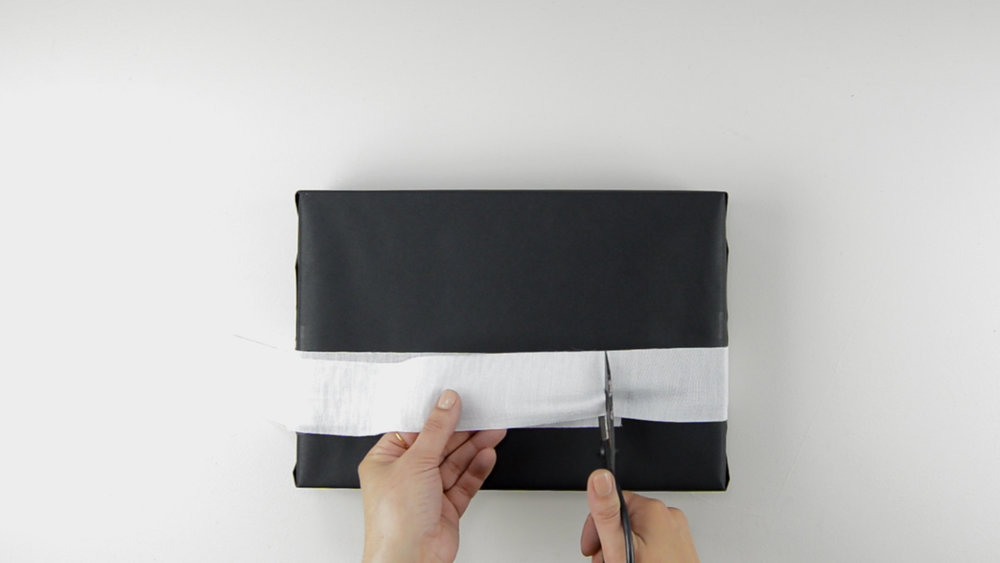 Step 2. Wrap with Ribbon
Wrap a piece of ribbon around the box, about a third of the way down and secure at the bottom with another piece of double-sided tape.
I opted for a simple, sheer ribbon that is similar to silk, which is very pliable and doesn't have wire inside of it. You can use almost about type of ribbon, just make sure the thickness is something that is flattering to the size of the box.
Step 3. Attach Dried Greenery
I used a mix of dried grasses, botanicals, and fresh flowers for this entire project, but you can use whatever you have on hand. There are so many options when it comes to dried and fresh flowers, it's hard to pick just a couple, but a simpler palette is usually better in this case. 
The black paper was already an excellent backdrop for the flowers, but I needed a little extra something, so I snipped some long grasses at a harsh angle. The sharp edges of the greenery look great contrasted against the soft flowers.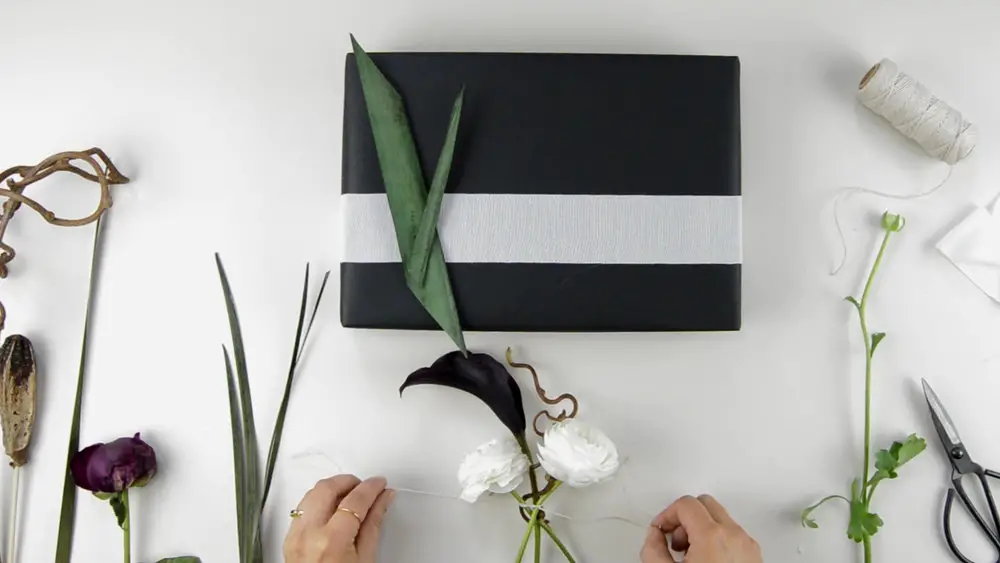 Step 4. Create a mini bouquet 
Next, create a small bouquet of fresh flowers, sticks, and dried greenery, and tie with a piece of string. (or you can use florists tape) 
Be careful of going to "weddingy" for this, unless that's the look you're going for. I decided to stick with a super simple color palette of green, a pop of purple, and then white to tie in the ribbon. The key is looking for a variety of shapes, textures, and colors, so using a mix of dried and fresh botanicals and flowers works best.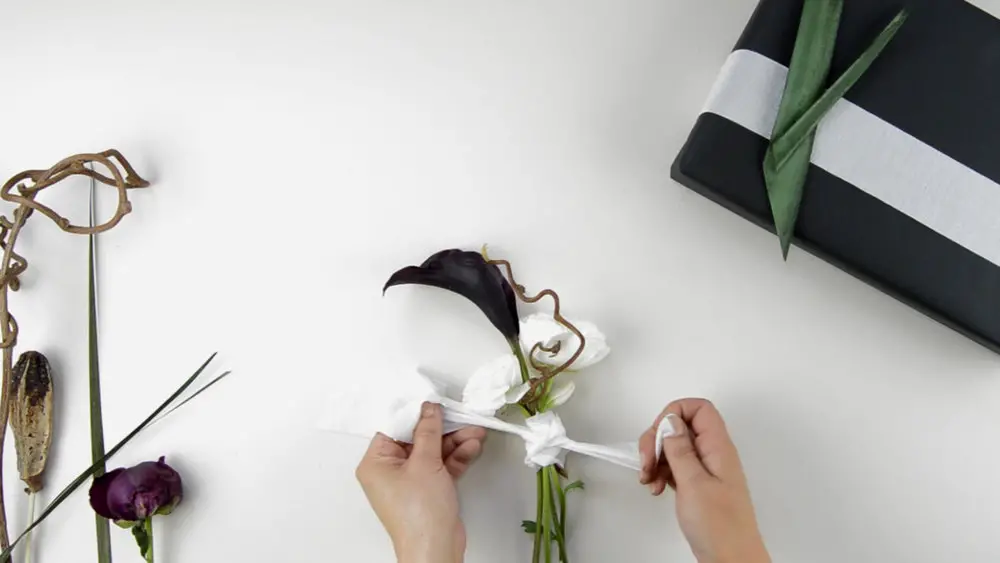 Step 5. Cover the string with ribbon
Next, you'll want to cover the string, or whatever you used to tie up the flowers. Wrap the ribbon around the bouquet a couple of times and tie. You can either knot it, which is what I did or tie it in a bow, which looks a little more feminine. 
Step 6. Attach the flowers, trim the stems & ribbon
Attach the finished bouquet to the box with either double sided tape, another piece of ribbon or hot glue. I had to hot glue it because the flowers ended up being too heavy for tape.  
Next, you'll want to trim the stems of the flowers and cut the ribbon a little shorter, if necessary.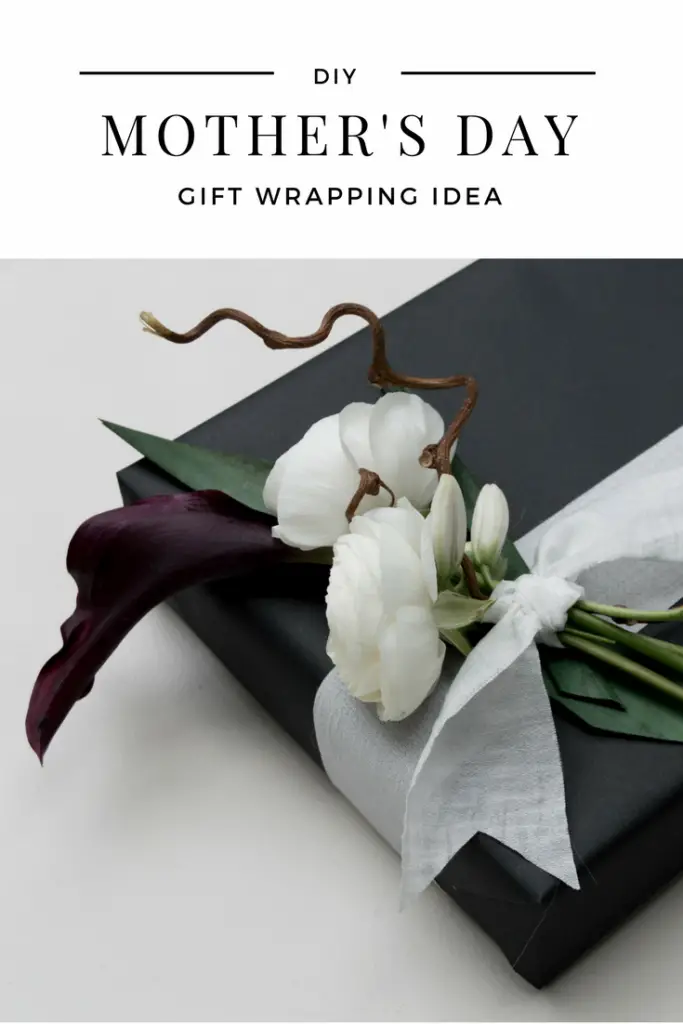 I hope you enjoyed this how-to video and post about a simple, and elegant Mother's day gift wrapping idea! Let me know your thoughts in the comments below! In my opinion, it's sure to impress Mom! And the best part? She gets a gift plus some fresh flowers- and you made it! 
Stay tuned because I have more posts and videos about gift wrapping your way!  Subscribe to our YouTube Channel or sign up for our newsletter to be to the first to receive updates and news!