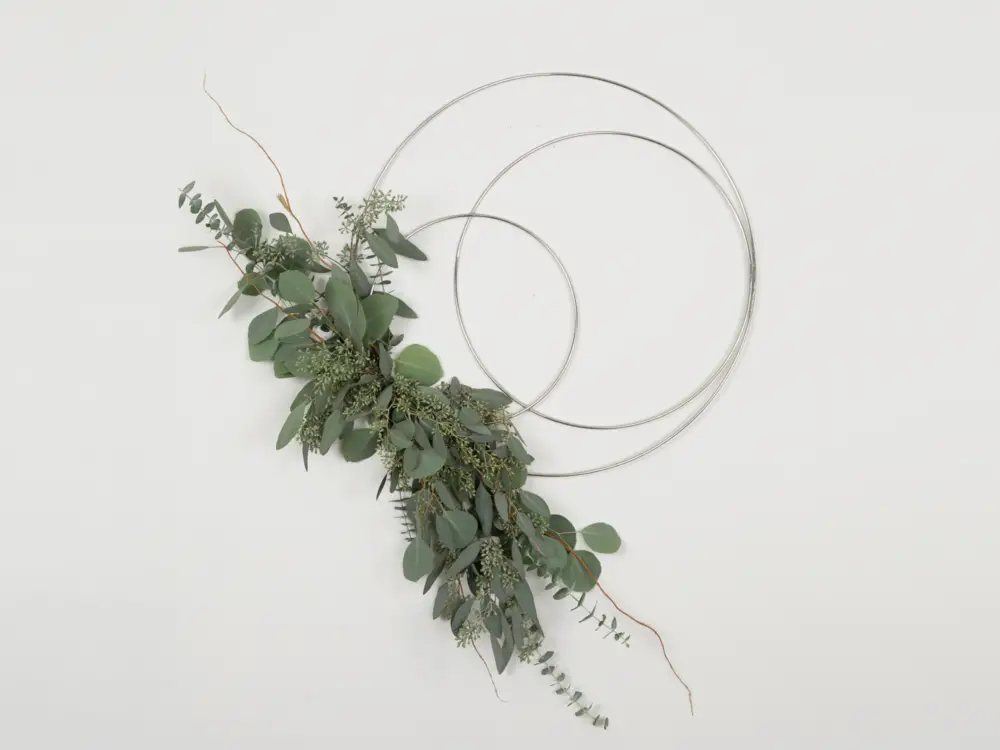 Would you totally judge me if I said I was already decorating for Christmas?
I know, I know, it's not even Thanksgiving, but it's my favorite time of the year and I like to get the most out of it, ya know?
From the tree to the garland, down to the wreath… one of my favorite parts is all the extra greenery during the holidays!
There are a couple of decorations in particular that I've been waiting all year to make, and one was a minimal wreath like the one I'm going to show you how to make today!
You may have seen similar holiday wreaths on Pinterest, but I'm stepping it up, and making mine even sleeker using silver macramé hoops to give it some modern style and a little dimension!
How to make a minimal holiday wreath:
STEP 1
Take three different sized macrame hoops (18", 12", and 9") and lay the two smaller hoops inside the larger one, until you find an aesthetically pleasing position. Apply glue in all the places that the hoops connect.
Quick tip! Build it backwards, so you're gluing on the backside, not the front side. Lay down the smallest piece first, then the middle size. I opted to use hot glue, and mine held up great, but if you want a permanent hold, use super glue.
STEP 2
After the glue dries, take different types of fresh eucalyptus and secure small bundles to the hoop with some floral wire. I attached it to just one side to give it an asymmetrical, modern look.
STEP 3
Continue attaching small eucalyptus bundles until it looks full.
STEP 4
Hang it with some ribbon, fishing line, or a nail. Easy, right?!
The smell alone makes this one of my favorite wreaths I've made to date. And the best part is that it'll look great even when it dries!
What do you think about this minimal holiday wreath? And are you enjoying this holiday-themed content? I'd love to hear your feedback! If you make the wreath, comment below and let me know how it turned out!