Can you believe the holidays are almost here!? I can't wait for all the food on Thanksgiving, especially mashed potatoes and pumpkin pie! YUM!
We aren't hosting this year, so the pressure is off! But if you are hosting, I've got you covered with a free printable that I know you're gonna love!
If you're someone who puts a lot of effort into your menu, then I bet your table setting is usually on point, too.. am I right?
Whether you're a pro or a newbie at table settings, there's no denying that there are so many different elements to think about! So, I created some free printable place cards that will look great no matter what your style is!
You probably know I'm a sucker for small little details, and place cards with everyone's name on them is no different!
These minimal place cards are perfect to step up any table setting, formal or casual. Yes, even a casual Friendsgiving!
Who says place cards need to be so formal?! Get creative and use nicknames, or forget names altogether and go with something a little more playful, like "the fun one, the cute one, the smart one, etc."
READY TO PRINT YOUR OWN PLACE CARDS?
– Download the file
– Open in Google Slides
– Change the names
– Print on an 8.5" x 11" piece of cardstock
– Cut with an exacto knife or paper cutter
– Style with a fresh flower or dried leaves
Each 8.5 x 11" sheet of paper will print 20 place cards, which is probably more than enough for dinner. If you have extra you can also tie them to wine glasses so you know whose drink is whose… or even use them as holiday gift tags! The possibilities are endless!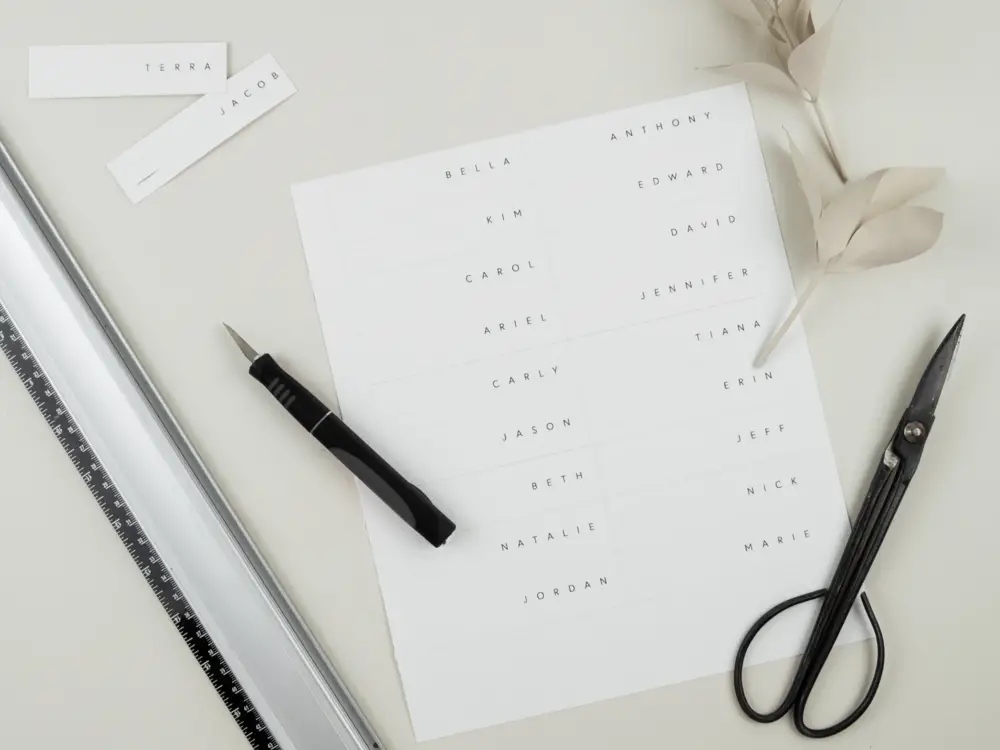 Whether you're a pro or a newbie, I hope these printable place cards help bring your tablescape ideas to life!
I love how simple this looks and how customizable these are. Even if you don't use them for dinner, there are so many other uses I can think of! What do you think about these printable place cards? Let me know in the comments below!
And if you need some more inspiration for table settings, be sure to check out "Seven Table Setting Ideas We're Loving For A Holiday Dinner."
Cheers!