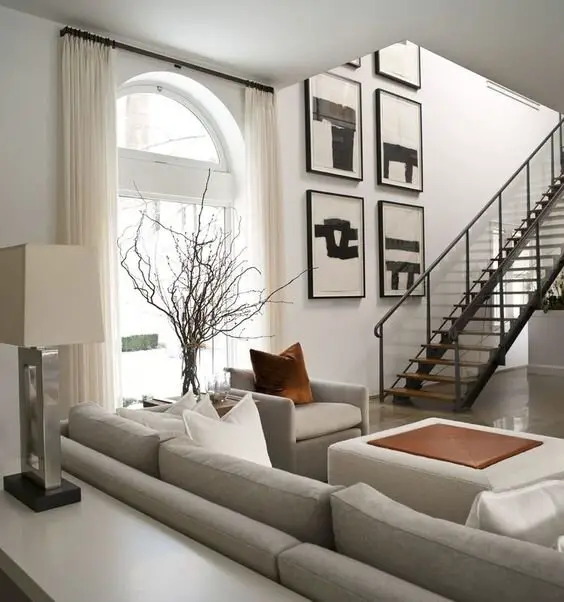 Images via M. Frederick Design & Stefano Dorata
I'm back at it sharing some more furniture layout ideas and floor plans!
If you caught my last post like this, I shared some ideas for large living rooms, but this time, let's take a look at long and narrow ones. Think New York City, San Francisco-style apartments, condos, and townhomes.
Yep, those.
I've had a couple of requests for this type of floor plan, and I understand why… it can be tricky AF! There are so many different pieces of furniture to incorporate, and you want to make sure there's a good flow throughout the space without it feeling awkward.
But don't fret, I have some awesome ideas up my sleeve that I know you're gonna love!
First, let me just preface this post by saying that there are a hundred different scenarios for this type of room and I decided to focus on ones that have a staircase.
But…even if you don't have stairs, you can easily imagine each of these scenarios without them!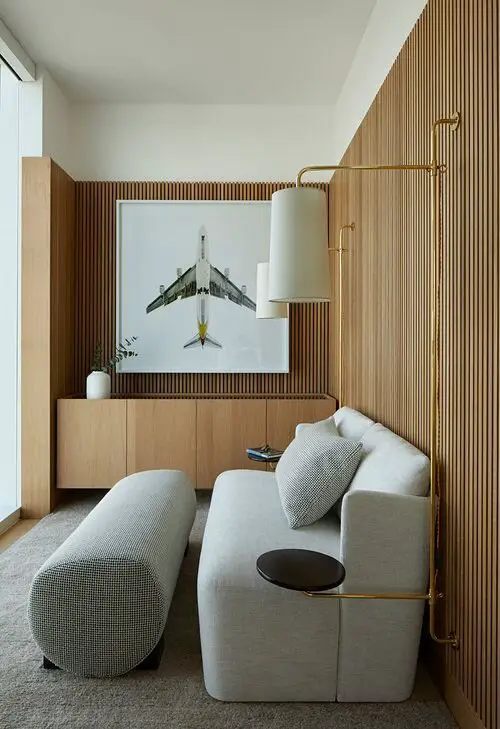 Images via Kaemingk Design & Kelly Hoppen
Before I get into the floorplans, I want to take a second and answer two frequently asked questions about arranging furniture in a long and skinny living room:
How do you decorate a long and narrow living room?
Each room is different but in general…
Place the sofa on the largest wall.
Put side tables and lamps on either side of the sofa.
Place a narrow console table on the opposite wall of the sofa, if it's available.
Next, place accent chairs around the sofa and/or sofa table. If there's no room, try small stools instead!
Fill blank wall space with artwork, bookcases, shelves, and decorative tables.
And for those weird, empty spots that are leftover? Put a plant or decorative plinth there!
How do you make a narrow room look wider?
Place your sofa on the largest wall and place a mirror above it, it'll give the illusion of a bigger space.
Pick out furniture that fits the scale of the room. i.e. If your living room is narrow, don't buy a super deep sofa.
Opt for hanging as much as possible. Hang TV's instead of using a media cabinet, and use shelves for books and decorative items instead of tables.
For extra seating, place small stools under an open console table.
Images via Stephane Parmentier & Rafael De Cardenas
NO. 01
12' x 20' Narrow Living Room with a Fireplace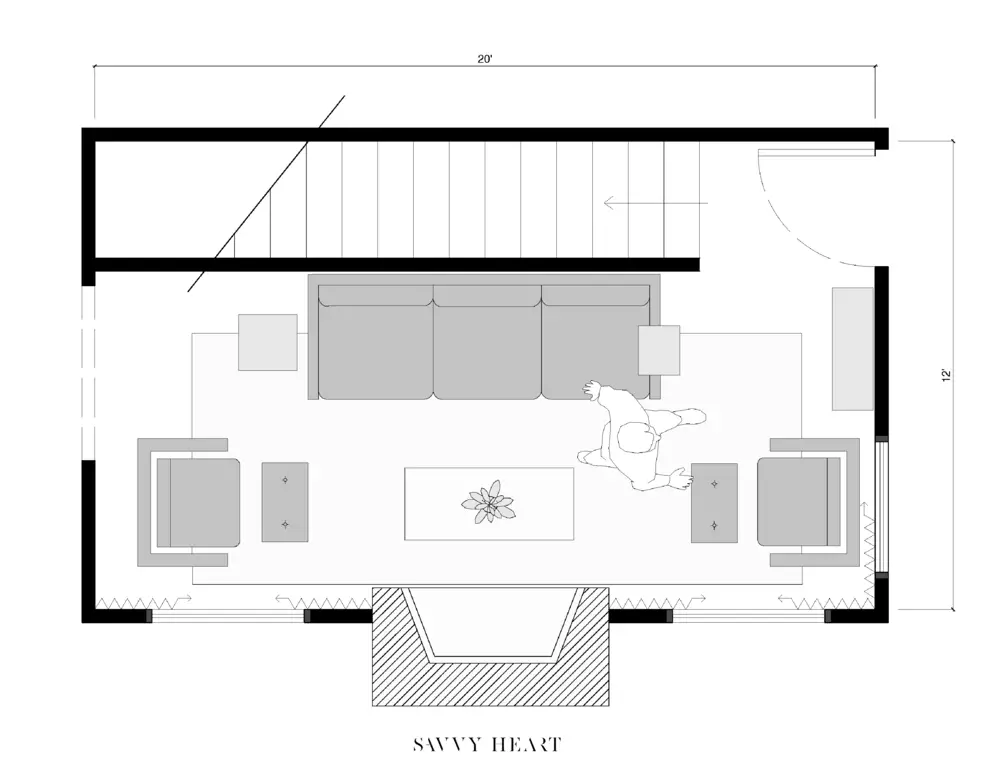 Since the fireplace is centered with windows on both sides, I tried to mimic that arrangement with the furniture. I placed the sofa on the largest wall and then put an accent chair on both sides. If I placed the chairs closer towards the sofa, I would have been left with a couple of weird spots behind the chairs. Instead, I scooted the chairs out a bit further and used footstools to make the chairs appear longer.
NO. 02
12' x 20' Open Concept Narrow Living and Dining Room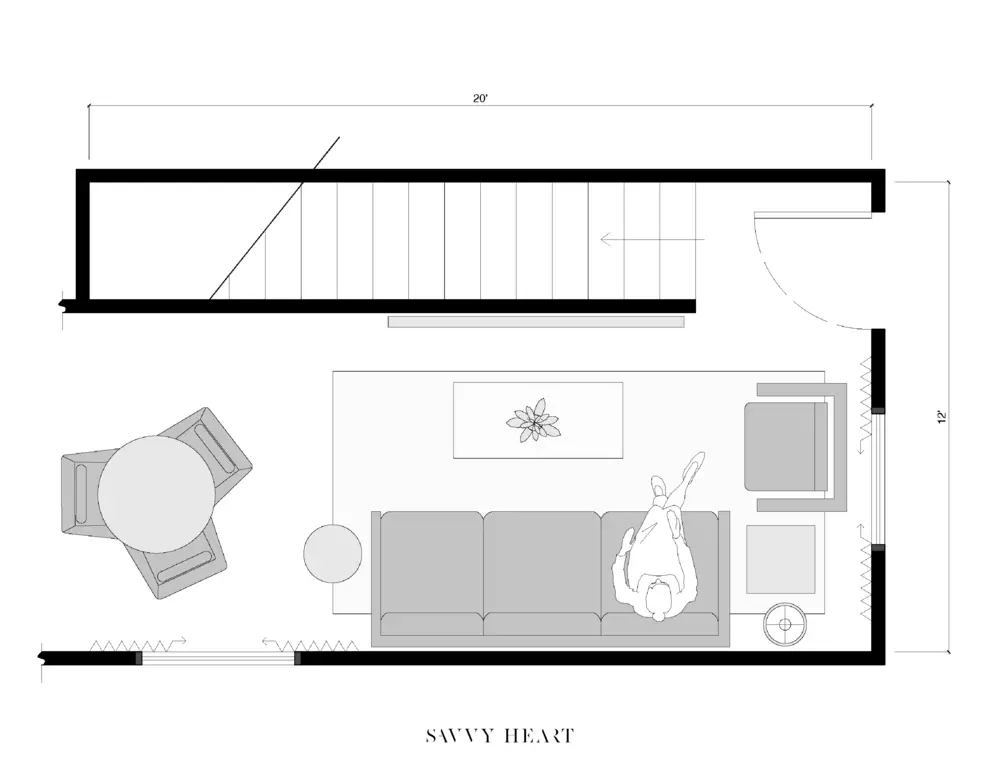 In this scenario, the living room is open up to the dining area, which then opens up to a kitchen (not pictured). I placed a sofa on the longest wall, facing the stairs, and then placed one armchair to the side of it. I opted for a round dining table to keep the flow as open as possible. You could also place a console table on the stair wall and put two small stools underneath (if you needed extra seating).
NO. 03
12' x 20' Narrow Living Room Layout with One Window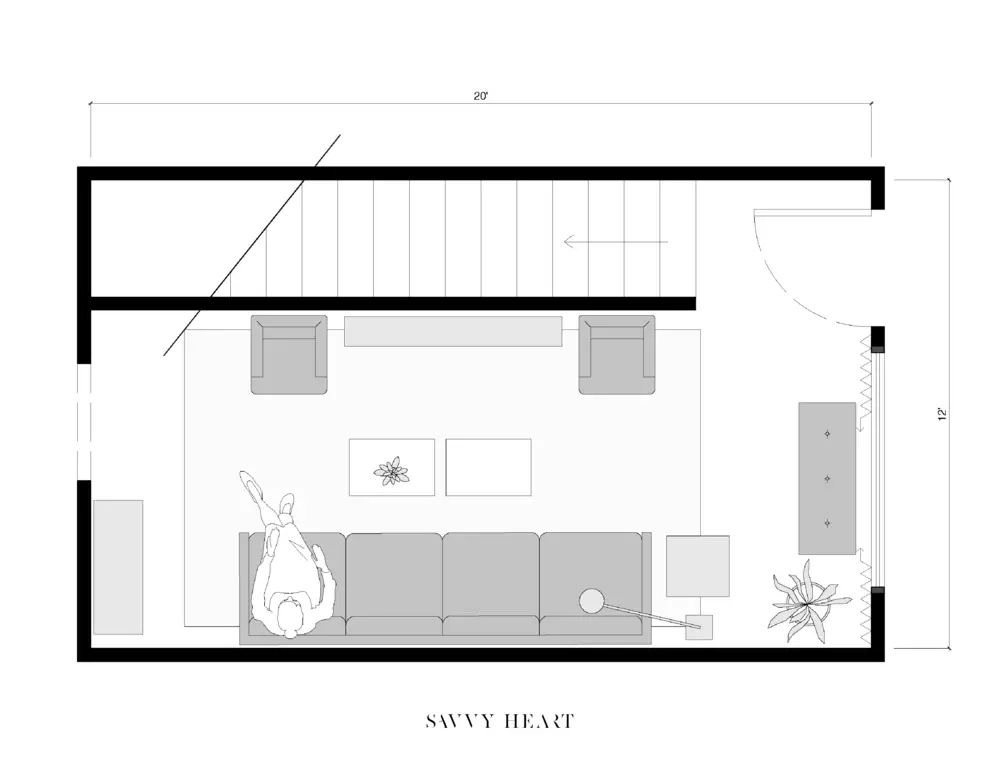 I started by placing the sofa on the largest wall and then put two side chairs and a table on the opposite wall. This creates two pathways to get through the room. Since there's only one window, I placed a long bench below it, allowing the light to travel throughout the entire space. To finish, I filled in extra areas with plants and another small console table.
NO. 04
12' x 20' Long & Narrow Living Room w/ Two Windows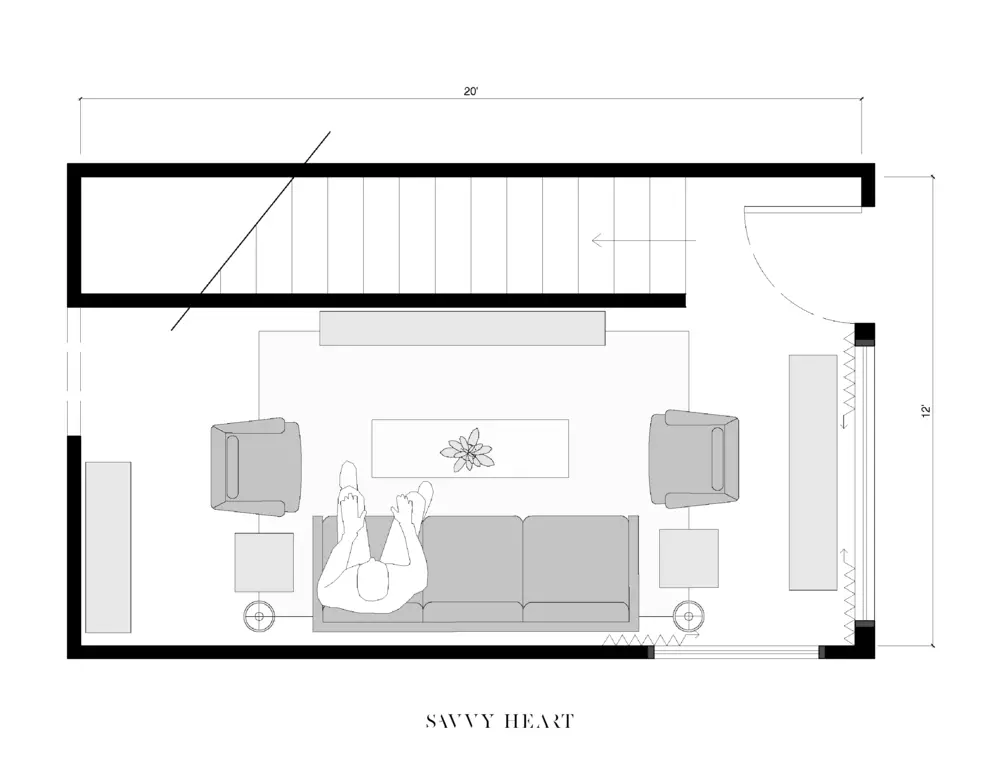 In this scenario, there are only two windows in the front of the room. I placed the sofa on the largest wall and balanced it out with two armchairs. To fill in the extra spots, I used side tables, bookcases, and lamps. Note: if the stair-wall was full-height, this scenario could also be mirrored, allowing more light to enter the room.
There you have it! Four floor plans and furniture layout ideas for a long and narrow living room.
I know there are so many variations and scenarios for long and narrow living rooms, but I hope that these floorplans gave you some ideas and a jumping-off point for your own living room!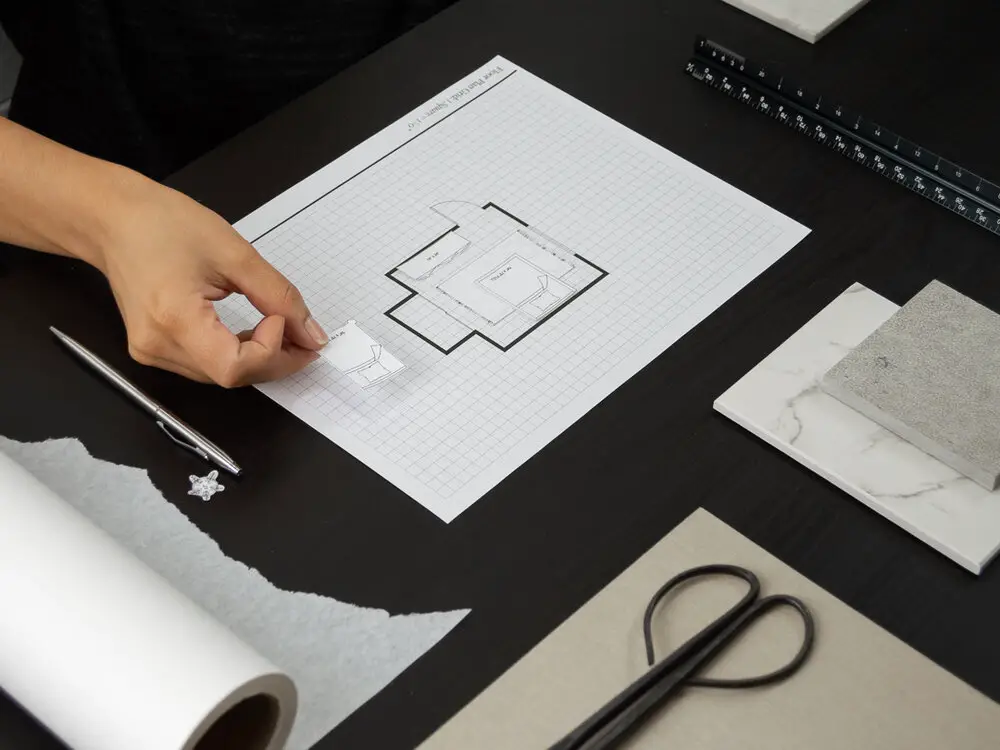 Savvy Room Planner
Discover the best layout for your space in a matter of minutes.
If you still need help with your living room layout, be sure to check out my e-design services or the Savvy Room Planner!
Until next time,
Cheers!