If you clicked on his post, you're probably wondering how to decorate and style the end of your bed. If that's the case, you're in luck because I'm going to share five styling ideas and items to place at the foot of your bed, so your bedroom has that designer look.
1. Storage Trunk
The first option I'm going to show you is a storage trunk. These work great in any bedroom, especially a guest room, or even if you have a rental property like an Airbnb. I think it's safe to say that storage is always a good idea, especially in the bedroom where you can store extra bedding, pillows, or even clothes. The biggest thing that you want to think about with this option is the size of the trunk. You don't want it to be overwhelming and take away from your bed, so choosing a storage trunk that is shorter than the top of the mattress and one that is about 2/3 of the width of your bed is your best bet.
2. Wood Bench
Another option for the end of the bed is styling it with a simple bench. Wood benches are great because there is the perfect contrast to the soft bedding, not to mention they are also super practical. Wood benches also look great because they are typically perfectly proportionate for the foot of the bed. Again, with this option, you want to choose a piece that is lower than the mattress and approximately 2/3 of the width of your bed. If you want to take this look even further when you don't need the bench for practical reasons, you can style the bench with some books or other decorative items.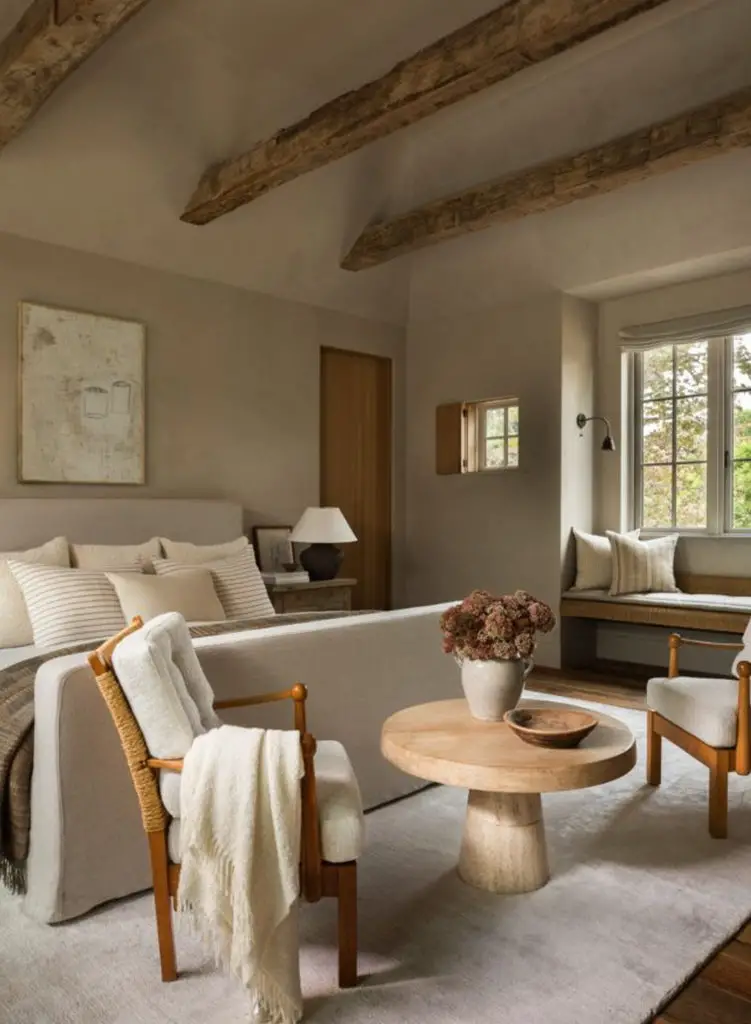 3. Seating Arrangement
The third option I want to talk about is to create a seating arrangement with a couple of chairs and a side or coffee table. I have to admit, this look isn't necessarily my favorite, but I think it's all about the execution. Most of the time when I see chairs at the foot of the bed, it usually makes the bed look clunky and cluttered. And that's because there is no visual separation from the bed to the seating area. I think the best way to pull off this look is to choose chairs that are daintier than the bed. It also helps if the bed you choose is larger and more prominent than the chairs. Another good thing to keep in mind is if you have the space, pull the chairs away from the bed so you're creating that visual separation.
4. Sofa or Settee
Another option for styling the foot of your bed is to use a sofa or settee. This look is visually similar to armchairs, but you have to be even more careful with this one because sofas are going to look even more clunky and heavy when it's placed right next to your bed. Once again, choosing the right style of sofa is key. I love how Lifestyled Co. chose a very sleek settee (see image above) that has some negative space so it feels more balanced. Again, I think for this one to work you need to choose a sofa that is shorter than the top of the mattress and also about 2/3 the width.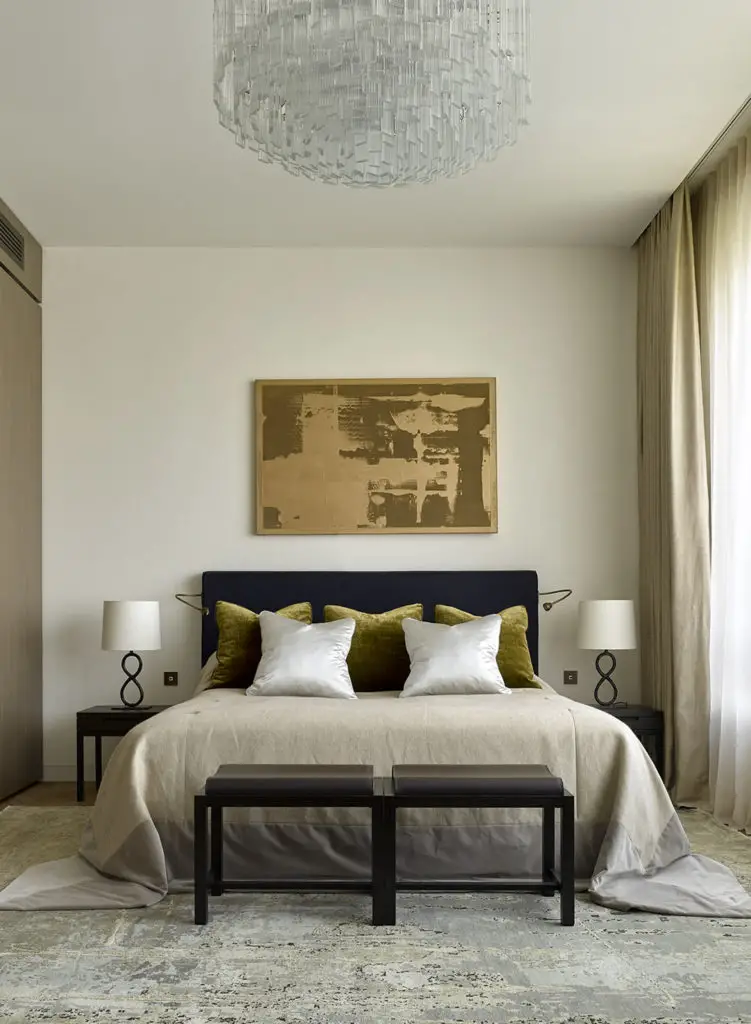 5. Upholstered Bench or Ottomans
The last option I'm going to share with you is placing an upholstered bench or two smaller benches at the end of the bed. The same rules apply to an upholstered bench as they do when using a wood bench. Keep the length about 2/3 of the width of the bed and make sure it is lower than the top of the mattress.
There you have it! Five decorating ideas for the end of your bed. I hope this post was inspiring and insightful on how to decorate the foot of your bed. Are you going to try any of these ideas? Let me know in the comments below! And always, if you have any questions, shoot me an email or check out my services if you'd like help designing your own bedroom!