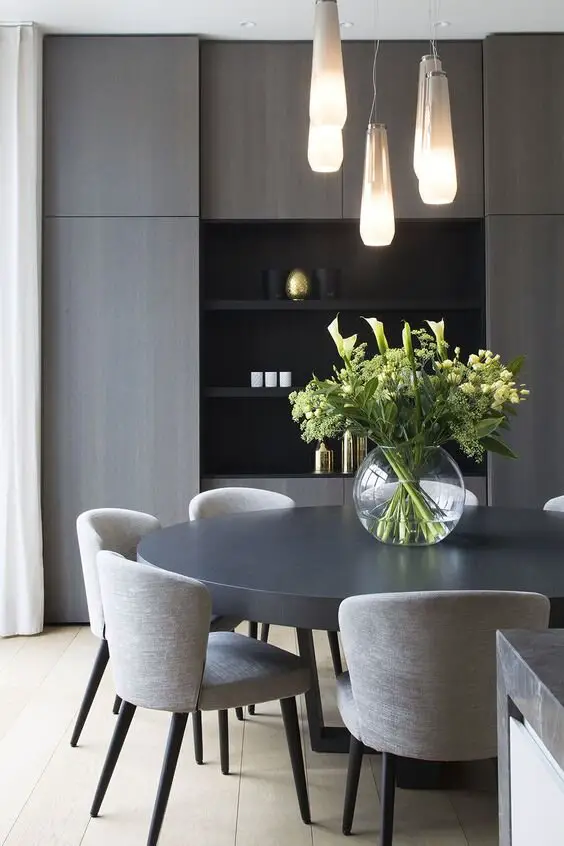 Images via  Bieke Vanhoutte Interieur & Norm Architects
So you recently bought a round dining room table and now you're looking for just the right chair, am I right? With all the different styles to choose from it can be confusing to know where to start, so I rounded up seven different dining table and chair combinations to give you a few ideas and steer you in the right direction, no matter what your style is!
A favorite blog post among my readers is the round dining table edition of my Savvy Favorites series, so I thought this would be a great follow-up post showing you a few ideas about picking the perfect dining chair! By the way…go peek at those posts if you need some more round dining table inspiration!
Ok, ready to dive into my seven-round dining table and chair combinations?
SHOP THE LOOK
Seven Round Dining Table & Chair Combos
CONTEMPORARY ELEGANCE
Chairs: Lily Dining Chair via Z Gallerie
Dining Table: Thelma Round Dining Table via Joss & Main
SIMPLE & CHIC
Chair: Astrud Dining Chair via Layla Grayce
Dining Table: Maliz Rustic Lodge Dining Table via Kathy Kuo Home
MINIMAL & MODERN
Chair: Boucle Upholstered Side Chair via All Modern
Dining Table: Olek Table via Jayson Home
TIMELESS & TRANSITIONAL
Chair: Mendy Upholstered Parsons Chair via Joss & Main
Dining Table: Mia Dining Table via McGee & Co.
NATURAL & NEUTRAL
Chair: Daemyn Black Cane Dining Room Boucle Chairs via Wayfair
Dining Table: Nattal Dining Table via McGee & Co.
CLEAN & CONTEMPORARY
Chair: Sophia Upholstered Metal Chair via 2Modern
Dining Table: Jetson Dining Table via Mod Shop
WARM & RUSTIC
Chair: Moore Chair via McGee & Co.
Dining Table: Levitan Industrial Bistro Table Via Kathy Kuo Home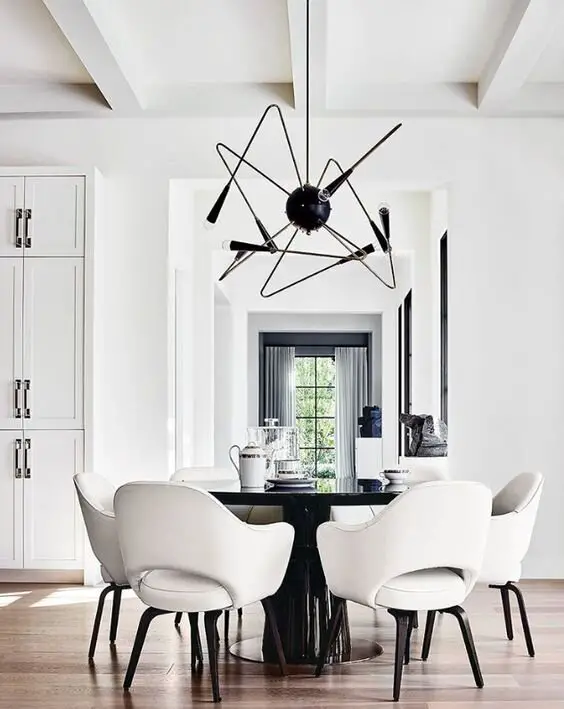 Images via Angus Mccaffrey Interiors & The Identite Collective
Of course, I also want to leave you with a couple of tips for selecting chairs and pairing it with a dining table.
Tips for Pairing Chairs with a Round Dining Table
When it comes to selecting a dining chair for a round table, try to look for something that has a slightly rounded back, mimicking the shape of the table.
Another thing to think about is the finish of the dining chairs in conjunction with the dining table legs or base. You either want to go for a high-contrast look or stick to the same type of finish for your table base and table legs, if not the exact same finish. If you're going to try and match the dining table with the chairs, try to get an exact match. For instance, if you have a white oak table, try getting some dining chairs with that same white oak finish.
Just a heads up! Colors and finishes differ DRASTICALLY depending on the manufacturer, so don't depend on one company's white oak (or any other finish for that matter) to look the same as another's.
So what do you think about these dining table and chair combinations I put together? Which style is your vibe? I think I'm a clean and contemporary gal myself. I'm a sucker for that cerused oak!!
What other combinations would you like to see next? Coffee tables and sofas? Beds and nightstands? Let me know in the comments below!
Until next time,
Cheers!