If you're anything like me, you're always on the lookout for some new and unique Christmas tree ideas and inspiration!
I love it when I see a tree that still gives you the essence of a traditional tree but isn't just your typical ornaments and ribbon. That's why I rounded up ten Christmas trees that are anything but average to give you some unique ideas for your holiday tree!
Just a heads up, sources for these beautiful trees are extremely hard to find. If you know where any of them came from, please let me know so I can link to them!
First up is my glass icicle Christmas tree! After lots of debating about my tree this year, I decided to keep it simple but make a statement with a bunch of different icicle ornaments. All hand-blown glass, because I'm just extra like that sometimes. The best part about this tree is that it is so easy to recreate. No crazy ribbons or ornaments… just a handful of different glass icicle ornaments dangling beautifully. I wrote up a separate blog post that outlines everything i used on my tree, so take a peek at that if you want to get this look!
This moody christmas tree is such a vibe! I love the candles, pinecones and oversized red ornaments- they all work together so well, don't you think? I love that the candles add a very unique touch, as most items on Christmas trees are typically hanging and dangling. You'll also notice this tree doesn't even have lights… it's only the candlelight. How gorgeous, right?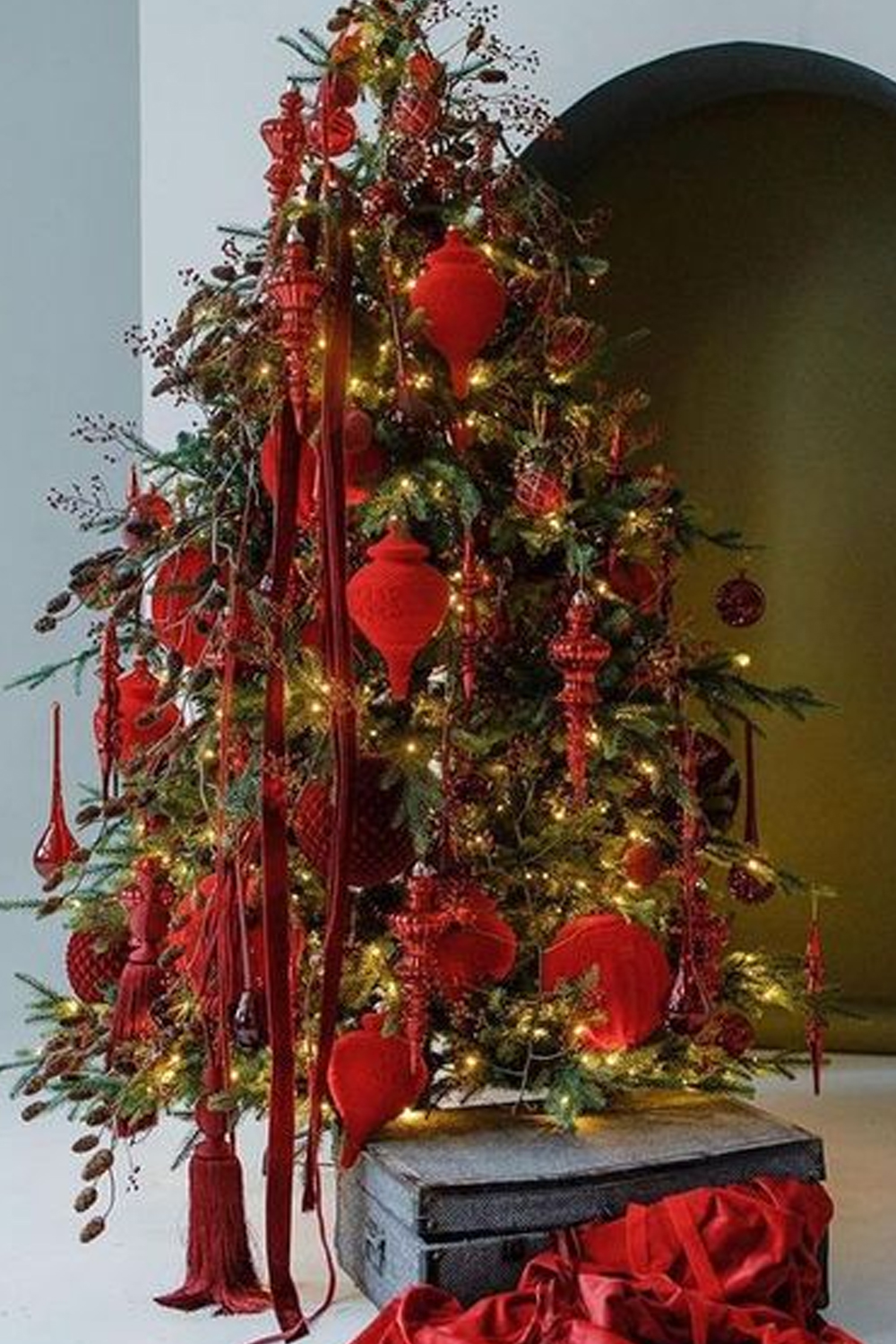 Keeping with the oversized ornament theme, this red Christmas tree is truly something special. I love the use of the extra long ribbons, tassels and pine cone branches. They make this tree feel so unexpected, but still classic. If you wanted to go for this look, you could really use any ornaments. I think the key is to incorporate some oversized pieces, or else you just won't get the same look.
The tinsel tree. This look is getting more and more popular this year, and I totally get why! Tinsel was used a lot in the 60's, so this look has a vintage-esque feel. But keeping all the tinsel silver makes it look a little more contemporary. Out of all the tinsel trees I've seen, this one by Sean Anderson is my favorite! If you're going for this look, they key is to get the tinsel just right… not to much, and not too sparse. You could also incorporate a few ornaments in the look, or just stick with tinsel.
There's nothing that says Christmas like some red berries. Whether they are in a wreath, on some garland, or on a tree like this one, they give you the holiday vibe without being super traditional. Incorporating them into a tree gives such a unique look than a traditional tree decorated with ornaments. Although this tree does have ornaments on it, they are mostly moss and berry-covered ornaments with a few shiny red ones sprinkled throughout.
This one has been a favorite of mine for quite some time. You don't see a lot of green on green decorated Christmas trees. Most people tend to stay away from including green on the tree because, well… the tree is green. Obviously, right? There is something so effortless and chic looking about this tree, though. No ornaments, branches, or berries. Just some funky oversized bows, and that's it. As much as I like this one, this look could be hard to pull off. You kind of need an 'I don't give a f*ck' attitude, and just let it be. Know what I mean?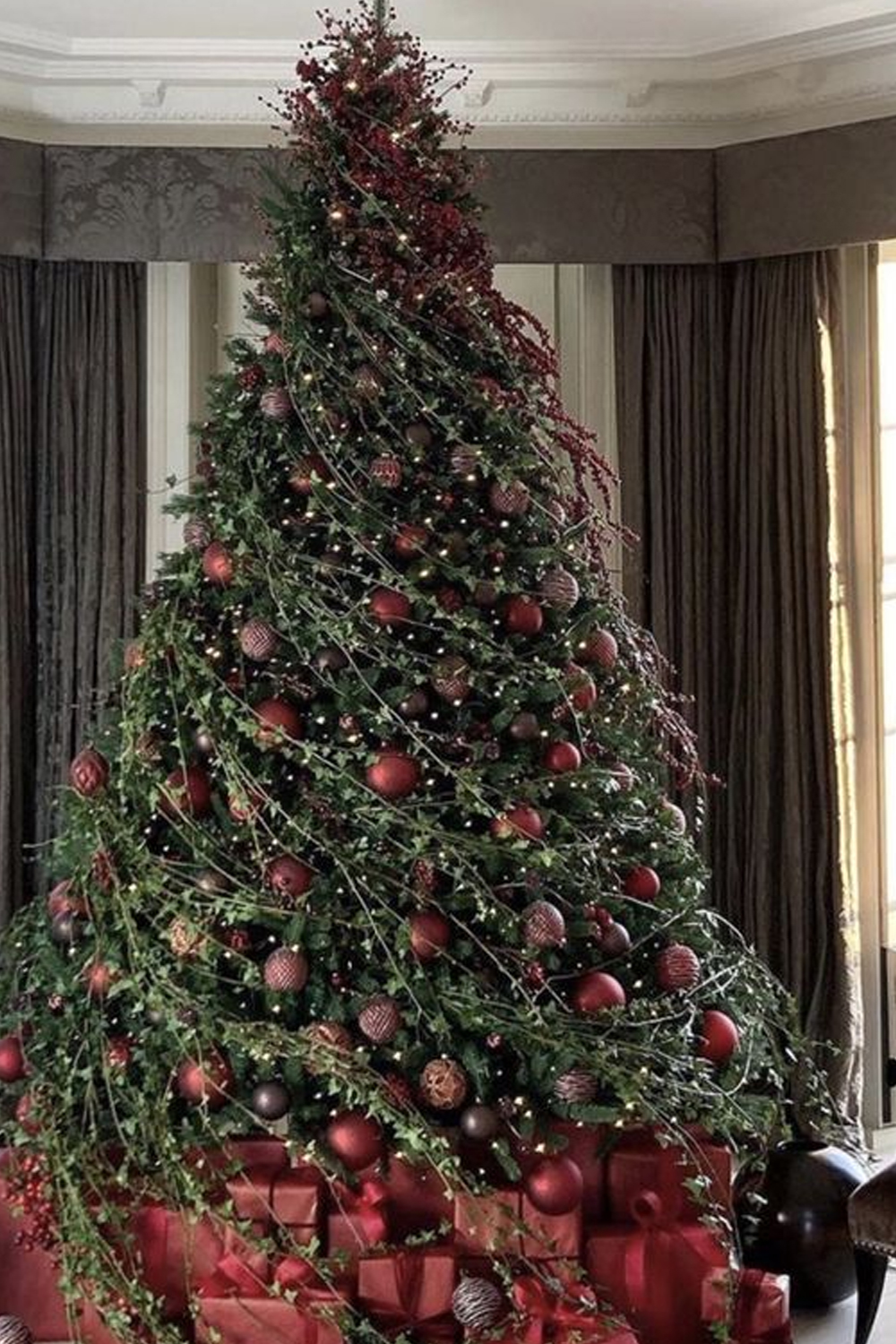 Oh la la… this vine tree is everything! Over the top? Yes. Glamourous? Yep. But how cool does this look?! With everyone buying the viral Norfolk garland, ivy garland is sure to get overlooked, so at least it would be easy to find! To make this look come to life, you really just need ivy garland and a few of your favorite ornaments scattered throughout the tree. Honestly, this one looks almost the easiest to recreate in my mind. What do you think?
If you want to get away from a traditional Christmas tree, consider making one out of faux boxwoods or a spiral topiary! It doesn't need to be as massive as this one… you could easily get the same look on a smaller scale. I love how they incorporated oversized silver ornaments and a little ribbon to make it really feel like Christmas. Without them, I feel like this tree wouldn't be the same.
Moving on to another non-traditional Christmas tree idea… why not decorate an enormous, oversized wreath?! I honestly love this idea. Especially if you don't really have room for a tree. Yes… this does take up space, but instead of taking up floor space, you could take up some wall space instead. This makes such a statement… just as much as a Christmas tree in my opinion. I think I'll need to make one of these at some point. It looks just as fun to decorate as a tree!
I love a floral Christmas tree, and this one is quite beautiful without being too feminine looking. For this look, the designer used a ton of moss, holly, eucalyptus, and hydrangeas. I love that this still feels very holiday without being so in your face. And bonus points, you could probably use a lot of these items in your home beyond the holiday season!
So I'm dying to know…which one is your favorite?! I hope these ideas gave you some inspiration to think outside the box for your own Christmas tree! As I mentioned at the beginning of this post, if you know any of the sources, please let me know because I'd love to link to them!
Until next time,
Cheers!