You know how DIY projects are either a total hit or miss? File this one under HIT! Seriously, it's probably my favorite DIY project to date, not to mention it's super easy! I'm going to share how to make this modern brass and wood table lamp!
Now… I'm definitely not the first person to just conjure up some crazy wiring project, let alone a lamp, and I'm sure you feel the same way. But honestly, this lamp couldn't be any easier to make, and it looks soooo good once it's finished, right? I love how simple and modern it looks!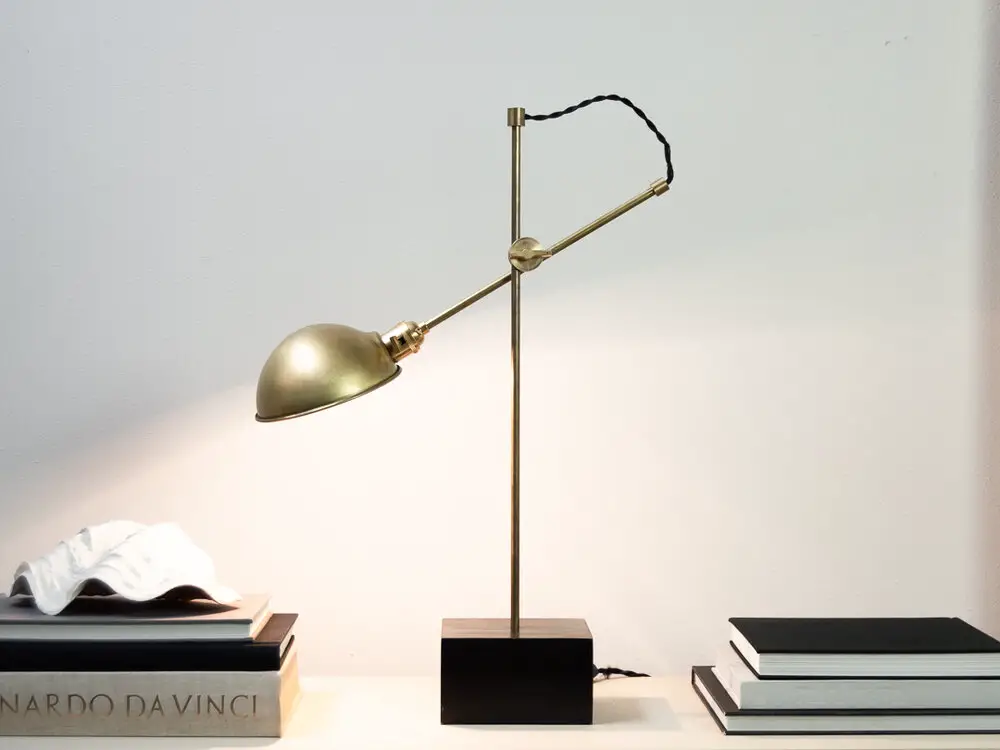 I stumbled upon this website called Grand Brass years ago, and it's remained one of my favorite sites ever since. I'll just say you're welcome in advance. 😉
I originally made a necklace stand with their threaded pipe, and then later on, Jacob and I made a pair of these lamps. And I've gotta say… they're one of my favorite things in our home!
The pipe (and all the metal components) is available in a bunch of different finishes, so you can really find something that matches your aesthetic. You can also style this particular lamp in so many different ways, so it always feels fun and fresh!
I think you get the picture… I'm kind of obsessed, to say the least!
ok…cool.
Now that we're on the same page, let me tell you how to make this thing!
Here's what you'll need:
Materials you'll need:
Tools you'll need:
STEP 1: Drill holes in the lamp base
First, you're going to need to figure out what you want to use as your base.I'm using a block of wood that I had lying around from a previous project…. that jewelry stand I mentioned earlier. That's why there's a hole.
The hole is the perfect size to fit the vertical pipe, so I just need to drill another hole for the cord to pass through. I took my speed square to make sure I was lined up to the existing hole and marked about an inch from the bottom and used my drill press to drill another hole. 
---
Savvy Tip!
Whatever you choose to use as your base, make sure it's heavy enough to accommodate the height and width of the overall lamp.
For reference, the block of wood I'm using is 3lbs, and 7" D x 7" W x 3.5″ H, and my overall lamp ended up being about 22 inches tall.
---
An important note about the top hole: Make sure that the top hole is just big enough to fit the 1/8 ips pipe. You're going to want a very snug fit because this is how the entire lamp will be supported.
Later on, I'll use a rubber mallet secure it in the wood block. Leave it loose for now.
Once there is light passing through the two holes you'll know that they're connected.
After they're connected, clean it up and refinish it to your liking.
I stained my block of wood with a black gel stain and finished it with a clear satin topcoat.
STEP 2: Thread the cord through the lamp base
Once the wood base is dry, the lamp can be assembled!
Next, I need to thread the cord through the base. I found that it was easier to first thread a piece of ribbon through, then tie it the cord so I had a little more leverage to pull.
Once the cord is pulled through, you can discard the ribbon.
STEP 3: Thread the cord through the pipe & end caps
Next, pass the cord through the longest pipe and add on one of the end caps.
These end caps have two threaded holes, one will twist onto the pipe and the other is for the exposed cord to pop through.
Be super careful and take your time when threading the cord through the ends caps, or else you could tear and snag the fabric cord cover.
To protect the cord from snags, I used some painters tape and covered what would be the exposed part of the cord.
In hindsight, I wish I would have covered the entire cord with the tape to speed things up.
This is definitely the most time-consuming part! Can you tell by my face in the video? haha!
You can definitely opt for a little bit of a wider pipe, such as a 1/4 IPS, but I really love how dainty this looks when it's finished.
Whatever size pipe you decide to use, just be patient with it, ok?
After the first end cap is on, I threaded another, and then added the shorter pipe.
After all four pieces are threaded on, screw the end caps on and discard the tape.
STEP 4: Secure the longest pipe to the base
Next, I used a rubber mallet to hammer down the pipe into the wood block until it felt nice and snug. This is where you'll be able to tell if your hole is the right size or not. Too small is better than too big in this instance.
STEP 5: Wire the lamp socket
This particular socket comes apart in many pieces, so unscrew everything to expose the actual socket.
The back part of the socket is threaded, so it will screw directly onto the pipe.
After that's attached, then you can wire the socket. Match the white wire with the silver screw and black wire with the gold screw.
If you've never wired something before, I highly suggest you hire an electrician, grab a handy husband, or watch some more youtube videos to familiarize yourself with it!
Ok, and after it's all wired up, cut back some of the fabric cord cover and tape any frayed edges down with some electrical cord.
Then put the socket back together.
STEP 6: Attach the swivel
Next, it's time to attach the swivel mechanism.
It comes completely apart and has two sets of grooves for each pipe to sit in. It's pretty straightforward. Just fit the pipe in the grooves and put it back together. 
Once it's in place, you just need to tighten it up to secure it!
STEP 7: Attach the metal lampshade & test it out!
Next, thread on the metal shade and secure with one of the threaded washers it comes with.
Lastly, put a bulb in it and test that sucker out! It works! Let's hope it does!
What do you think of this table lamp!? I love that there are so many ways to style it and so many different ways to customize it to your aesthetic. Major bonus point in my books!
Would you ever try and make this lamp? I'm dying to make a floor size version with the shiny nickel finish, too! Ugh, So chic! Comment below if you want to see me make that in a future video!
Cheers!