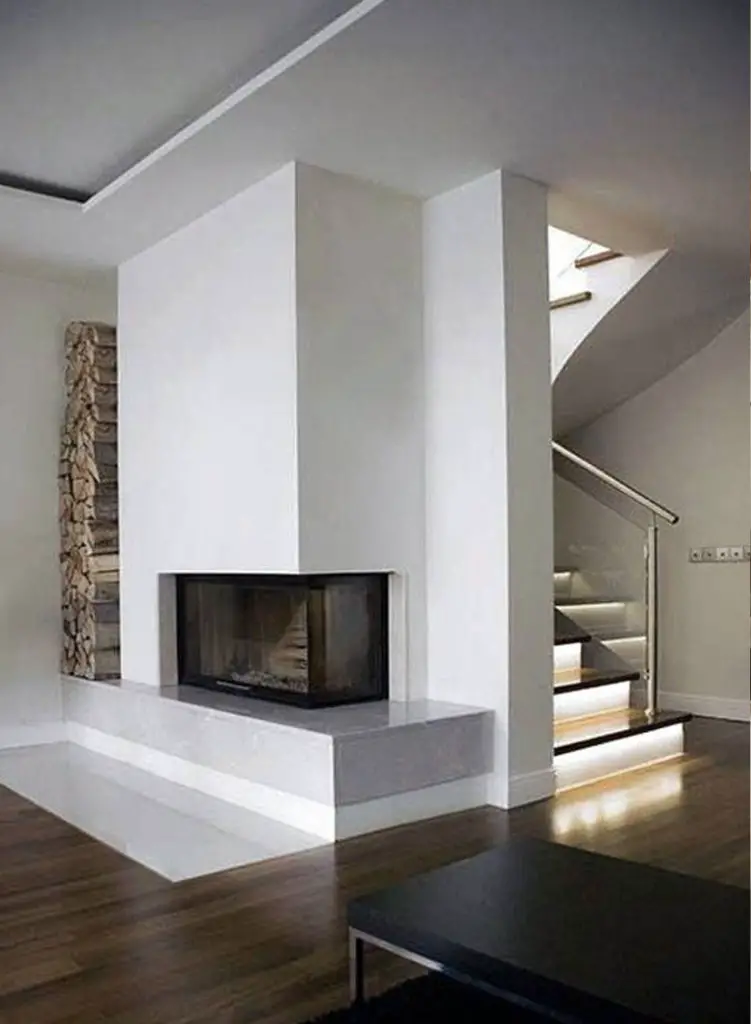 Images via Unknown & Est Living (designer Louise Liljencrantz)
If you're reading this post, chances are you have a corner fireplace in your living room and wondering how to arrange your furniture around it… am I right?
Great! You're in the right place!
In this post, I'm sharing four ways to layout your living room furniture around a corner fireplace, and I'm also giving some simple insightful tips to pull it off like a designer.
First, let's start by talking about a few tips and frequently asked questions.
1. Can a fireplace be in a corner?
Yes. In fact, you can find corner fireplaces in many mid-century modern homes that have a corner fireplace that is original to the house. With a little creativity, you can design a beautiful space with a corner fireplace. Keep reading to find out how…
2. How do you style furniture around a corner fireplace?
Since the fireplace is in a corner, not the center, the room is naturally asymmetrical, so the goal is to balance that out.
If there's a large wall on both sides of the fireplace, start with that. One wall will most likely be for your TV (or artwork) and a media console, which will be the main focal point in the room (other than the fireplace, of course). So choose whichever wall that is in your space, and from there, face your sofa towards that focal point.
Next, add extra seating around the sofa creating an L or U shape. Use a mix of armchairs, benches, and stools to maximize seating.
Last, but not least, tackle storage and tables- like a coffee table, side tables, and maybe a sofa or console table behind your sofa if you're floating the sofa in the middle of a room.
3. What should I put on the side of my fireplace?
Depending on how your living room looks, most of the time, media cabinets, bookcases, and console tables look great on the side of a fireplace. If your fireplace is centered on a wall, balance both sides of the fireplace with the same table or media cabinet.
Ok, now that I went over some FAQs about decoding a room with a corner fireplace, are you ready to dive in and look at some examples?
Let's look at some floor plans with a corner fireplace.
Corner Fireplace Example No. 1
As you can see, this living room has an angled corner fireplace and two sets of windows. Since the fireplace wall is the focal point, I situated a sofa on the opposite wall, which also is the largest, unobstructed wall in the space. Then I balanced it out with two armchairs.
Next to the fireplace, I put a console table with two small ottomans underneath for extra seating, if needed. If you wanted to incorporate a TV into this space, I would hang it above the console table, not the fireplace. In my opinion, TVs don't look great hung over fireplaces that are in the corner. They look much better on a side wall with a media cabinet underneath it.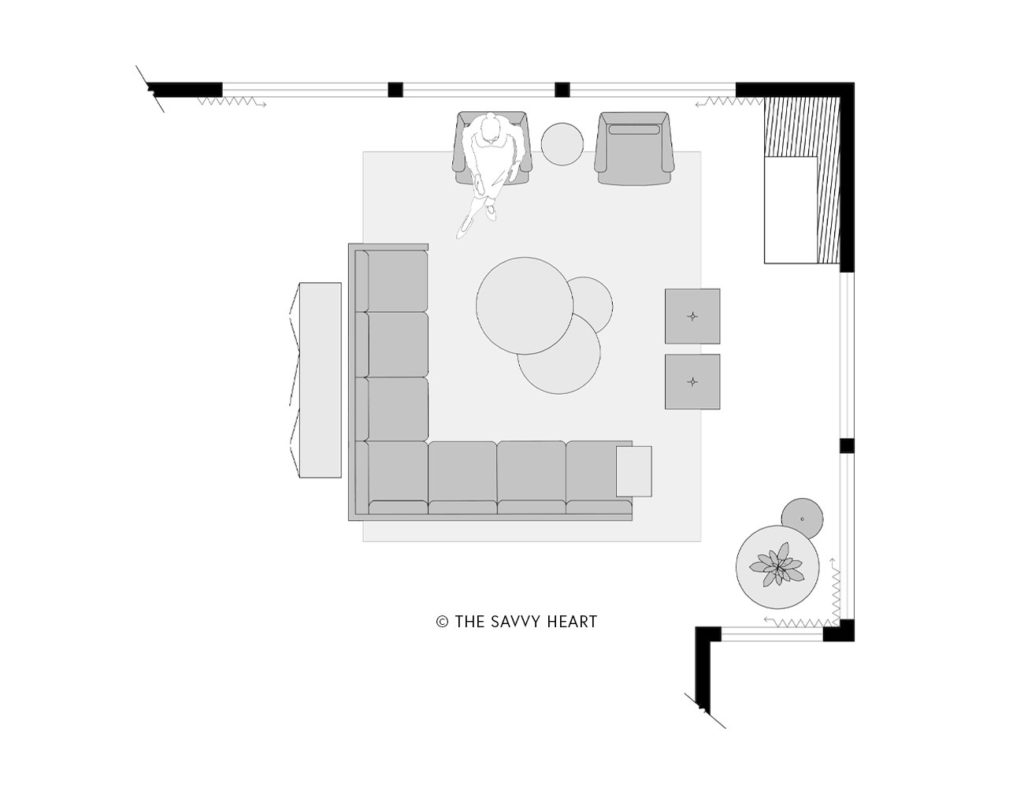 Corner Fireplace Example No. 2
This second scenario features a large living room that is open to the dining room and kitchen (not pictured). There are tons of windows in the space, and since it's quite large, I opted to float most of the furniture in the middle of the room.
I started by placing a large L shape sofa in the middle of the room, facing the fireplace. Next, I added in some armchairs in front of the windows. I opted to block the windows with chairs instead of the sofa because it will allow more natural light in. If I placed a sofa in front of the window, that window wall would feel very heavy and busy.
Lastly, I snuck in some ottomans for extra seating when needed and a little round table and stool in the corner of the space. I can just imagine it styled with some beautiful flowers or oversized branches, can't you?!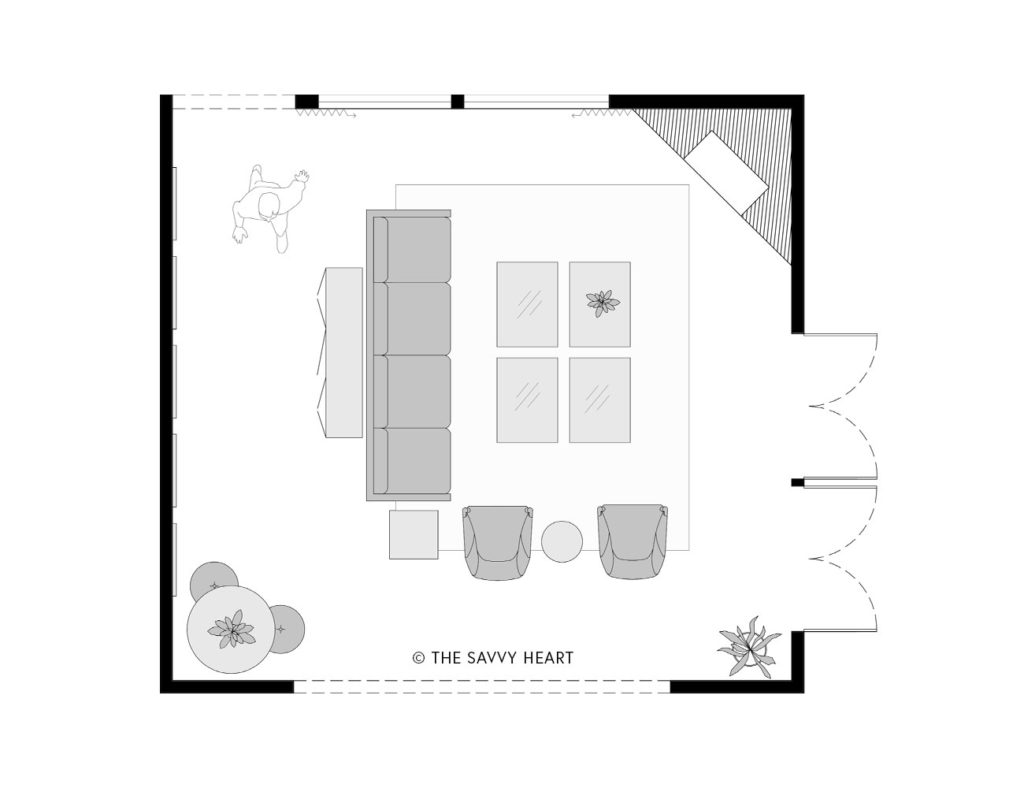 Corner Fireplace Example No. 3
In this third scenario, we have a square living room with an angled corner fireplace.
Like in scenario 2, we could place a sectional sofa or choose a sofa and two armchairs. This is totally a personal opinion and depends on how the space will be used.
I opted for a sofa and chairs, which left a large area for a coffee table. Instead of doing one coffee table, I popped in four identical coffee tables which gives the illusion of one large one. This is a great trick if you have a large space to fill and you can't find a coffee table as big as you need.
I left the long wall by the doorway open to allow for an unobstructed walkway. Along that wall, I imagine a beautiful gallery wall or even a super shallow bookcase. What would you put there?
3 Tips For Decorating A Living Room With A Corner Fireplace
Asymetrical design is your friend! Balance a corner fireplace with the correct sofa shape and then add in chairs, benches, and stools to create an L or U shape.
Keep the furniture focused around the fireplace, like in any regular living room.
Don't hang the TV on a corner fireplace. Instead, place it on a wall to the side of the fireplace and place a media cabinet underneath.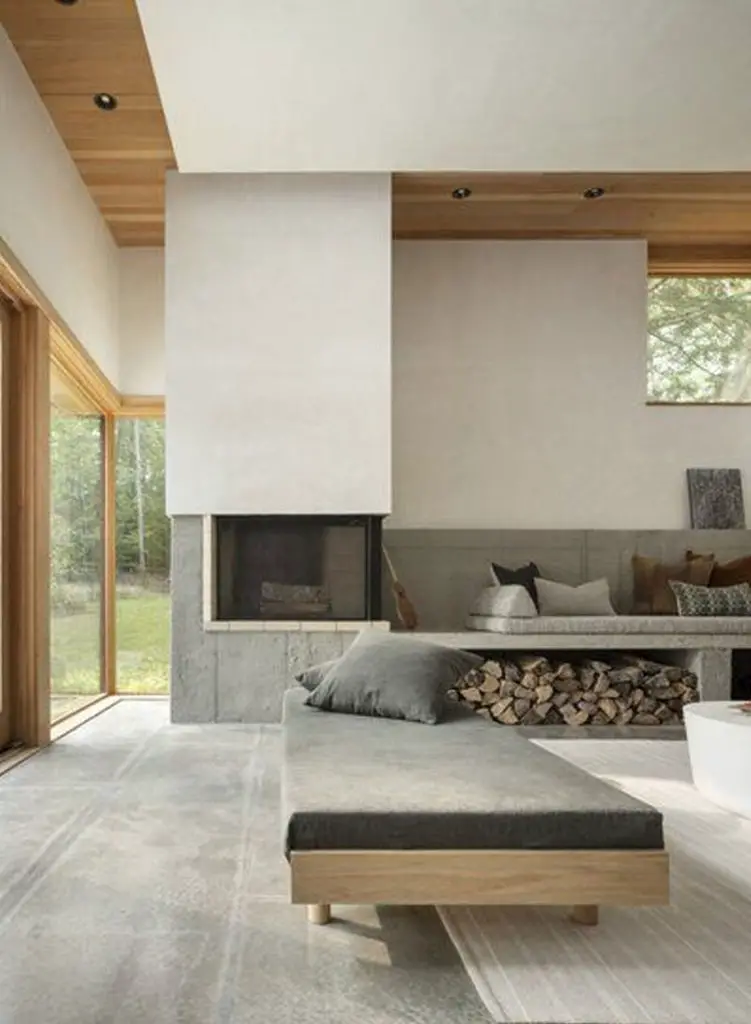 Images via Dwell (designer Heidi Lachapelle) & unknown
Corner fireplaces are tricky to work with, but with a little creativity, you can easily find a layout that works for your living room.
I hope this post helped you out with your own living room! If you're still struggling, check out my e-design services or the Savvy Room Planner, my printable space planning kit.
Until next time,
Cheers!