Images via deVOL & Unknown
If you're contemplating painting your kitchen cabinetry a dark hunter or forest green, this post is for you! I'm sharing a ton of inspiration for green kitchens and seven of my favorite dark green paint colors. I also want to answer a few FAQs about green kitchen cabinets.
Sound like a plan?
Let's dive in!
Images via Ashley Montgomery Design & deVOL
What materials to pair with dark green kitchen cabinets?
If you have dark green kitchen cabinets, consider adding complementary materials like wood and light-colored marble or quartz, as well as colors like cream, black, gold, and brass.
Is dark green good for a kitchen?
Dark green is a popular choice for kitchens because it provides a pop of color without being too bold or obnoxious. To play it safe, opt for white upper cabinets and dark green lower cabinets.
Images via Plain English & Bradley Odom
What colors go with dark green in the kitchen?
When you have a dark green kitchen, decorate with colors like white, cream, tan, nude, and black.
Images via Travis Walton on Est Living & Unknown
What materials complement dark green?
There are a lot of materials that complement dark green. A few of those are: natural wood, leather, stone, marble, granite, soapstone, brass, steel, chrome, gold, and silver.
Images via Studio Wok & Oliver Leech Architects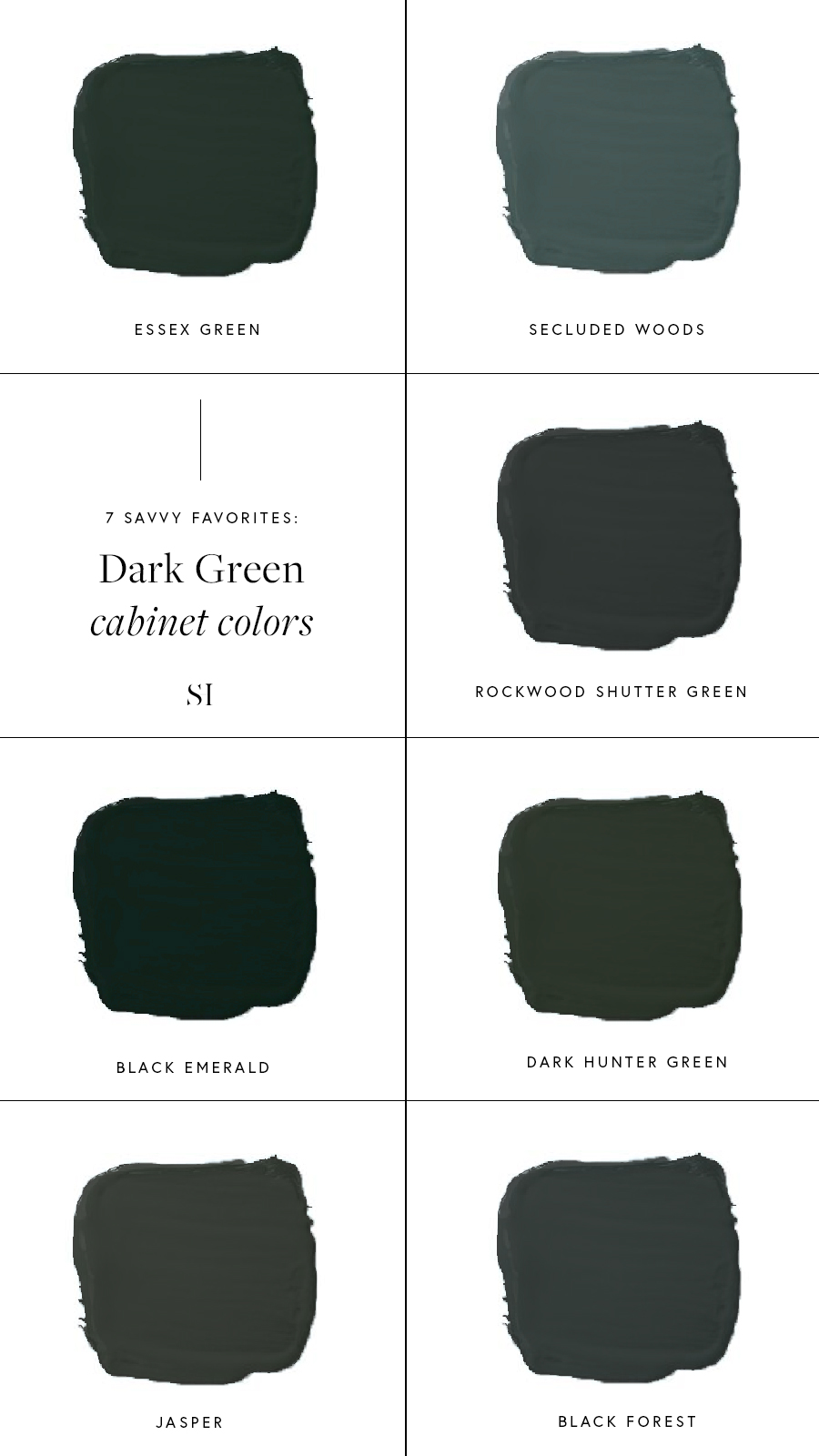 7 of the Best Dark Green Paint Colors For Kitchens
My Favorite Painting Supplies
There you have it- seven of my favorite dark green paint colors and a little inspiration for you. I hope you found this post helpful! Let me know in the comments which kitchen is your favorite!
Until next time,
Cheers!