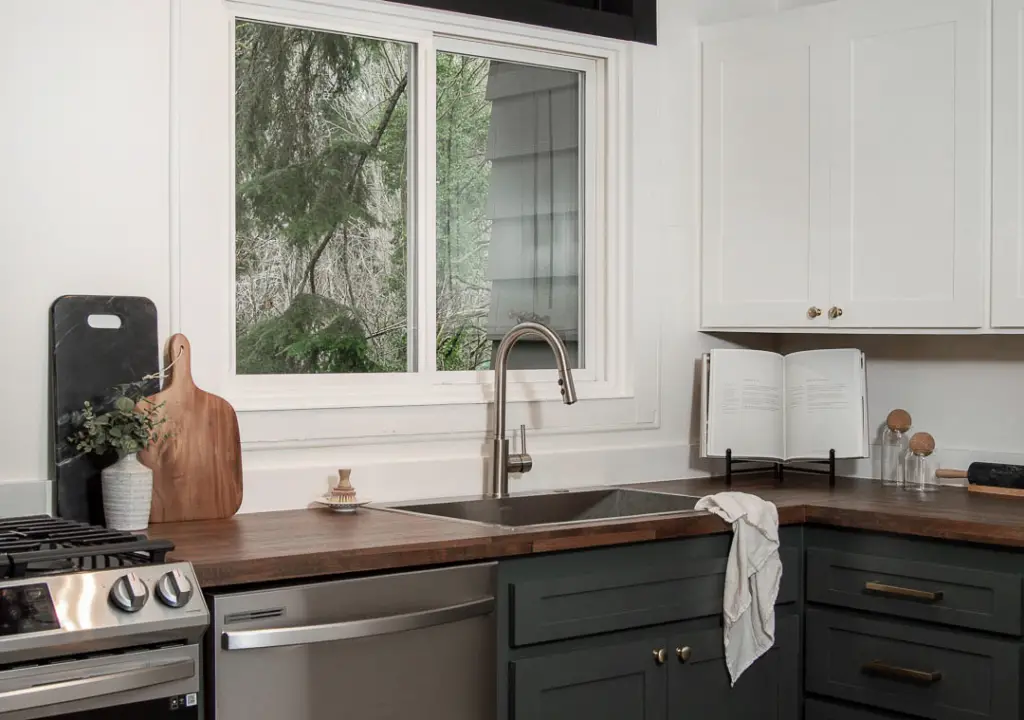 When it comes to saving money on your kitchen remodel, it's very easy to go overboard… and over budget. If you have done a remodeling project before, you probably know the feeling. You're already planning a few upgrades but then you say to yourself "what's another few hundred here, and a few hundred there?"
Well, all of those tiny upgrades can really add up! So in this post, I'm going to share 7 ways to save thousands of dollars on your kitchen remodel. Ready to dive in?
Here are 7 ways to save thousands of dollars on a kitchen remodel:
Paint the cabinets yourself
Replace the door & drawer fronts instead of the entire cabinet
Opt for a low/ minimal backsplash
Shop around for appliances
Opt for pre-finished countertops 
Don't change the layout of the kitchen
Figure out what's worth DIY'ing & what's not
1. Paint the cabinets yourself
This may seem daunting when you're talking about a kitchen remodel, but in reality, it just takes some prep work, patience, and the right tools, and you'll easily save thousands of dollars.
When we remodeled our kitchen, we painted the cabinets ourselves after receiving multiple quotes for $3k to $5k. And our kitchen was only 10'x7' with very minimal cabinetry. 
We watched multiple videos on YouTube and also sought professional opinions at the Benjamin Moore store.
2. Replace the door & drawer fronts
One of the first things you notice in an outdated kitchen is the cabinets. And in particular, the doors and drawers fronts; so they're often the first thing that is gutted during a renovation.
But, did you know you can just replace the door and drawer fronts instead of buying all new boxes?(also known as a carcass)
If your cabinets are in decent shape and you don't need to change or move any major appliances, then you might want to replace the doors and drawer fronts only. Not only will this save you a ton of money, but this will also allow you to upgrade the hinges and hardware, making your kitchen look like a brand-new remodel when you're finished.
 3. Opt for a low/ minimal backsplash
Another item that can add a significant amount to your budget is tile or stone.
Instead of going crazy with that tile you found and using it everywhere, think about going more minimal with a low profile backsplash… around 4" high. Not only will you save money on materials, but you'll also save money on labor! For a timeless look, choose the same material as your countertop for your low-profile backsplash.
4. Shop around
Hands down, appliances account for a big chunk of your budget. If you aren't on a specific time crunch, or you're already in planning mode for your kitchen remodel, start shopping for appliances as early as possible. It doesn't hurt to shop around or use a little patience to wait for that huge blowout sale. By doing this, you can easily save thousands of dollars on your kitchen remodel!
For our kitchen remodel, I looked everywhere for appliances. I ended up frequenting a local Best Buy outlet every time I was in the area. On my fourth stop-in, I found a brand new gas LG range for only $700! And then a week later and I hit the jackpot and found a matching dishwasher for only $400, and both were in perfect condition.
5. Opt for pre-finished or pre-cut countertops
If you have it in your budget for stone countertops, I applaud you. But if not, you have some options that will help keep costs down. You could choose either a pre-cut countertop, a butcher block countertop, or a laminate countertop.
Surprisingly, there are some pretty realistic laminate products on the market today. So don't completely knock it before you look. Home Depot and Lowes have a great selection of butcher block countertops, as well as some pre-cut laminate countertops.
6. Don't switch up the layout
This one is huge. Not switching up the layout of your kitchen can play a major factor in saving money. Aside from not purchasing all new cabinetry, you also won't have to pay someone to move water lines, plumbing, and potentially gas lines. That's material cost AND labor costs that you're avoiding. See where this can really add up?
7. Do your homework
If you want to save thousands of dollars on your kitchen remodel, you might need to take things into your own hands, and figure out what's realistic for you to actually do yourself. 
My suggestion would be to watch a bunch of videos on YouTube and see if you think you can tackle any of these projects.
We DIY'd almost everything in our kitchen… painted the cabinets, installed new countertops, painted the walls, shopped and installed new appliances, and so much more. I know it's not for everyone, but if you have a little motivation to do one project or two, it will save you thousands of dollars.
There you have it- seven ways to save thousands of dollars on your kitchen remodel. Did you find the tips helpful? And do you have any more things to add to this list? If so, comment and tell me below!