Images via unknown & unknown
Have you ever seen a light sage green kitchen and thought it looked shabby chic or like a country cottage? Don't let this mellow color fool you, a sage green cabinets can look modern and chic when done in the right way.
If you're thinking about a green kitchen, then keep on scrolling because I rounded up twelve green kitchens for inspiration and admiration. I also curated 7 light sage green paint colors that are some of my favorites!
Ready to dive into and see some light sage green kitchen inspiration?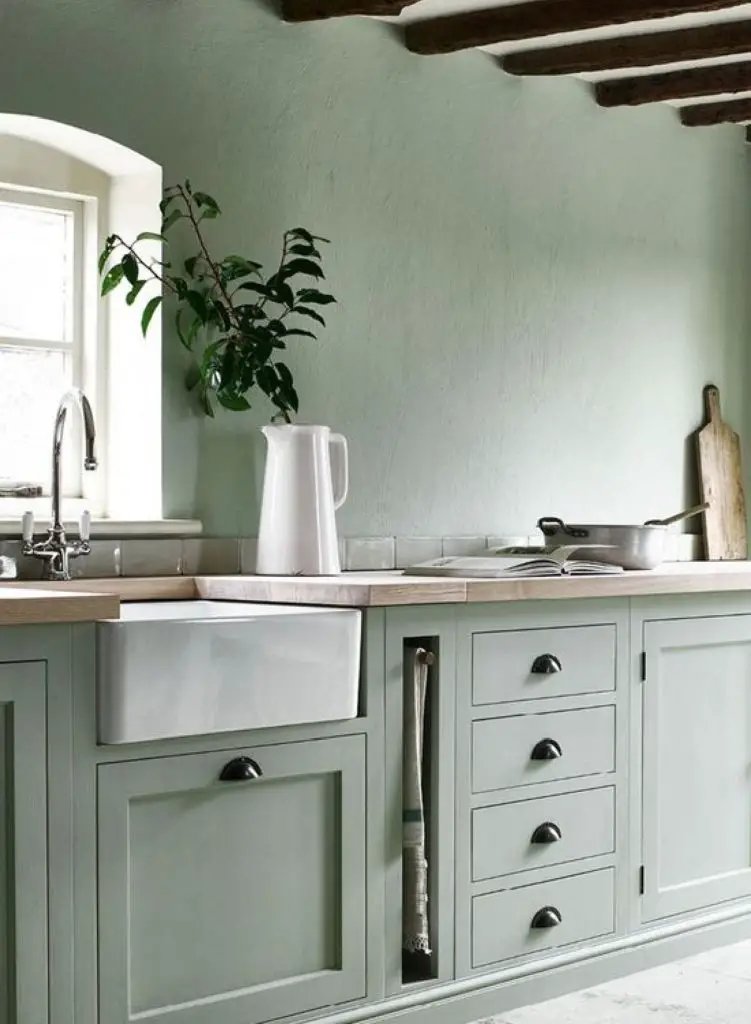 What colors and materials complement sage green?
A few colors that complement sage green are cream, beige, black, dark brown, and black, as well as lighter and darker shades of the same green. Some materials that complement sage green are light-colored and greige wood, linen, leather, cotton, marble, granite, quartz, stainless steel, brushed nickel, brass, chrome, and gold. 
Images via Studio Fortnum & Osman Tahir
Are sage green cabinets timeless?
Sage green cabinets can be timeless when paired with complementary materials and finishes. You also want to make sure the cabinets themselves don't look dated- they should either be a simple shaker style or a minimal slab front cabinet.
Images via AMA Studio & The Stables
What color handles go with sage green cabinets?
Brushed nickel, brass, chrome, and gold would be great handle colors to complement sage green cabinets.
Is sage green a good color for a kitchen?
Sage green can be a beautiful color for a kitchen when paired with the right materials and finishes. Make sure you choose complementary materials that are timeless, so your sage green kitchen doesn't look dated in a few years.
Images via Lou Prentice Interiors & Hunt Architecture
Top 7 Light Sage Green Paint Colors:
My Favorite Painting Supplies
There you have it, my favorite seven light sage green paint colors and a ton of inspiration!