Images via Emily Henderson & Kelsey Leigh Design
Before we painted our kitchen cabinets, there was a ton of test and research that went into picking the final color, so I thought I'd share some of my favorite blue/green kitchens and share a few of my favorite paint colors!
Sound like a plan? Let's dive in…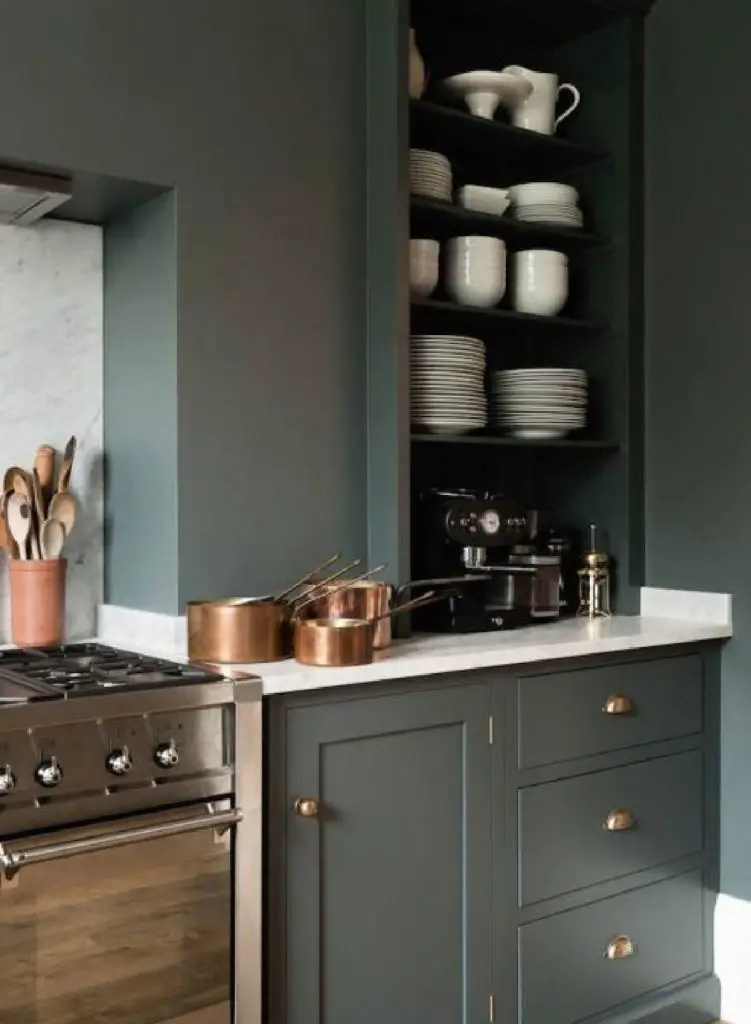 Images via Becky Shea Design & Steve Cordony
Is blue-green a good color for kitchen cabinets?
Blue-green is a great option for a kitchen. It adds a bit of color to the space but isn't overwhelming to the eye. It also pairs well with many kinds of wood, making it a great color for a kitchen.
Are blue-green kitchen cabinets a fad?
When styled and paired with the right materials and finishes, blue-green kitchens are elegant and timeless.
Images via deVOL & Design by Rhatigan & Hick & Asplund
What shade of blue-green is good for kitchen cabinets?
A dark shade of blue-green is a great option for kitchen cabinets. A darker shade of blue-green will look more timeless than a lighter shade, and it also pairs well with different colored woods and natural stones.
What materials pair well with blue-green kitchen cabinets?
If you have blue-green kitchen cabinets, consider adding complementary materials like wood and light-colored marble or quartz, as well as colors like cream, black, gold, and brass.
7 of The Best Blue-Green Paint Colors For Kitchen Cabinets
My Favorite Painting Supplies
There you have it, seven of the best paint colors for a blue-green kitchen and some eye candy for inspiration!