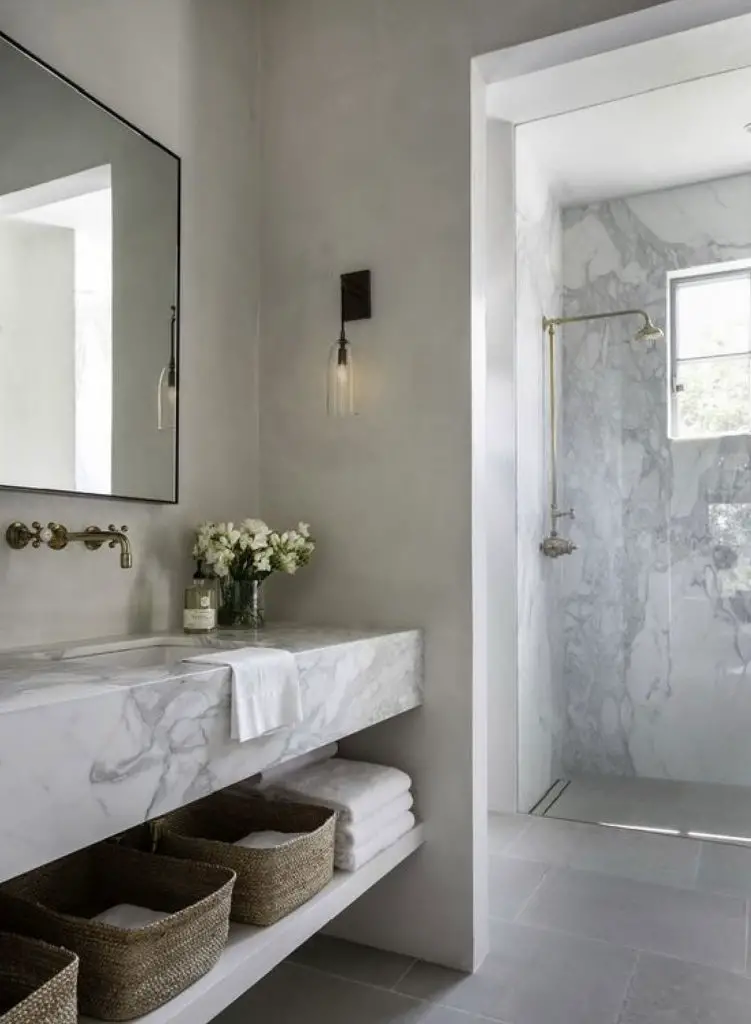 Images via Murphy Mears Architects & Cometa Architects
Tadelakt is one of those bathroom finishes you have probably seen and loved but didn't know what it was! Well, it's called tadelakt and I'm going to tell you all about this beautiful Moroccan finish!
If you haven't noticed, plaster and lime-washed walls have been taking the interior design world by storm, and if you've ever wondered how to get this look in the bathroom, then this post is for you!
I'm talking all about tadelakt and answering quite a few frequently asked questions, like what is tadelakt , how it's applied, its pros and cons, and so much more. Ready to learn more about this beautiful material?
How do you pronounce tadelakt?
If you've ever wanted to know how to pronounce tadelakt, it's simple.
'TAD-EL-LACK'. 
What is Moroccan tadelak?
Tadelakt is made from lime plaster. Because a special sealant is used, this plaster-like finish is often used in bathrooms because of its waterproof properties.
How is Moroccan tadelakt applied & what is the process?
When roughly translated to English, the word tadelakt means "rub-in" or "knead," which is fitting, considering the process.
Tadelakt is applied in multiple coats over a waterproof backboard, just like normal tile applications. After many coats, a hard stone is used to "rub" and "knead" the material until it is smooth.
Then finally, to finish and seal the plaster, it's treated with a special olive oil soap, which gives the material a waterproof and mold/mildew resistant finish.
Images via Burke Décor & Arjaan De Feyter
Does Moroccan tadelakt plaster crack?
In short, yes. Like any other natural stone or tile, it can crack but most likely won't if you care for and clean it properly.
Can tadelakt plaster be repaired?
Depending on the resource you look at when seeing if you can patch or repair tadelakt, you'll get various answers. After some research and a phone call, I found out that you can repair cracks in tadelakt as long as the cracks are minor.
Is Moroccan tadelakt plaster waterproof?
Yes, Moroccan tadelakt plaster is waterproof. Because of the special olive oil soap that is used to seal the plaster, the tadelakt becomes completely waterproof- making it ideal for showers, bathrooms, and kitchens.
Is tadelakt plaster shiny?
Compared to a traditional lime-wash or plaster finish, tadelakt is shinier, although it is not as shiny as Venetian plaster. The finish of Tadelakt is similar to an eggshell or satin finish.
Where do you use tadelakt?
Since tadelakt is known for its waterproof properties, it's best left for areas in the home where moisture and excessive water are present- like bathrooms and kitchens.
How much does tadelakt cost:
The cost varies depending on the size of the area you're looking to cover. After contacting a few places and only hearing back from a few, the prices I received were around $20-45 a square foot.
The cost can be compared to a medium-priced tile, and it can get expensive if you plan on doing a large space.
If the walls don't need to be completely waterproof (i.e. bathroom walls that aren't in the shower), consider a different type of plaster which could be more cost-efficient.
Pros of Moroccan tadelakt:
Waterproof
Can be pigmented – many colors and custom colors can be mixed
Can be used on curved walls and odd areas
Mold and mildew resistant
Cleans easily with only water
Cons of tadelakt:
The tedious process to apply
Can be expensive
Can crack if not cared for properly
Needs ongoing maintenance – Just like any other natural stone, tadelakt will need to be re-sealed with the special olive oil soap to maintain its waterproof properties.
Why do designers love tadelakt?
Because it's a beautiful, zero-grout, tile-alternative. Its overall look is minimal yet timeless, and you also have the ability to choose almost any color imaginable.
Images via Studio Hus & Unknown
Phew! That was quite a bit of info on tadelakt, wasn't it? I hope this post answered some of your questions about this beautiful material and got you inspired to possibly try it in your home!
If you enjoyed this post, be sure to check out my other post, 12 Examples Of Gorgeous bathrooms that use Tadelakt plaster.
Until next time,
Cheers!