When it comes to adding a touch of timeless elegance to your home, only a few pieces can compete with the charm and functionality of cremone bolts. This decorative hardware can transform any plain cabinet, door, or window into something special while also serving a practical purpose..
In this blog post, I'll dive into the world of decorative cremone bolts, exploring what they are and offering insights on how to use them to elevate your home!
What are cremone bolts?
Cremone bolts (pronounced krə̇ˈmōn) are decorative hardware with a locking mechanism and a handle or knob attached to a long rod. You may also see them called surface bolts. This type of hardware is used to open and close a cabinet, door, or window.
These bolts have been used for centuries and not only serve a functional purpose but also add a beautiful architectural detail. They date back to the 18th century in a region of Italy. So saying that this is a timeless detail is quite an understatement!
They come in a variety of colors and finishes, as well as different lengths. Many of them come in standard lengths, and you can cut the rod to size depending on the height of the cabinet, door, or window.
Where & how to use cremone bolts in your home
Cremone bolts can be used in many areas of your home, like kitchen and bathroom cabinets, doors, windows, and even furniture.
Since a cremone bolt uses a locking mechanism, I find it best to place them on cabinetry that you won't use all the time. This is a personal preference after purchasing a freestanding cabinet that had some lovely cremone bolts. I found that if I needed to get in and out of that cabinet frequently; it was kind of a pain. Beautiful, but somewhat of a hassle, if we're being honest.
With that in mind, they could be a great addition to a kitchen where you keep special occasion glassware, china, serving dishes, or even alcohol (especially if you have children).
Are cremone bolts a good idea for your home?
Depending on the type of cabinet, door, or window you have, that will truly determine if cremone bolts are a good idea or not. If you noticed in any of the example photos, some doors have cremone bolts on both the left and right sides, while others only use a single cremone bolt.
When using a single cremone bolt, most of the time the doors will overlap. The side without the bolt will probably have a magnetic closure, helping to keep it closed. Once you unlock the bolt on one door, the other door is free to open. Why does this matter, you ask? It's just another practicality thing and something to be aware of.
Whether we're talking about cabinet doors or interior/exterior doors, placement of the cremone bolt is key. You want to make sure there is adequate space for the bolts and its handle. For instance, if you have a cabinet door with thin cabinet rails, there might not be enough space to place a cremone bolt. In most scenarios, a standard shaker-style cabinet will look the best when paired with a cremone bolt.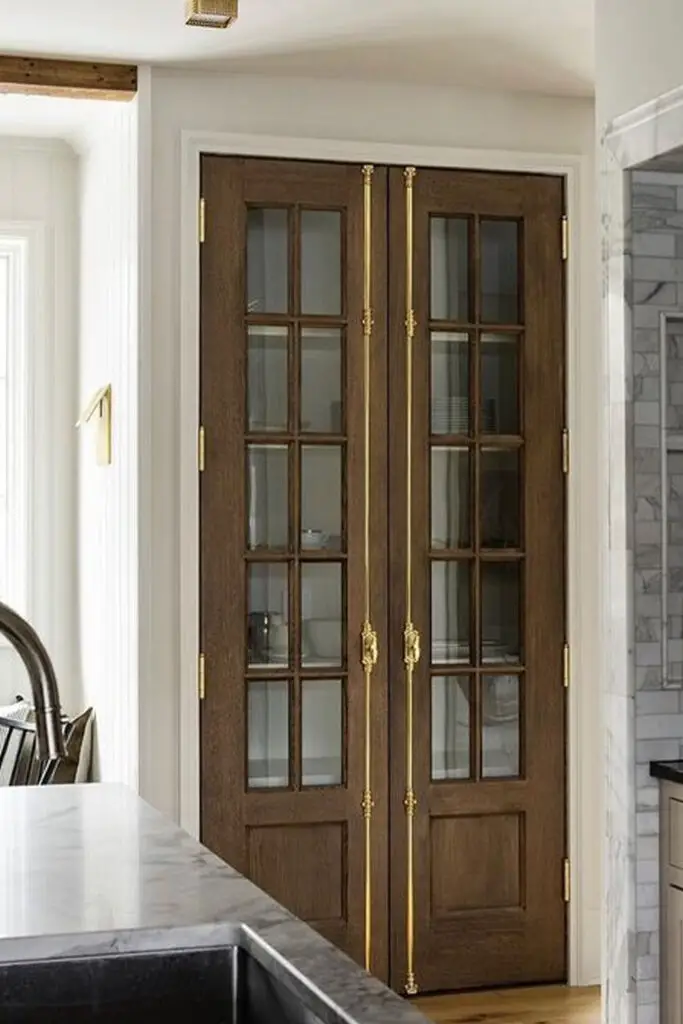 Where to buy cremone bolts
These days, thanks to Amazon, they are truly a click and a day away! Many high-end hardware companies (i.e., Signature Hardware) sell them on their own sites… and also have a few on Amazon. If you can't find the exact ones you'd like, specialty websites can make them custom for you.
Here are a few websites to check out if you're on the hunt for cremone bolts:
Incorporating decorative cremone bolts into your home can be that unexpected element that you never knew was missing! They not only add a touch of sophistication, but also bring in a sense of historical charm.
Whether you opt for a classic, rustic, or contemporary look, cremone bolts can adapt to a variety of design styles giving you that finishing touch your space might need.
So what do you think? Are you a fan of cremone bolts? Let me know in the comments! Personally, I'd love to design a kitchen and use these as a beautiful decorative element, they're so unique and chic!