If you've read my blog before, you know I love getting the best bang for my buck, and dupes are exactly that! You get the same or similar look for much less. In some previous posts, I shared some dupes from Restoration Hardware and Arhaus. So this time I thought I'd share some of the best McGee & Co. Dupes, particularly lighting.
WATCH THE YOUTUBE VIDEO INSTEAD: https://youtu.be/cy6FeaKj5P0?si=yAxOaRFlJREHMP2c
Lighting is one of those items where the price can drastically jump up, depending on the style…leaving you say WTF, why?!
So in this post, I'm covering ten lighting dupes- everything from chandeliers and pendants to sconces and lamps.
But before we jump in, I want to preface this post by saying the items that McGee and Co. has for sale aren't made specifically for them. You can also find most of the pieces on dozens of other websites. So if you're really into the high-end item, it still may be beneficial to reverse-image search it, and find the best price! Ok, with that out of the way, let's just jump into it, shall we?
This tapered pendant light has been a favorite of mine for quite some time! I came across this dupe and have loved it ever since! McGee & Co. sells a few different styles and sizes, so be sure to pay attention to that, but if you're looking for a similar looking option for half the price, the dupe is for you!
This chic floor lamp with the tapered coolie-style lampshade has been a favorite of mine for quite some time. The lines and materials are just oozing a bit of sexy, don't you think? But with this look often comes a big price tag… until now! I found this look-a-like dupe for only $140. I mean… how can you beat that price?!
Linear chandeliers have been making waves in the design world lately, and I'm obsessed! They look super chic over a rectangle dining table, give you some beautiful ambient light and also provide more negative space than a traditional chandelier. The best part about this dupe is that you aren't sacrificing style- these look so similar, I bet you can hardly tell the difference!
Rustic and aged pottery has been hot in the home decor realm for a while now. But if you've ever shopped around for a lamp with this style, you have probably noticed the large price tag associated with it. I found this great lookalike dupe that gives you the same vibe, and for a fraction of the cost!
This chic table lamp is giving major library vibes and I'm into it! I originally saw this lamp in Chris loves Julia's home, and when I was trying to find the source, I stumbled upon this awesome dupe that looks practically the same and saves you hundreds of dollars! And truth be told, I think I actually like the dupe better in this case. You don't have the USB ports that come with the McGee and Co. one, but I like the acrylic base mixed with the brass.. and the metal color itself looks a little more high-end.
McGee & Co: $890 (not available anymore- link is from Lulu & Georgia)
These iron floor lamps are giving major Jean Royère vibes. And if you aren't familiar with that name- he's a famous designer that is best known for his curvy furniture and lighting fixtures. If you have never seen them, it's worth the google for sure. The McGee and Co. floor lamp incorporates slightly taller legs, which gives it more of a unique look, but the dupe is a great look-a-like option for a fraction of the price!
Rattan has been hot for a minute, and even more so when it's incorporated into a lamp, like this super chic floor lamp from McGee & co. But, before you splurge on the high-end one, take a peek at this dupe I found for half the price! I actually like the shape of the dupe a little bit more, it's a little sexier, don't you think?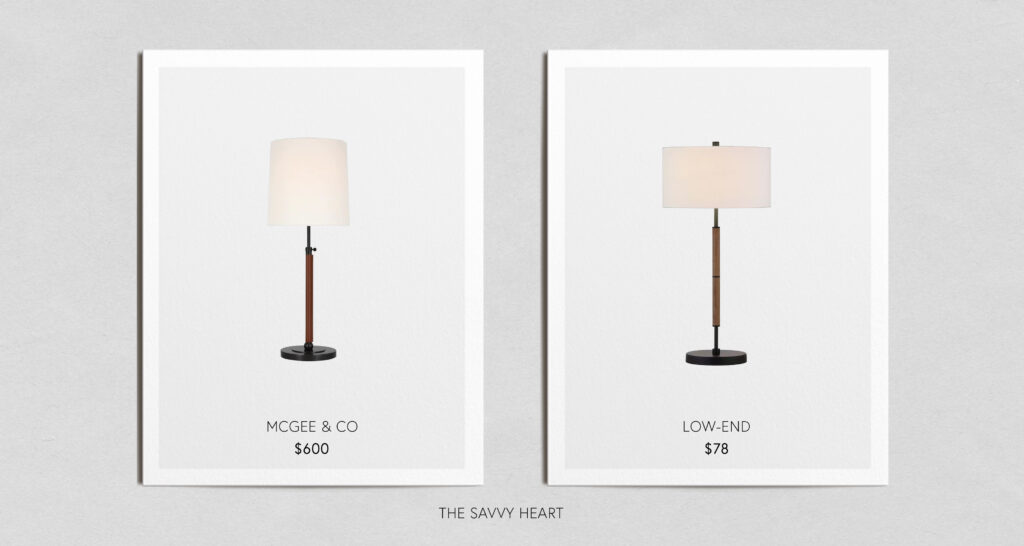 This black and wood table lamp feels a little more masculine than most of McGee and Co.'s items, and I'm here for it! But instead of spending a few hundred dollars on the high-end version, consider looking at this dupe. You get the exact same vibe, but for much, much less.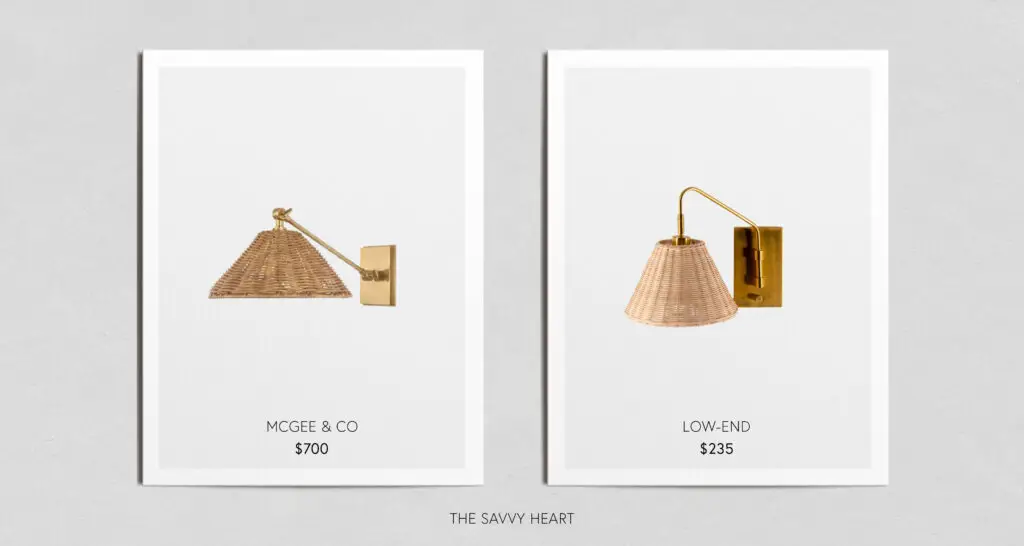 Back on with the rattan and wicker lighting fixtures. This wall sconce would be perfect in a bedroom above your nightstands. I love the texture it brings, and paired with the brass; it makes such a beautiful combination! The only thing I dislike about the dupe is that it isn't adjustable, but if that doesn't bother you, then the dupe is perfect for you!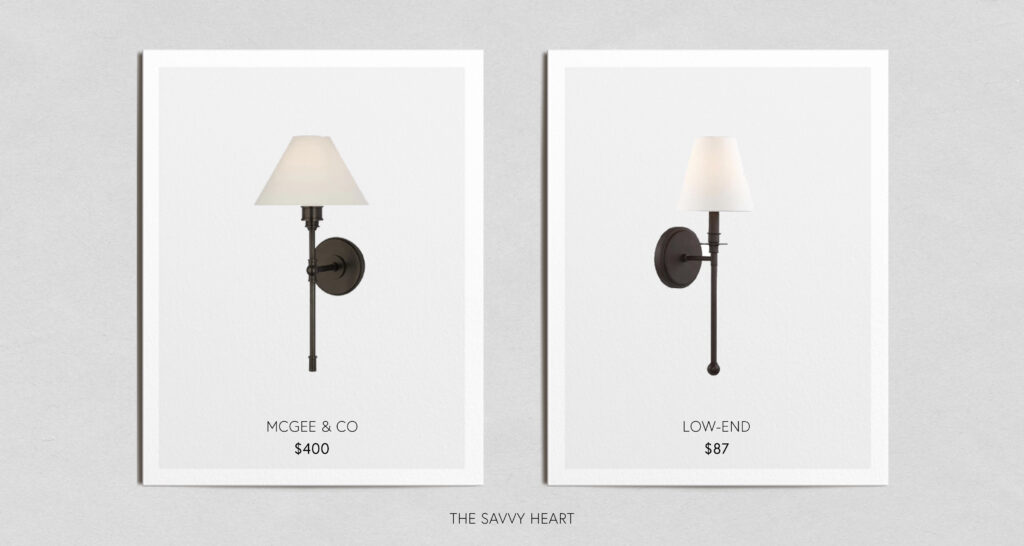 It's these types of sconces that can cost an arm and a leg, and I'm always wondering why. Especially when there are SO many available that cost hundreds of dollars less. I realize that the details are slightly different, but I really love the little ball at the base of the dupe! I bet if I put these side by side and had you guess which one costs more, you probably wouldn't be able to tell! After all, that's the goal of these dupes, isn't it?
There you have it, ten McGee and Co. lighting dupes for chandeliers, pendants, sconces, and lamps! I hope you enjoyed this post and hopefully I saved you some money! Do you have any of the lighting fixtures or have your eye on one? Tell me in the comments so I can live vicariously through you! And if you liked this post, be sure to check out some of the Arhaus and RH Dupes I have found!

Until next time,
Cheers!