There's no denying that the living room is the central hub of the home. It's where we relax after a long day, entertain guests, and spend quality time with family and friends. However, furnishing and decorating a living room can be quite costly, and it's usually a topic that no one talks about!
After having a variety of interior design clients for the past few years, I came to the realization of one thing – most homeowners have no idea what it actually costs to decorate and furnish their living room… or any room for that sake. Does that sound familiar?
It's not your fault- there seems to be a lot of mystery behind this topic. Most of the time, you just see the finished result and maybe get the overall budget of the entire room… but not room by room.
And that's exactly why I'm writing this post. I'm talking all about the real cost to furnish and decorate a living room.
Whether you have a low, average, or high-end budget, I'm breaking down what each budget actually looks like, what stores you should consider shopping at, and a few tips to consider.
Ready? Let's dive in!
The Actual Cost To Decorate & Furnish A Living Room
Low Budget: $5k- $8k
Average Budget: $10k- $20k
High-End Budget: $30k+
The cost to decorate a living room can vary widely depending on several factors, including the size of the room, the style of décor you want, the quality of materials and furnishings, and whether you plan to hire a professional interior designer.
If you're on a budget, you can expect to spend around $5k-$10k. If your budget is average, expect to spend $15 to $30k on your living room. And most high-end budgets for a living room start around $40k and can go up significantly from there.
Let's take a closer look at each of these budgets and break down what makes up that budget, how and why I spent the budget where I did, and example stores to shop at.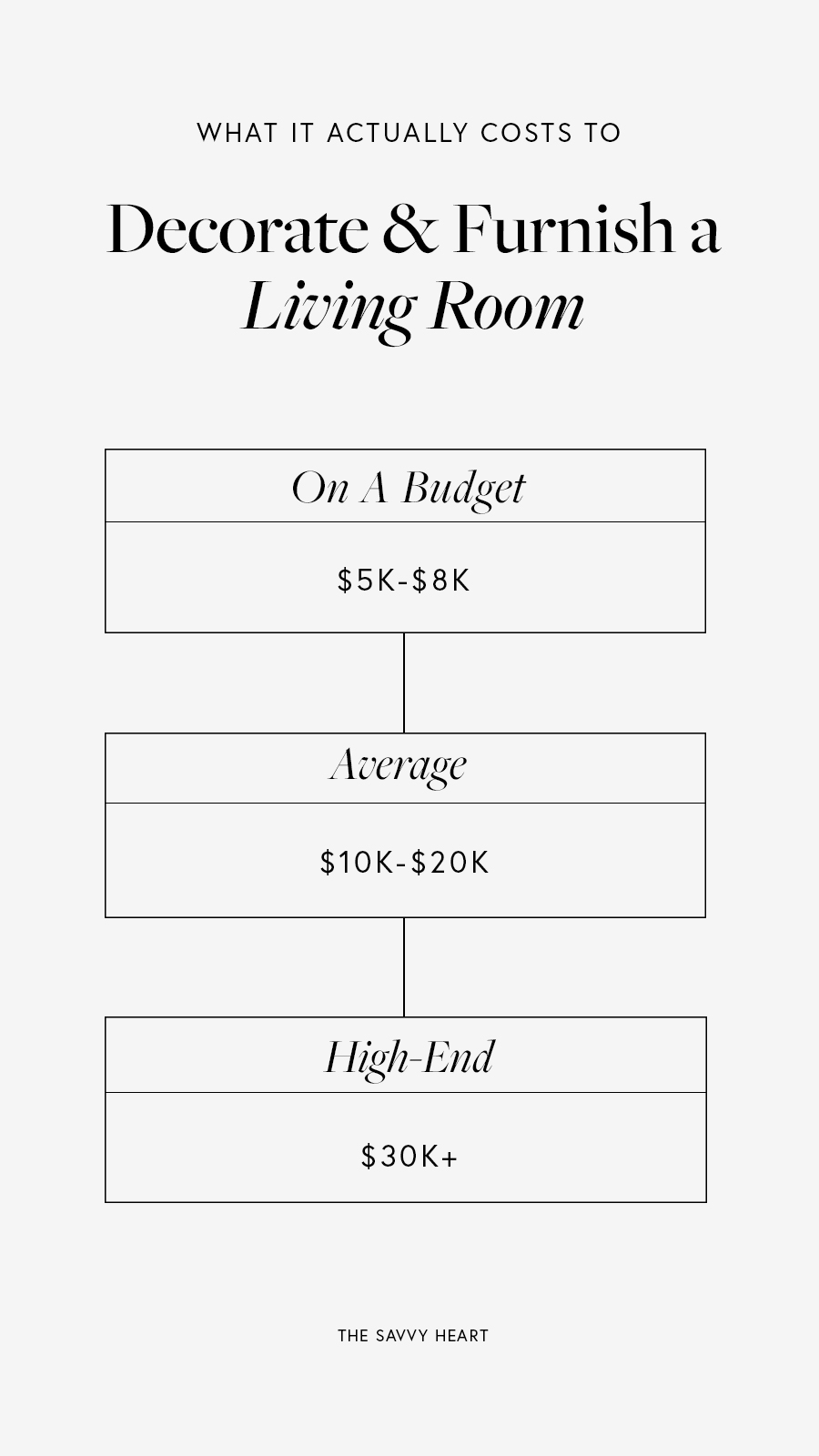 Cost to Furnish A Living Room with a Low Budget
If you plan to decorate your living room on your own, you can expect to spend anywhere from $5k to $8k. Although, you can realistically furnish your living room with only a couple of thousand depending on the scope of your project, how thrifty you are, and the quality of the furnishings you choose.
Keep in mind that with a low budget of a few thousand dollars, quality is going to be one of the first things that the manufacturers puts to the wayside. And simply put- it's not going to last long as a quality piece of furniture. Which, in time, means you're going to have to purchase that piece over again.
With an average budget of $5k-8k for a living room, you could shop at stores like Ikea, Home Goods (you can shop online!), Target, Walmart, H&M Home, Urban Outfitters, Wayfair, or Overstock. Let's take a look at an example budget breakdown for a living room with a $6k(ish) budget.
Cost to Furnish A living Room with An Average Budget
The average cost to furnish and decorate a living room is about $10k to $20k. This would include items such as furniture, lighting, accessories, textiles, and more. Of course, this average budget depends on the size of your room and needs. This also doesn't account for any extra upgrades like new paint, built-in cabinetry, etc.
With an average budget of $10k $20k for a living room, you might hire a designer (like me), or you might be designing your space yourself. If that's the case, you're probably shopping at stores like Crate & Barrel, CB2, Wayfair, Pottery Barn, Lulu & Georgia, Jayson Home, and Mcgee & Co.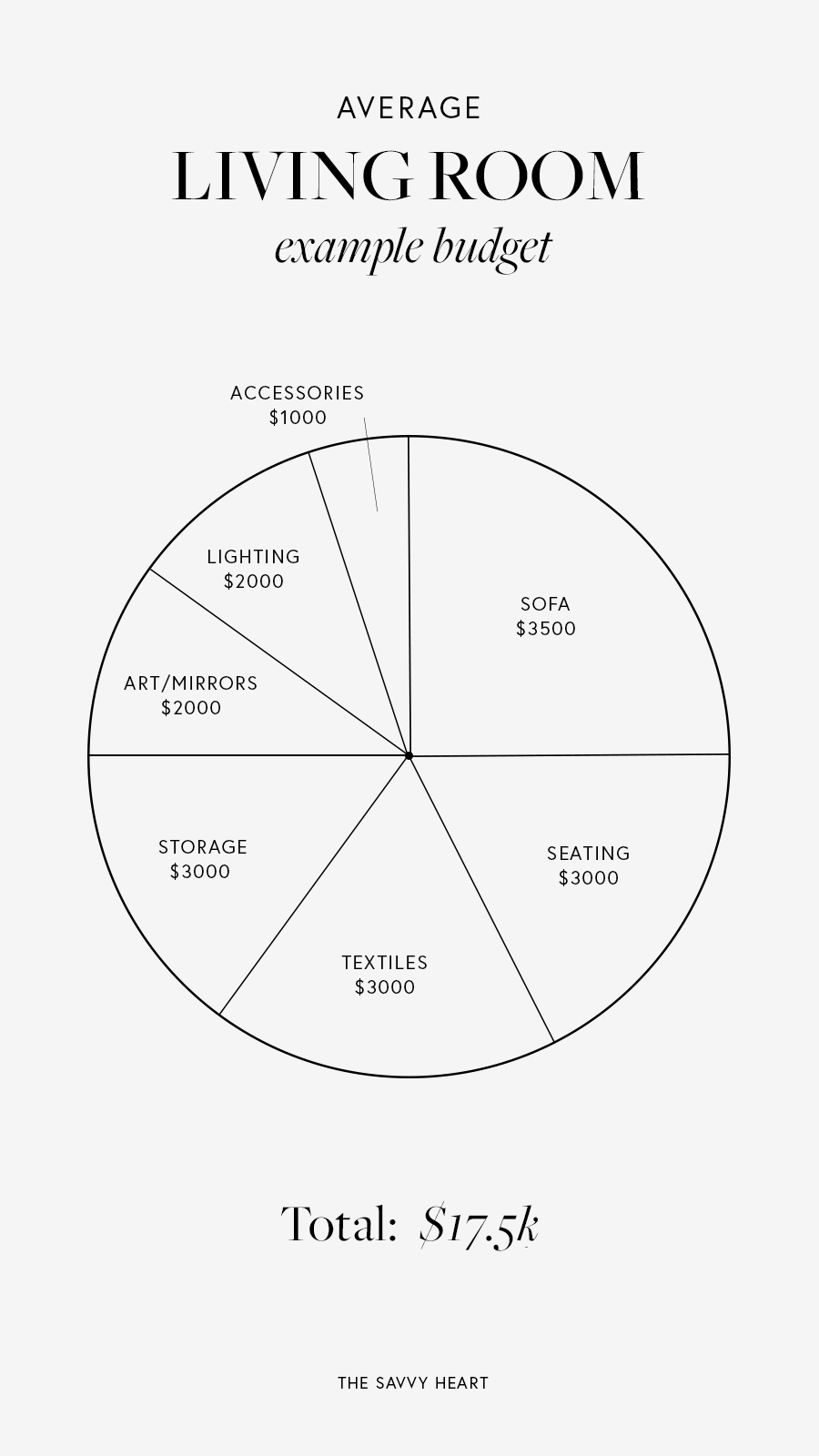 Cost to Furnish A High-End Living Room
If you're looking for a high-end living room makeover that includes custom furnishings, high-quality materials, and luxury finishes, you can expect to spend $30k or more. When you have this type of budget, you're probably ordering custom design pieces and choosing custom upholstery among many designer and probably vintage items, too. When you're spending this much money on furnishings, your standard for quality is top notch, so you can expect to live with these items for years to come.
With an average budget of $30k+, you probably have a designer you're working with. If not, check out my services here. But if you're going at it by yourself, you're probably incorporating some new pieces, but also mixing in a few one-of-a-kind pieces and antiques. A few places you could shop with this type of budget is Perigold, Visual Comfort, Arhaus, Arteriors, Mitchell Gold + Bob Williams, 1stDibs, and France & Son.
Let's take a look at an example high-end budget and see how it gets broken down.
There you have it, I broke down the main budgets for decorating and furnishing a living room, and even gave you some ideas of places to shop at!
Did you happen to notice where the majority of the budget went? That's right… the sofa, more seating, and textiles. I usually reserve around 20% of the budget for the sofa or sectional, 10%-20% for extra seating (depending on the size of the space), and another 10%-20% for textiles. These pieces will get used the most and will probably also be abused the most, so make sure you throw a good chunk of your budget at these items. From there, you can really get creative how to divy up the rest. As a general rule of thumb, the larger the item, the more money you should spend on it, but don't let that deter you from splurging on something that's an antique or one-of-a-kind. Those are the pieces that are going to elevate your space feel and make it feel not so basic.
Also, please keep in mind that the budgets and examples in this post are based on my personal experience. No matter what you budget is, there are so many ways to get creative and find something that works for YOU. I hope you found this post helpful and can use this is a guideline so you don't get sticker shock while you're shopping.
If you're not already, follow me on my Instagram because I share weekly dupes, product roundups, shoppable moodboards and so much more! It's a great place to get inspiration and my professional picks at no cost! And if you'd like my help designing your space, please check out my services.
Until next time,
Cheers!