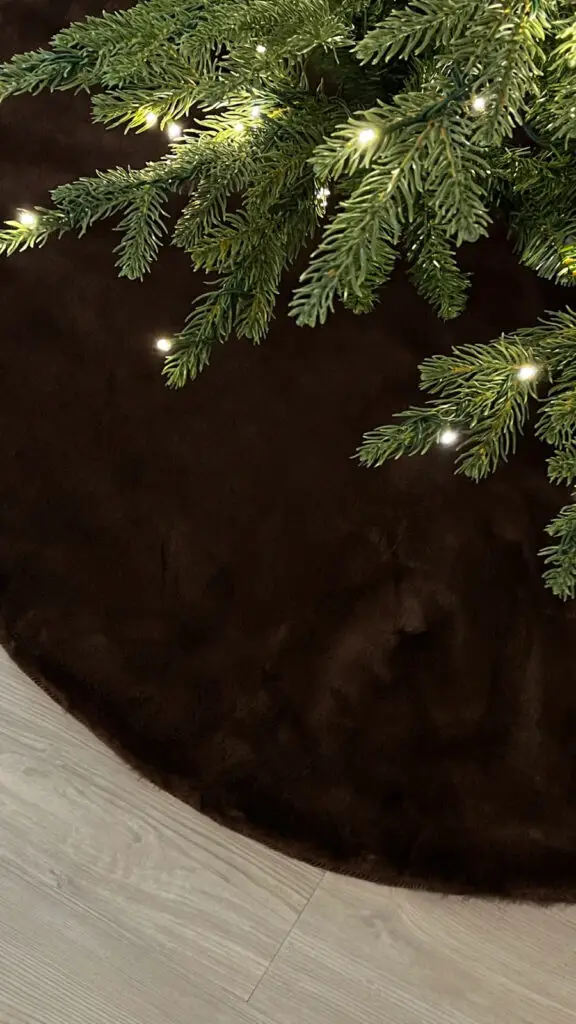 If you've ever wanted to create a custom tree skirt for your Christmas tree, this post is for you! I came across this faux rabbit fur tree skirt on Arhaus.com and immediately fell in love. It looks so lux and cozy, doesn't it?! But for $140, I knew I could make my own for quite a bit cheaper, and that's exactly what I'm going to share with you in this post. I also made a quick IG reel, so take a peek at that, too. (Also, follow me for more DIY projects and tips!)
First things first, you need to gather up all your materials. I found a chocolate faux rabbit fur fabric for only $12.99 a yard, and when it arrived, I was immediately obsessed! It's ultra soft and very high-quality for being a faux fur fabric. I also went to my local craft store and picked up some brown felt fabric for the bottom piece.
As you may have noticed, the Arhaus tree skirt looks super fluffy and full. So to re-create that same look, I added a layer of batting between the fur in the bottom piece.
Once I had all my pieces, I thought I was ready to go, but then I decided to add some decorative trim. There's isn't necessary, but I felt like it made it feel a little more finished. I picked mine up at a local craft store, but you can also buy this online, like most of the other materials needed, which I listed below.
Materials
Step 1: Cut out all your pieces
Once I had all my materials, I used a tape measure and cut out a 54" square. The next step was making the circle. I marked the middle of the square and tied a piece of string to a marker, held it taught, and drew a large 54 inch circle. I repeated this step for the batting and backing/ lining.
For the inner circle, I traced a roll of tape. Really, any round piece that will fit around your tree base will work. Alternatively, you could make a slit in each of the pieces like a traditional tree skirt. I opted to make one circle in the middle and place it over my tree base before the rest of the tree went up. This is a personal preference, but keep in mind that this will affect how you sew (or don't sew) all the pieces together.
Step 2: Attach the decorative trim
Next, I took the trim, pinned it to the backing, and sewed it on. I was originally going to make this like a typical pillow cover. However, I was worried about it getting a little smidge too small after sewing (I cut it close with the amount of fabric I had!), so I opted to sew with some of it, and then glued the other parts.
Step 3: Glue or sew all the pieces
Once the decorative trim was stitched onto the backing, I used some heavy-duty fabric glue to glue down the faux fur to the trim and backing. Remember to sandwich the batting between the two pieces of fabric before gluing it down!
The last stop was to glue the inner circle together, and I used the same fabric glue to glue that together. 
Once again, you could put a slit in this and stitch it as he would like a normal pillow cover. But this is also a great no-sew option. I was actually pretty surprised at how well the fabric glue held!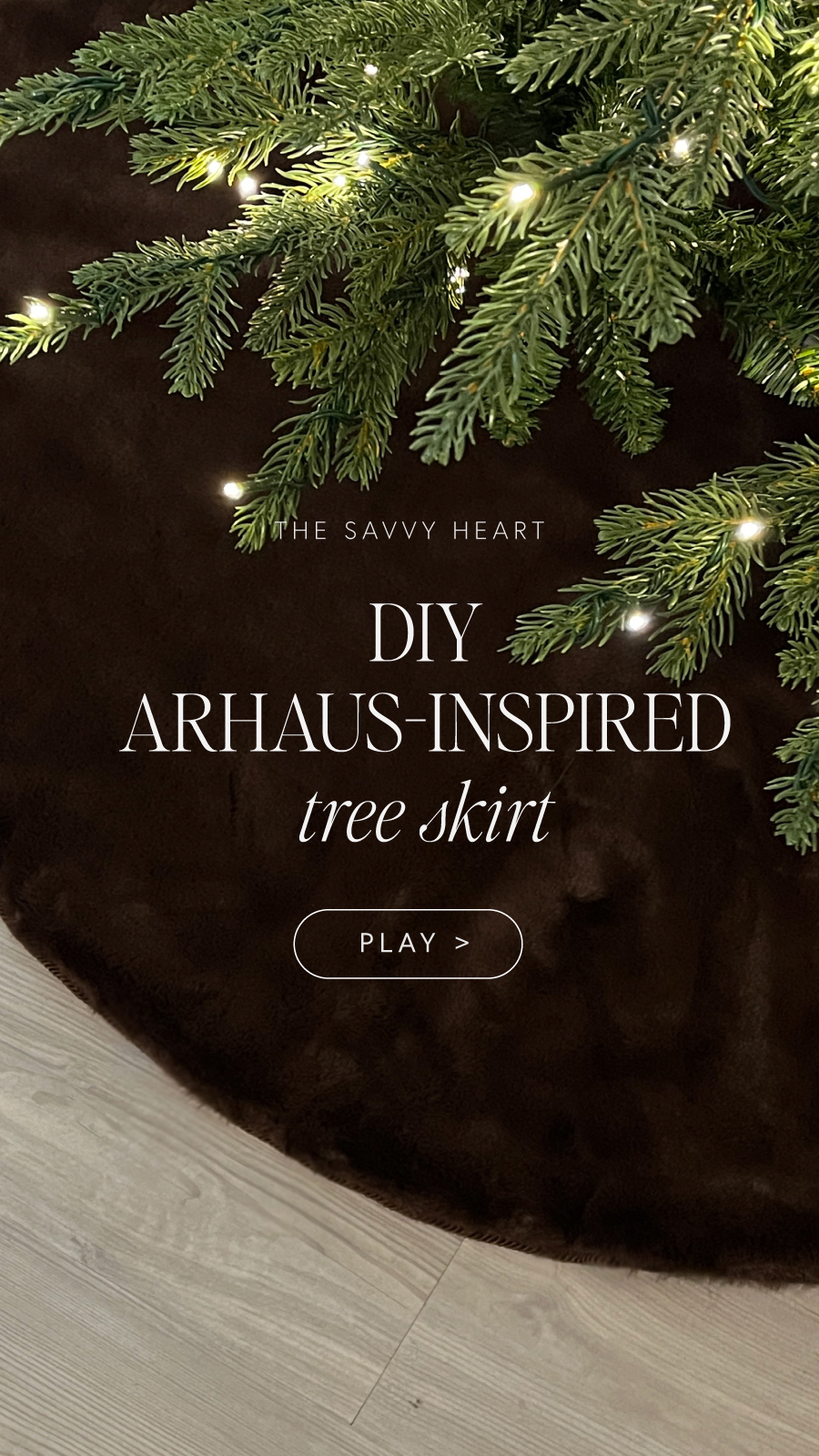 All in all, this tree skirt turned out great! I think the extra batting in between the two pieces of fabric really added an extra layer of fluff that was needed, or else it would've just left a little lackluster. If I were to make this again, I think I would add even more batting! I know the tree baskets are getting more and more popular but personally, I like the look of the traditional tree skirt best. And the faux for makes it feel super lux and cozy! I can't get enough!
Not to worry, if you aren't a big DIY fan, I rounded up five of my favorite faux fur tree skirts below!
Faux Rabbit Fur Tree Skirt via Arhaus
Faux Fur Tree Skirt via West Elm
Ivory Faux Fur Plush Tree Skirt via World Market
Lodge Faux Fur Tree Skirt via Balsam Hill
Arctic Holiday Faux Fur Tree Skirt via Balsam Hill
All in all, how do you think this tree skirt turned out? And do you think that you'll make one of your own? If you do, tag me on social me @thesavvyheart so I can see!

Until next time,
Cheers!