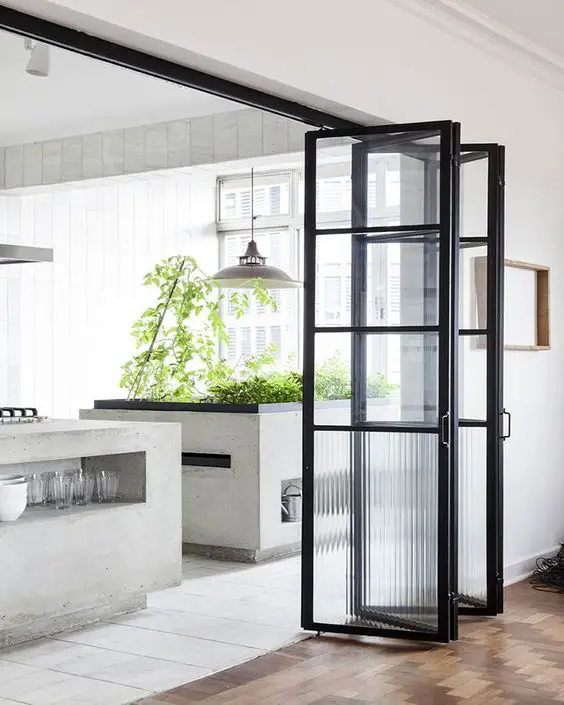 Images via Lion Iron Doors & Quincoses Drago
You know when you see a picture of something, and can't stop thinking about it, and then start noticing it everywhere? Lately, for me, it's been reeded and fluted glass! It's so gorgeous, don't you think?
These textured glasses add depth and interest to any space and offer a unique alternative to traditional clear glass. In this blog post, we'll explore what fluted and reeded glass is, its history, and a few of my favorite pieces! Oh, and maybe a couple of ideas for some DIYs, too. Ready to dive in?
What is Fluted & Reeded Glass?
Fluted and reeded glass are two types of textured glass that have decorative ridges or grooves on their surface.
What's The Difference Between Fluted & Reeded Glass?
Reeding or a reeded texture refers to a series of parallel, narrow, convex grooves or lines. Fluting or a fluted texture refers to a series of parallel, concave grooves or channels.
Images via Glas Italia & Nickolas Gurtler and Dion Robeson
The History of Fluted Glass
Fluted glass has a rich history that can be traced back to ancient times. The earliest known examples of fluted glass were found in excavations of Roman and Egyptian ruins, dating back to the first century AD. These glasses were made by blowing molten glass into a mold that had parallel ridges or flutes, resulting in a textured surface. In the early 20th century, fluted glass found its way into modern architecture, particularly in the Art Deco movement. It was often used as a decorative element in windows, doors, and walls, adding a unique texture and style to the building's design. You can still see this today in old buildings such as libraries, offices, government agencies, and more.
Get the look: Fluted Glass In Your Home
Getting this look in your home isn't as intimidating as you might think because there are so many ways to go about it! You can either go big and make a statement or use it in a more subtle way with small accessories. Similar to frosted glass, the texture provides privacy while still letting light in, which makes it perfect for showers and doors of all types, whether in an office environment or at home.
Thinking smaller and more realistic, you can also get this look with small, everyday essentials like drinking glasses, carafes, flower vases, and even lighting fixtures! Here are a few of my favorite fluted glass accessories:
Shop Ribbed, Rippled, and Fluted Glass Home Accessories
FROM LEFT TO RIGHT
Rasori Mini Glasses via 1st Dibs | Ripple Carafe via Ferm Living | Fluted Glass Pendant Light via Tudo & Co.
Dearborn Carafe via Fferone | Champagne Flute via Richard Brendon | Ribbed Glass Wastebasket via CB2
Striae Ribbed Glass Flush Mount Light via CB2 | Big Vase via MoMA Design Store | May Ribbed Glasses via 1st Dibs
So what do you think about this fluted glass? Are you a fan, or does it feel a little too vintage for your taste? Personally, I can't wait to see more of this ribbed texture in both interior design and product design! Let me know your thoughts in the comments below!
Until next time,
Cheers!