Images via Norm Architects & Residencia
There's no arguing that painting the walls can make a huge difference in your space. It typically takes a few hours, and you can completely transform the look of your room. It's no wonder why it's a perfect weekend DIY!
You probably spend hours narrowing down the perfect color, bringing home samples, get all the proper gear and tools… but do you ever put thought into the finish or sheen of the paint itself?
In reality, the finish is just as important as the color and it's something that gets overlooked all the time!
Depending on what you're painting and the look you're going for, each sheen looks different and durability varies. Some finishes will be easy to clean, while others will highlight every imperfection on your wall, so it's important to know what finish and sheen to use, when and where.
There are five different finish and sheen options to choose from when buying interior paint: matte, eggshell, satin, semi-gloss and high-gloss.
5 Types of Paint Finishes and Sheens
Matte
eggshell
satin
semi-gloss and
high-gloss
Images via Lotta Agaton & Sara Medina Lind
1. Flat & Matte Paint Finish
Flat and matte paint finishes are non-reflective and are typically good for low-traffic areas of your home. They're ideal for surfaces with slight imperfections, but also ones that won't get scuffed up too often, as it's hard to clean.
If you have small children or if you're are constantly moving things around in your home, then this finish probably isn't for you. You won't be able to get away with a damp cloth or sponge for cleanup, you'll have to repaint the entire wall to keep it looking pristine.
Ideal places for either a matte or flat finish would include formal living rooms, dining rooms, ceilings, or a formal office.
Images via Joseph Dirand & B.E. Architecture
2. Eggshell Paint Finish
An eggshell finish is usually my go-to ever since I can remember.
This low-luster sheen appears slightly velvety and soft, similar to the actual surface of an eggshell…almost like the name means something!.
It bounces light around the room ever so slightly and can resist stains and fingerprints better than a matte finish. An eggshell finish is a good option for family rooms, bedrooms, hallways, and entryways.
Images via Dwell Magazine & Joseph Dirand
3. Satin Paint Finish
A satin finish has pearl-like sheen and is slightly more reflective than eggshell finish. Since it's more reflective, it's also more durable to withstand dirt and grime, therefore, easier to clean. Always a plus, right?
It's perfect for moderate to high-traffic areas like family rooms, living rooms, kitchens, bathrooms, kids' rooms, molding and millwork, and interior doors.
Images via MyDomaine & Deuren Centrum Noord
4 & 5. Semi-gloss and High Gloss Paint Finishes
You guessed it, both finishes are all about a sleek, glossy appearance. This finish can make a statement all on its own, even in small doses.
These shiny sheens can be glamorous, but they are also very tricky to pull off. If you're thinking about painting your walls with a glossy finish, you might want to think about hiring a professional because the paint will end up showing every tiny imperfection in your wall, and your painting skills….or lack thereof, like the brushstrokes. Instead of going all in on the walls, you could add accents of this high gloss finish on your moulding and millwork, or as an accent on the ceiling.
Glossy finishes are ideal for areas that get a lot of wear and tear, like kitchens and bathrooms since it's easy to clean and has a resistance to dirt, stains, and mildew.
| PAINT FINISH | ABOUT | WHERE TO USE |
| --- | --- | --- |
| FLAT & MATTE | Non-reflective | Low traffic areas |
| | Hides slight imperfections | Formal living rooms |
| | | Dining Rooms |
| EGGSHELL | Low luster | Moderate Traffic Areas |
| | Velvety appearance | Family Rooms |
| | Somewhat easy to clean | Bedrooms |
| | | Dining Rooms |
| | | Hallways |
| | | Entryways |
| SATIN | Pearl-like appearance | Moderate to high traffic areas |
| | Slightly reflective | Family rooms |
| | Easy to clean | Kitchens |
| | | Bathrooms |
| | | Molding & Millwork |
| | | Interior Doors |
| SEMI & HIGH GLOSS | Reflective appearance | High traffic areas |
| | Easy to clean | Kitchens |
| | Resistant to dirt & stains | Bathrooms |
| | Highlights any imperfections | Interior Doors |
| | | Molding & Millwork |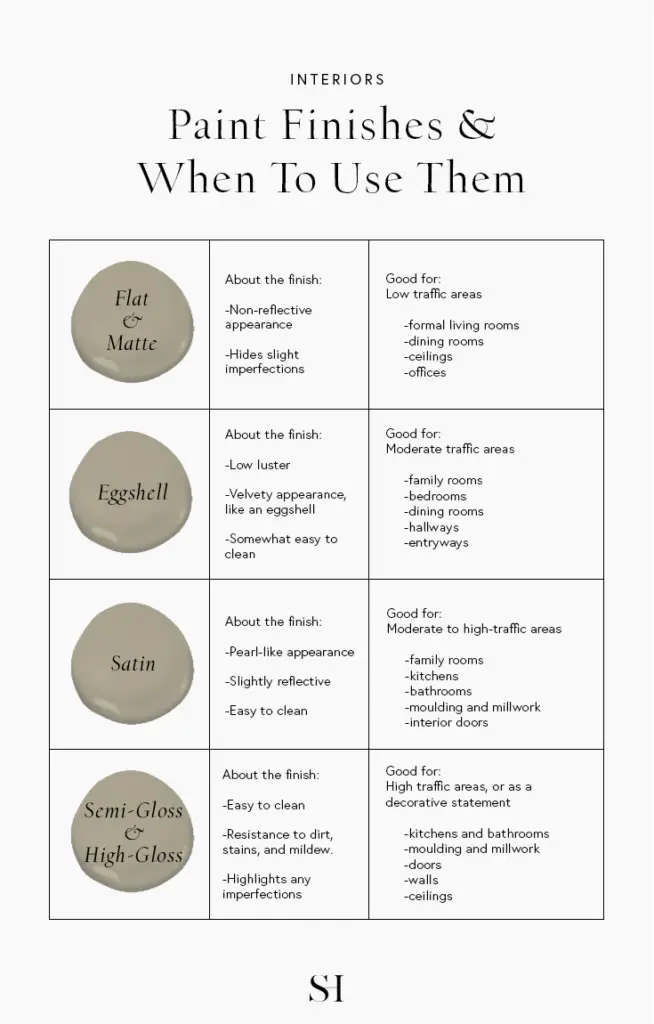 I hope this post helped you out the next time you think about painting some interior walls in your home!
And, of course…these are just guidelines…design is all about having fun, so use your imagination! Let me know what you thought about this post and what paint finish is your favorite in the comments below!