Images via Stoffer Home & Coco & Jack
Whether you're decorating a modern, transitional, or traditional home, look no further than a Turkish, Persian, or Oriental rug! They're the perfect piece to help you determine a color palette, and they can instantly bring a boring room to life!

So… no matter if you're starting from scratch, or trying to put the finishing details on your space, I'm going to talk about foolproof tips for decorating with Turkish, Persian, or Oriental rugs. Sound like a plan?
Images via Brian Paquette & Amber Interiors
Mix With Complementary Patterns & Embrace Texture
Do patterns go with oriental rugs? Yes! Mixing patterns with Oriental, Turkish, and Persian rugs is welcome! But, if you plan on mixing a bunch of patterns, then keep in mind that breaking up the patterns is key. Unless you're going for a Kelly Wearstler moment, then that's a different story.
Personally, I like to flip-flop any pattern against a solid one. For instance, if you're using a patterned rug, I'd choose a solid upholstery fabric, and then you can add in patterned pillows or even a bold piece of artwork if you'd like.
What patterns go with Oriental rugs? When decorating with Oriental rugs, it's best to mix the intricate pattern of the oriental rug with something more structured- like a geometric pattern, stripes, checkers, plaid, or even polka dots.
When designing a room, I like to mix Turkish, Persian, and Oriental rugs with different textures and finishes instead of patterns. It keeps it simple and refined. 
Mix Turkish, Persian & Oriental area rugs with different styles of furniture
Do you have a modern home? A traditional one? Or maybe something in between, like a transitional home?
Whatever your style, I'm here to let you know that oriental rugs go with ALL styles!
Whether you're looking for a bold and richly colored rug, a geometric one, a more minimal distressed or over-dyed area rug, there are so many available, I'm sure you can find one to fit your needs and style.
The bold and rich-colored Turkish, Persian, and Oriental rugs are great if you're going for an eclectic, mid-century, or traditional look.
Geometric rugs are great for modern and contemporary spaces, while the distressed or over-dyed rugs can easily mix with a plethora of styles- just depending on your furniture.
Do oriental rugs go with modern furniture? Yes! It's very common to mix modern furniture with traditional rugs to achieve a transitional, eclectic, or mid-century modern look.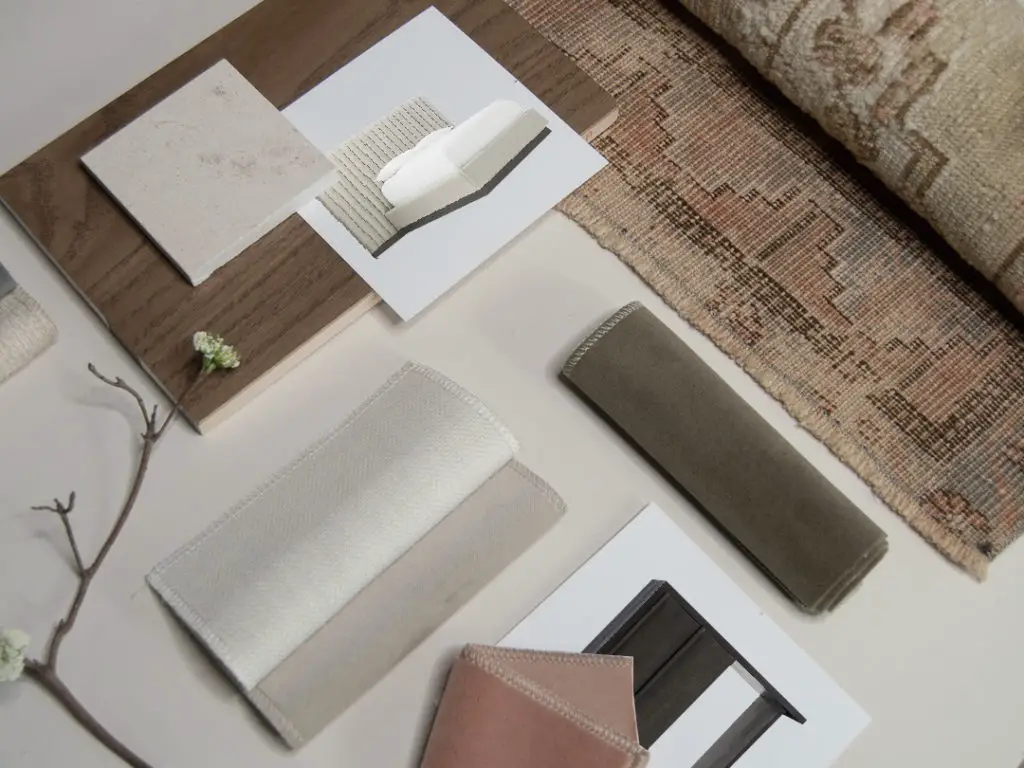 Use a Turkish, Persian, or Oriental rug to find a color palette
How do you decorate a room around an oriental rug? Choosing a rug is often one of the best places to start when designing a room. And if you're using an Oriental, Turkish, or Persian rug- these will often guide you to the perfect color palette.
Think about it this way… there are hundreds of wood finishes and thousands of paint colors to choose from. Meaning, you can always find a paint color that will work with your rug.
So, once you've picked out your rug, choose one or two neutral colors (usually found in the background of many Turkish, Persian, & Oriental rugs), as well as one or two accent colors you'd like to use in your space.
Does your rug have a pop of black? Then use a pop of black in your space! A pop of pink? Then maybe it's a beautiful vase filled with pink peonies or roses. 
You'll be pleasantly surprised how everything comes together after you sprinkle those accent colors throughout your space.
As you can see from the rug above (which was kindly gifted from Turkish Rug Dignity on Etsy), I pulled together a concept with a couple of neutral colors, like beige, tan, and ivory, and then mixed them with a couple of accent colors, like blush pink and a muted blue. 
Images via Anderson Wier Studio & Sabina Interiors
How to decorate with an Oriental, Turkish, or Persian Rug
We've already established a few tips you should consider when decorating with an Oriental, Turkish, or Persian Rug-
like finding a color palette, figuring out the look you're going for, and thinking about what patterns or textures you're drawn to. 
But, what about when it comes to decorating your space and styling it?
How do you style an Oriental, Persian, or Turkish rug? Once you have established a color palette- the next step is to look for materials and finished that complement that palette. Look for different stones, marble, concrete, wood, and metal finishes to see what looks best. 
As for styling the actual rug, one major factor is the size of the rug! There are many oversized rugs, but I'll be honest… they can get pricey! So if you're looking to save a bit of money, think about opting for a slightly smaller rug and layering it on top of a low-pile, neutral-colored rug.
Now, I know I said that you can opt for a slightly smaller size, but let's be clear- for a normal seating arrangement, you want all the front feet of the furniture on the rug – at a bare minimum. Anything smaller than that is a no-go!
Images via Chris Loves Julia & Jean Stoffer Design
If you're on the search for some Oriental and Turkish rugs, definitely check out Turkish Rug Dignity on Etsy. Like I mentioned earlier in this post, Semih- the owner of Turkish Rug Dignity kindly gifted me this small rug and I can't say enough good things about it, so I linked a few of my favorites from his shop below!
Remember these are all one-of-a-kind vintage rugs, so once they're gone, they're gone.
Word of advice: Find the size rug you need, don't think too long and hard about the rug- there have been many times that I've been shopping for a client and then the rug is no longer available! So if your gut says go for it, then go for it. 
Ok, ready to see my favorites?
shop a few of my favorites
Oriental & Turkish Runners
shop a few of my favorites
Oriental and Turkish Area Rugs
I hope you enjoyed this post all about foolproof tips for decorating with an Oriental, Persian, or Turkish rug! If you are wondering what size rug works best in your space, be sure to check out the Savvy Room Planner. You can create a scaled floor plan of your space and test hundreds of furniture arrangements.
Do you have more questions about decorating with Oriental, Turkish, and Persian rugs? Leave them in the comments for me!
Until next time,
Cheers!