Have you ever considered e-design and wondered if it's right for you?
Since e-design works a little differently than traditional interior design, I'm going to share with you 8 questions to ask yourself to make sure e-design is right for you AND your space.
Sound like a plan?
8 Questions To Figure Out If E-design Is Right For You
1. Is my project suited for e-design?
2. Do I know the look I'm going for?
3. Do I have a budget?
4. What do I need help with?
5. What items do I want to get rid of?
6. How involved do I want to be?
7. Am I willing to do some research of my own?
8. Am I willing to put everything together once it's ordered?
Now that I've shared the eight questions, let's dive into each question a little deeper.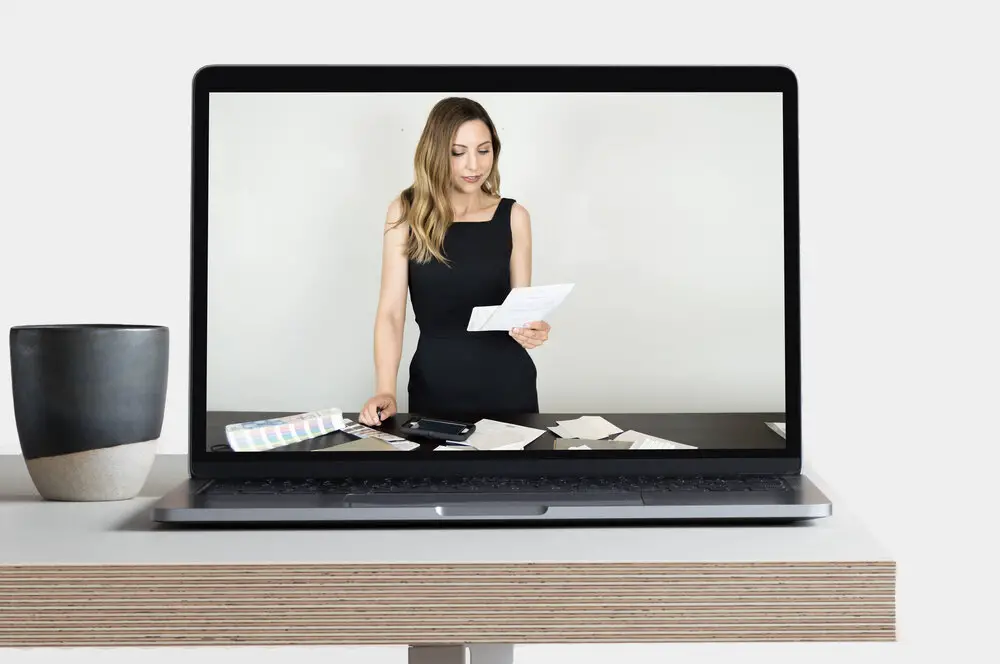 1. IS MY PROJECT SUITED FOR E-DESIGN?
How large is the project you're working on? If you're undergoing a full renovation or doing a kitchen and bathroom remodel, e-design is only going to get you so far. With e-design, your designer will provide you with a floor plan and overall concept, but most e-designs don't go into all the detail that's needed for a kitchen, bath, or remodeling project.
E-design is best for smaller projects, like picking out a new color palette or updating your living room or dining room furniture and décor.
2. DO I KNOW THE LOOK I'M GOING FOR? 
This isn't essential, but if you can come up with a general idea of what you like, it makes the designer's job much easier… and in turn, you get what you actually want!
Now, I'm not saying you need to come with paint colors in hand and know the exact vibe you're going for, but at least determining whether you're going for modern, traditional, or a mix of both is a great start.
If you aren't familiar with Pinterest, I suggest you sign up for a free account and start looking for rooms you love!
3. DO I HAVE A BUDGET?
Depending on the type of e-design service, your designer will suggest furniture pieces and accessories for your space. But before that, it's important to know where you stand on your budget.
Since a room consists of many different pieces, your designer will point you in the right direction to help you determine where to save and splurge.
4. WHAT DO I NEED HELP WITH?
Another way of phrasing this would be, what can I handle doing on my own?
Maybe you need help with space planning, or maybe it's the finishing touches and styling…whatever the case, be sure to let your designer know so they can help you out in the best way possible!
5. WHAT DO I WANT TO GET RID OF & WHAT ITEMS DO I WANT TO PURCHASE?
Do you have a hand-me-down piece of furniture you want to incorporate? These items can change the direction of the design, so be sure to be upfront with your designer and let them know if there are pieces that you won't be getting rid of.
The more upfront and honest, the better!
6. HOW INVOLVED DO I WANT TO BE?
If you want a very collaborative process, it's sometimes hard to do that via email.
Of course, Zoom and Facetime have drastically changed the way we can collaborate, but unlike traditional interior design, you don't have the option to go shopping with your designer or have them physically pick items out. And sometimes, it is those details that matter most.
7. AM I WILLING TO DO RESEARCH ON MY OWN?
Your designer will most likely give you a shopping list, or at the very least, point you in the right direction of what you should be shopping for. However, it ultimately comes down to you finding the item and purchasing it.
From experience, online items can sell out FAST, so you might need to source something that looks similar to what your designer suggested.
8. AM I WILLING TO PUT EVERYTHING TOGETHER ONCE IT'S ORDERED?
E-design takes a person who isn't afraid of a little DIY. Your designer will provide you with an action plan, but it's up to you to execute it. If styling and decorating isn't your forte, make sure you select an e-design plan that will give you the most detailed plan, if possible.
I hope this post helps you determine if e-design is right for you!
These questions are just general ideas to get your mind wandering and make sure e-design is what you actually need.
While it is an affordable alternative to traditional interior design, if you need extra help with your space, hiring a traditional interior designer might be the way to go. Of course, every designer does things a little differently, so keep that in mind.
Until next time,
Cheers!