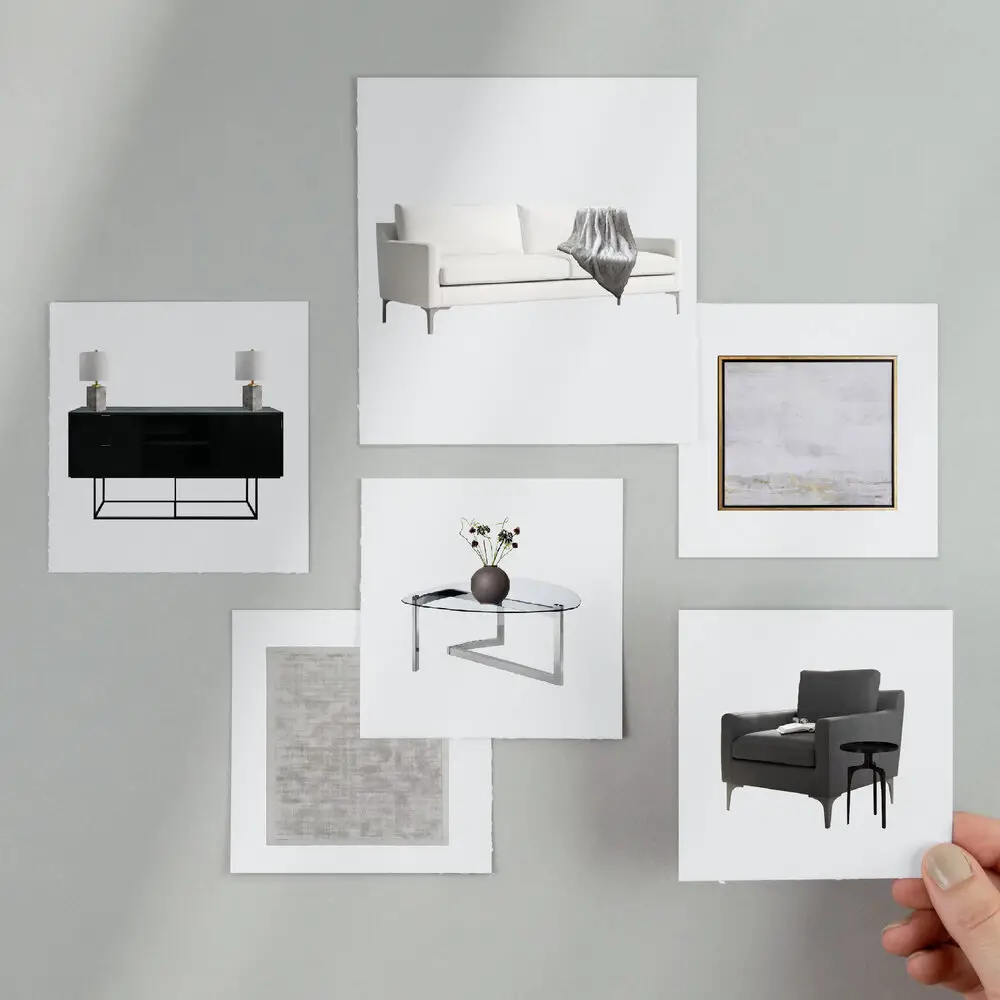 The mid-century modern craze doesn't seem to be going anywhere anytime soon! Have you noticed?
It also happens to be one of the interior design styles that my clients ask for regularly…
Well, they say 'mid-century modern' but what they usually mean is that they like the clean lines of mid-century modern design, not necessarily the bright colors.
When you hear the words mid-century modern your mind probably wanders to bold colors and wood furniture. And these days when you look up #midcenturymodern, you're swarmed with a bohemian vibe.
But mid-century modern design doesn't always have to mean bold colors and wood accents.

When AllModern reached out and wanted to see my take on mid-century modern, I jumped at the chance and thought it would be fun to share another Get The Look with you! This time, a minimalist mid-century modern living room.
I pulled together some of my favorite pieces from AllModern that are perfect for getting that ever-so-popular mid-century modern look!
If you're familiar with my blog, then you know that I source a lot of items from AllModern, Wayfair, or one of their sister sites pretty often.
One reason is because of the reviews. If you're an avid online shopper, then you know the reviews make the shopping process soo much easier! So for peace of mind, each piece I picked has an average review of 4 stars + ! 
Minimalist Mid-Century Modern Living Room
shop this look:
Braunstein 17" Table Lamp via All Modern
Oliver Gal Abstract Art Print via All Modern
Myles TV Stand via All Modern
Connor Sofa via All Modern
Thiele Faux Fur Throw via All Modern
Geinbow Knot Pillow via All Modern
Kenny Cocktail Table via All Modern
Rudea Table Vase via All Modern
Cecelia Accent Chair via All Modern
Raymond Tray Table via All Modern
Marcus Light Gray Area Rug via All Modern
I opted for neutral tones throughout the space, and played it safe with the larger pieces, using simple silhouettes that have an aspect of mid-century modern design.
Most mid-century modern living rooms usually use some cognac leather, but I decided to go a different direction and opted for different shades of grey.
The abstract art print helps tie in every single color, and it even has a hint of gold, which will complement all the silver finishes!
I know I've said it before, but don't be afraid to mix those metals!
Since every piece so far was fairly simple, I decided to add a console table and coffee table that add some visual interest.
What do you think about this minimalist mid-century modern living room I put together?
I really love how this entire look came together, and love how each piece of furniture can easily blend with different styles other than mid-century modern.
What other types of rooms would you like to see in the 'Get The Look' series? I always love hearing your thoughts!