Don't you love a good DIY? I know I do! And that also includes a good Ikea hack, right? Today I'm sharing a project that I did a few years back and has remained a staple in my office 'til this day. I haven't seen an Ikea hack exactly like this one, so I'm excited to share it with you!
You know those card filing cabinets at the library? The ones that have a zillion small drawers and each one is perfectly labeled? If you're office supply obsessed like I am, then you probably know what I'm talking about.
You may have seen them in an antique shop or on Pinterest, and they can cost a pretty penny depending on the size. I've had a crush on these library-style cabinets for quite some time and figured there was probably a less expensive way to get this look. Soo….
….insert Ikea and some imagination!
This DIY project is as simple as it gets, so let's get into it what you'll need and how do do it!
What you need:
Kallax Shelf in Black Brown via Ikea
Kallax Insert With Two Drawers in Black Brown via Ikea
File Cabinet Pulls via Amazon
Swivel Plate Casters via Home Depot
Level and a pencil
Screws
STEP 1
Put together the kallax shelves and drawers just like Ikea says.
STEP 2
Attach the casters to the bottom of one of the Kallax shelves. I used five casters total, one on each corner and one in the middle.
Depending on the size of the kallax shelf you're using, double-check the weight limit on the casters. Make sure it will support the cabinet, all the drawers, plus whatever you're planning on storing in it.
Also, keep in mind that most of Ikea's furniture isn't made with 100% solid wood….like the Kallax shelves. When you're attaching the casters make sure you get as close to the corners as possible so you're drilling into the most solid spot.
STEP 3
Flip the cabinet over and stack the other Kallax shelf on top. The casters make it easy to move around, but once it's filled, it's pretty heavy, so make sure it's in its final spot at this point.
STEP 4
Install the drawer inserts. Follow Ikea's directions and secure them into place.
STEP 5
Install the label pulls over the existing hole on the drawer fronts.
You can do this a few different ways, either before you assemble all the drawers and drawer fronts, or after everything is put together. You can measure every drawer or make a template if you have a lot of drawers, like this project.
STEP 6
Insert the drawers, label them, and fill em up!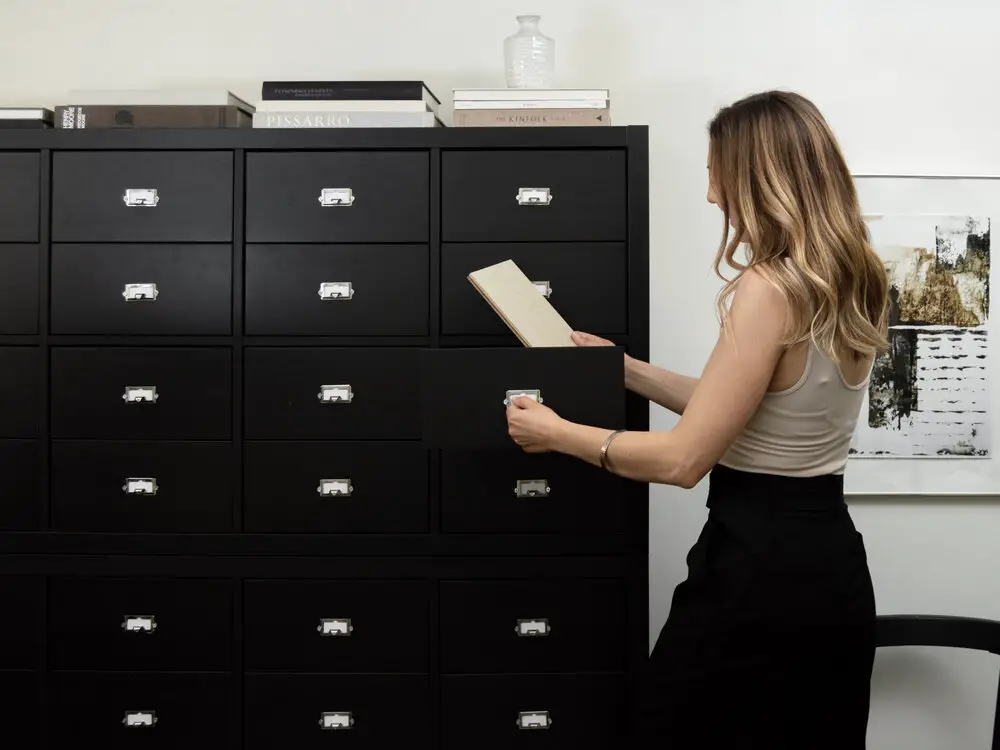 I love the closed storage this provides, and it's also super accessible for so many different things you use regularly.
Right now, I'm using it for my everyday work supplies and material samples, but this would also be great in a kids room, workshop, or a dorm!
The Ikea Kallax shelves come in so many different sizes and colors, so you can customize it to your space. The possibilities with this are seriously endless. There are so many good options for cabinet pulls, so it's really hard to make this look bad! Be sure to check out some of my favorites below if you're looking for a little inspiration.
Shop Favorite Hardware:
The cost of this project was kind of expensive considering it's mainly Ikea. Before I was inspired to completed this project, we already had a couple of these shelves with a few drawers, so I ended up buying everything in stages.
If your budget is tight, don't be afraid to check Craigslist, Facebook marketplace, or Offer Up! You'd be surprised.
So… what do you think of this Ikea hack? Is it something you'd try? I'd love to know your thoughts in the comments below!
Until next time,
Cheers!