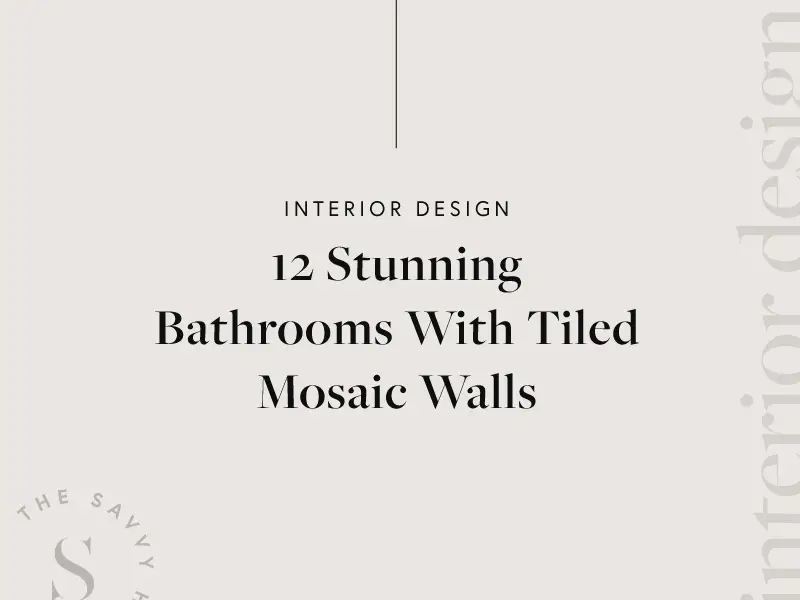 Mosaic tiles are a designer favorite for bathroom tile. It's a great option when you want to make a statement but still want to play it safe.
There are so many patterns to choose from and so many unique ways to use it! One of my favorite ways to use a mosaic tile is to go big with it… taking it beyond the shower walls, so all the bathroom walls have tile.
There's just something special about those fully tiled bathrooms… they feel as if no detail was overlooked, and not to mention they're very practical.
And from a design standpoint, when you tile all the bathroom walls, it helps to keep your eye moving in a fun, unexpected way.
Most of the time I see these over the top showers with two or three different tiles… but by using one simple mosaic tile throughout the entire bathroom, sometimes it can make even more of a statement!
So, whether you're considering using a mosaic tile in your upcoming bathroom remodel or you're just looking for some eye candy, I rounded up 12 stunning bathroom with tiled mosaic walls to give you a few ideas.
Ready to dive into these stunning bathrooms? Let's go.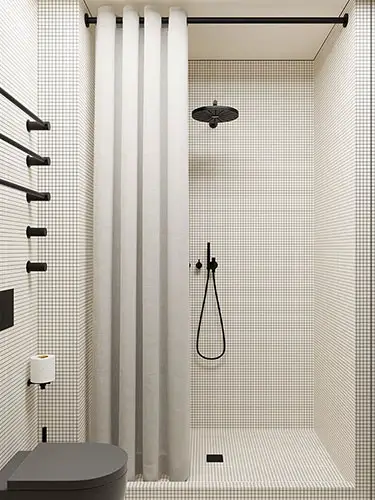 White Square Mosaic Tile
This white bathroom is anything but boring! It's also the perfect example of when your eye keeps moving around the space. It's visually pleasing no matter where you look! And by adding in a different grout color, you get so much dimension and interest without it feeling overwhelming. Yum.
Design via Emil Dervish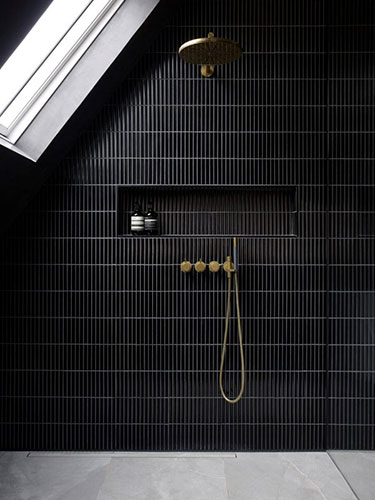 Black Stacked Mosaic Tile
Mosaic tiles are a great option when you are dealing with strange ceiling or roof angles. I like how this designer used the same mosaic tile the wall niche to make it look as seamless as possible.
Design by Unknown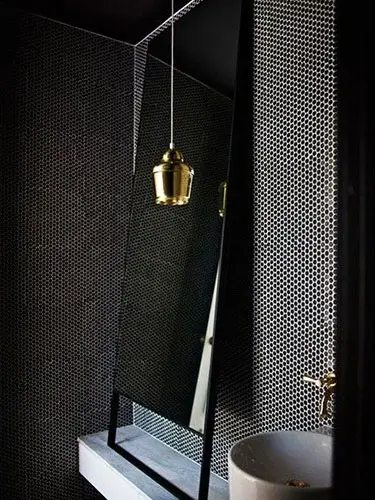 Black Penny Tile
I love penny tile! Even more so when you make a statement with it like this bathroom by Studio Wonder. The contrast between the black mosaic tile and white grout is so chic and unexpected! Also, how gorg is that mirror and sink combo?!
Design by: Studio Wonder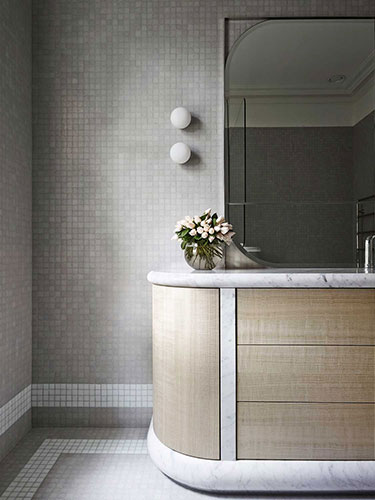 Grey & White Mosaic Tiled Walls
This bathroom has my heart. It's so pretty, not to mention the detail is perfection. Just when you thought simple square mosaic tile was boring…. think again. Don't be afraid to get creative with mosaic tile- mix and match color for a unique look that's custom to your bathroom!
Design by Richards Stanisich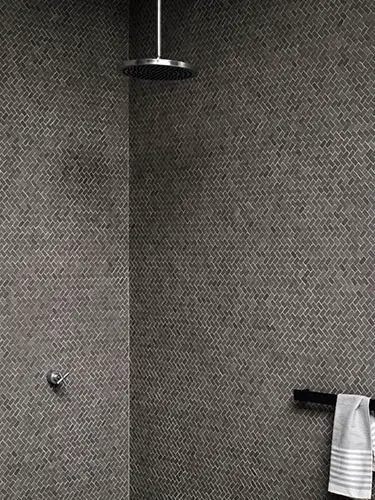 Herringbone Mosaic Tile
Herringbone is one of those timeless patterns, and it's always a good idea in my books! It brings so much visual interest and depending on the style, it can also bring a lot of texture to the space.
Design via Marazzi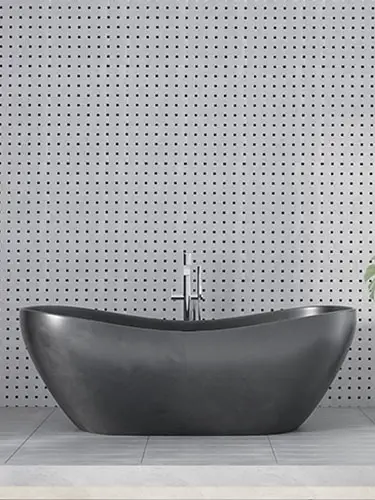 Basket Weave Mosaic Tile
If you want to get a little more creative with mosaic tile in the bathroom, then try a basket-weave mosaic. From a far, it reads as a simple pattern. But when you get up close, you see the real magic happen (aka all the different cuts it took to create it). So beautiful.
Photo via Stone Tile Depot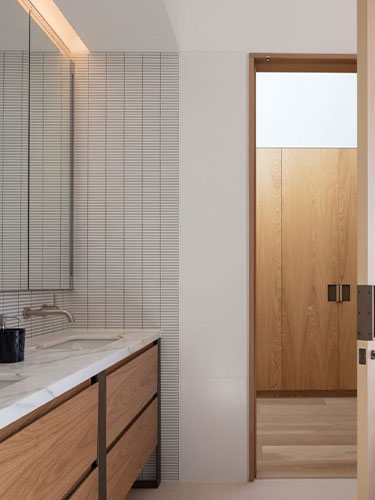 Horizontal Stacked Mosaic Tile
I love a stacked tile, especially when it's small! This white mosaic with the darker grout looks perfect with the marble and wood accents. I'm obsessed with the texture it brings!
Design by Daniel Boddam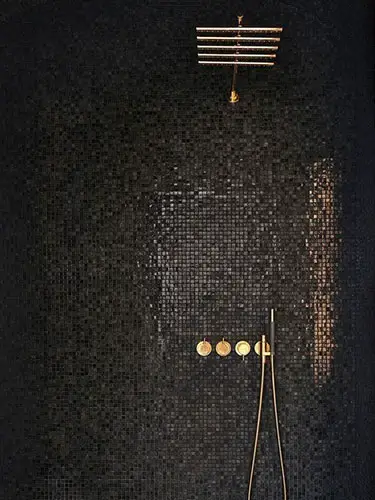 Metallic Black Mosaic Tile
These black mosaic tiles have a metallic finish so they glimmer and shine when the light hits, giving it a beautiful look. Talk about a major statement!
Design via Jordens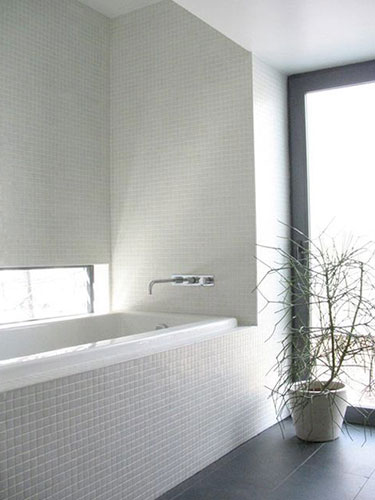 Cream Square Mosaic Tile
I love mixing white and cream, and love it even more in a bathroom setting! By using a white grout it helps to tie in the ceiling, tub, and sink- keeping it all cohesive.
Image via Design Sponge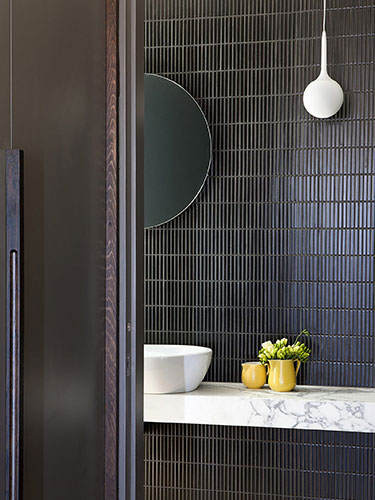 Vertical Stacked Tile
Another stacked tile that is drop dead gorgeous. These aren't as uniform as the horizontal tiles, these ones have a little bit of movement and texture- making it a perfect backdrop to that structured countertop.
Design by np.co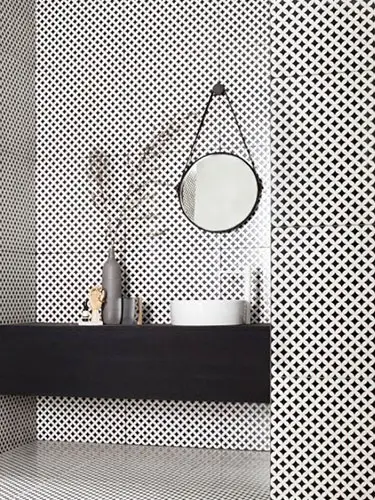 Patterned Mosaic
How fun and bold is this black and white bathroom?! This is the perfect example of being a little more bold with your mosaic tiles and really going for it. I would love to see something like this in a small powder room- so fun!
Image via Archiproducts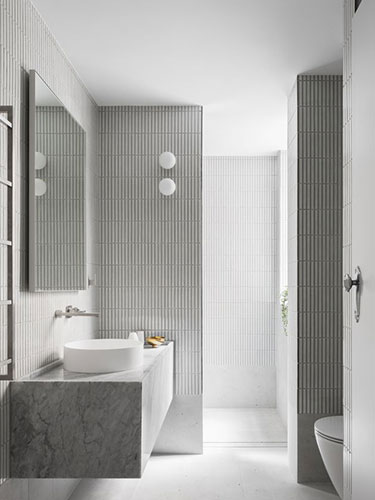 Stacked White Mosaic Tile
I know what you're thinking… another stacked tile? Well… yes, but no. It might be hard to see, but did you notice how the mosaic tile doesn't extend all the way to the floor? It lines up perfectly with the marble countertop and toilet. Such a gorgeous detail!
Design by Retallack Thompson
Shop a few of my favorite mosaic tiles:
That concludes this roundup of 12 bathrooms with tiled mosaic walls! I hope you found this post helpful and gave you a few ideas for your bathroom!
Let me know which mosaic bathroom is your favorite in the comments below- I seriously can't choose, they are all so gorgeous!
By the way, if you're looking for more inspiration and ideas, hop on over to my Pinterest page – I add new pins daily!
Until next time,
Terra
---
Just a heads up- this page contains affiliate links. What does that mean? It means that if you click on a product and purchase something on that website within a 24-hour period, I'll earn a small commission. It's a win-win for both of us so I can continue to create free content like this! Thank you for all your support and for stopping by my blog. 🙂
---