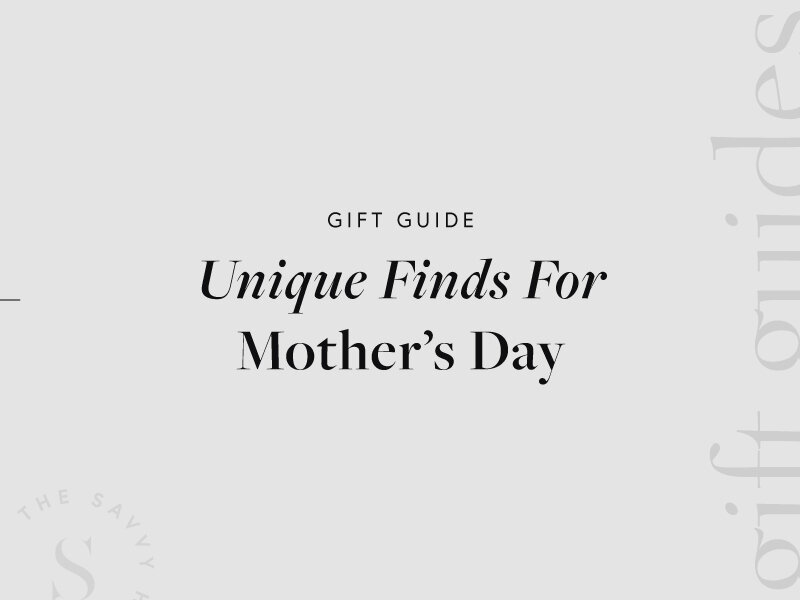 Mother's Day is right around the corner, and I know it just doesn't feel quite the same this year with all the craziness happening out there, but I'm sure you're still looking for some unique gift ideas for your Mom. I sure know I am!
Since a lot of shops are closed, and this crisis has impacted small businesses the most, I thought I'd share some of my favorite Etsy finds in hopes of supporting some smaller businesses out there, like mine. So I rounded up 11 unique gift ideas to get your Mom for Mother's Day, all from Etsy shops with ratings of 4 stars and above!
Ok, ready to see what I picked out?
Gift Ideas for Mom on Mother's Day – From top to bottom
I just love the look of this candle! Instead of gifting the normal candle in a glass jar, switch it up and go for something visually interesting! I can just picture it on a cute little tray sitting on a coffee table, can't you?
This leather keyring is not only chic, but it's also perfect for placing a cute photo of you and your Mom! I think we could all use some small reminders of our loved ones during these crazy times.
Would you ever even think this was a diffuser?! Rustic and sculptural ceramic pieces have been going strong in the design world for the past couple of years, and this simple piece captures that perfectly. Just place a few drops of essential oil on top and enjoy! 
A little different looking than the normal reed diffuser, right? That's exactly what caught my eye, and thought it was perfect for springtime and Mother's Day. You can't go wrong with something that smells amazing!
Since you can't take your Mom to the spa on Mother's Day, bring the spa to her! Bundle this waffle-knit robe with a couple of bath and body products and you have an instant spa day at home!
Designed by yours truly and available in three different colors, this little geometric vessel is perfect for all of life's little things, like q-tips, and pens, or use it as a votive for small candles!
There's always that one recipe you want from your Mom. For me, it's her fudge, artichoke dip, or my Grandma's sugar cookie recipe….YUM! For those special recipes, this custom cutting board is perfect for keeping it in the family for generations to come.
Is your Mom the kind of Mom that brings over yummy food?! If so, return the favor and gift her this casserole tote…bonus points if you include a new casserole dish! And if you want to take it to the next step, fill the casserole dish with some yummy ingredients, like gourmet pasta, herbs, and sauces!
9 BODY OIL 
Body oil has made my skin so much softer, not to mention it helps my gel nail polish stay on longer! If you're an OG follower of The Savvy Heart, you might remember when we sold some of this body oil. And because this is an actual favorite of my Mom's, I had to share it with you!
For an 8-ounce bottle, mix 3 ounces safflower oil, 3 ounces Sunflower Oil, and 2 oz. Jojoba oil, and about 20 drops of your favorite essential oil. I like putting it in a glass bottle with a pump for easy application directly out of the shower, or you can mix a little bit in with your lotion for a little boost of hydration!
I think the best gifts are ones you wouldn't necessarily buy for yourself, and I think this vanilla bean paste is exactly that. It's pricier than vanilla extract, but if your mom loves to bake, I'm sure she'd love this!And word on the streets is… it sh*ts on vanilla extract! Have you ever tried it? Let me know in the comments below!
Last but not least, you can never go wrong with chocolate, am I right?! These caramels are the perfect blend of sweet and salty and a no-brainer gift that anyone would enjoy!
I hope this post helps you get some unique ideas for Mother's Day gifts and inspires you to shop from small businesses!
If you're looking for some more inspiration for Mother's Day gift ideas, be sure to check out the Mother's Day section on Etsy. Also, check out the other gift guides below for some more ideas.