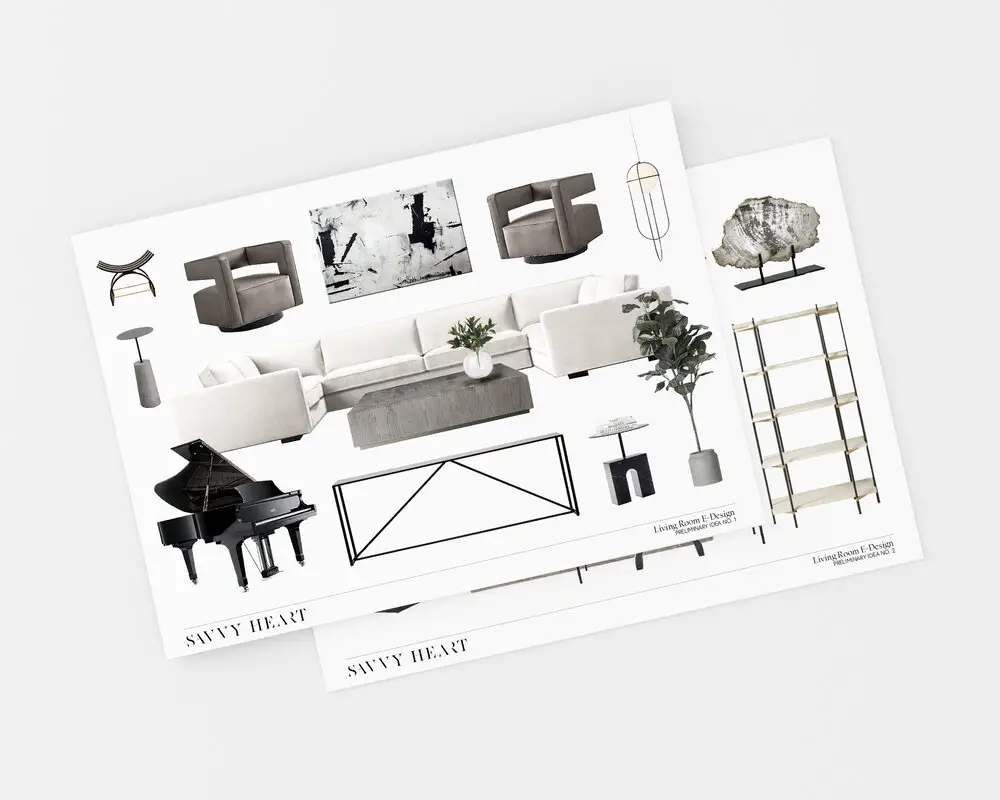 E-design and online interior design has been around for a few years now, but have you ever considered it? Maybe you've heard the term e-design, but you don't know what it is and what it entails. If that's you, then stay tuned because I gotcha covered. 
I'm going to teach you exactly what e-design is, how it usually works, and how my e-design process is different than the rest.
Ready to learn more about e-design? Let's get into it.
What is e-design and online interior design?
E-design is the online version of hiring an interior designer, where everything is done virtually. The best part is, is that you can do it from the comfort of your sofa!
E-design is a great way to work with an interior designer at a fraction of the cost, but beware, because it isn't for everyone. If you have a little DIY spirit, then e-design and online interior design can be a great option! You'll need to provide photos and measurements of your space, as well as order everything you need and implement the design. Your designer will set you up with a shopping list and styling guide, but it'll be up to you to complete the look.
How does e-design work, & what's the process?
Every designer and company will do things differently, but in general, this is how my e-design works:
Step 1 – Tell me about your space, style, budget, etc.
Step 2– Send over photos and dimensions of your space & complete a client questionnaire.
Step 3– Schedule a consultation with the design and discuss your interior design style and talk about the space.
Step 4– I'll present you with a set of preliminary design ideas as discussed in the consultation.
Step 5– I'll create an overall concept for your space with more detail and an accompanying floor plan based on your feedback on the design ideas.
Step 6– I'll present you with a final design concept, along with an accompanying shopping list, styling tips, and floor plan.
Step 8– You purchase the items and implement the design!
How my E-Design process differs:
My e-design process is very similar to other e-design websites and interior designers, but it does differ a bit in some areas…
I offer three different e-design packages, one a la carte package, and two other tiers for a complete e-design project. Depending on the package you choose, there are a different number of preliminary design ideas, concepts, and floor plans included.
I hope this post gave you some better insight into what e-design and online interior design is, how it works, and how my process is different.
If you have any questions about e-design, my services, or anything else, I'd love to hear from you! Drop your questions in the comments and I'll answer them!
Until next time,
Cheers!