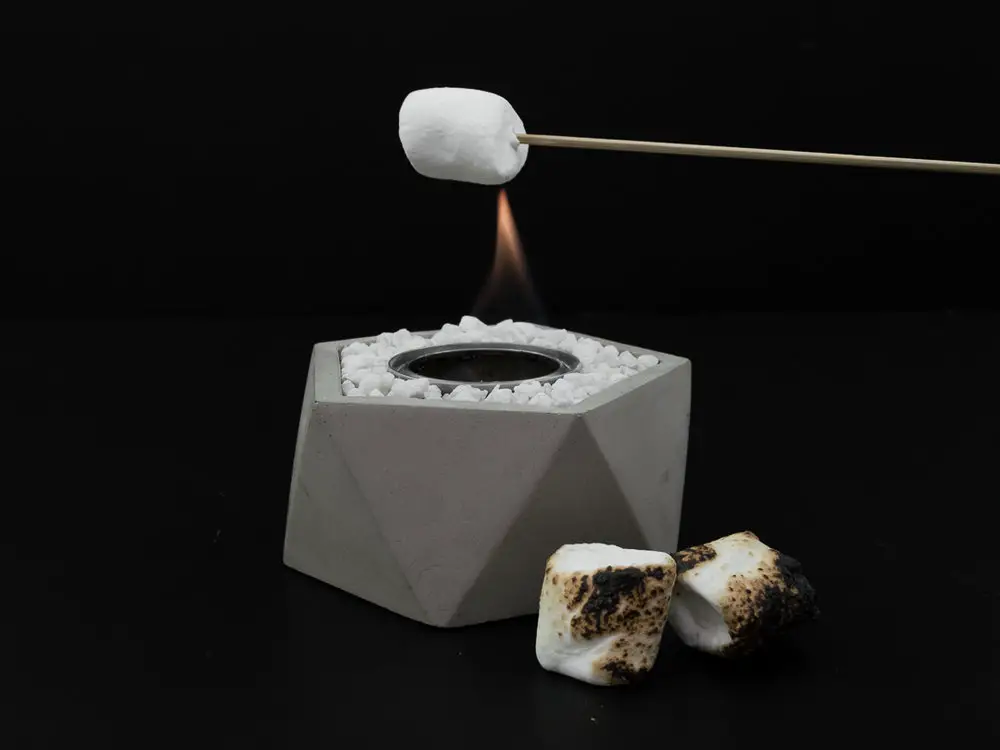 The summer nights here in the Pacific Northwest are hard to beat. Whether we're BBQing, watching the sunset, enjoying a glass of wine, or a joint (hey, we do live in Seattle) on our deck, we find ourselves outside quite a bit, and it's mostly because of the ultra-fresh and crisp air. There's nothing quite like it.
While we're spoiled to live in such a beautiful area, trust us when we say it comes with its ups and downs. If I'm being honest, one of the downfalls is all the bugs. Is it just me? I can't be the only one that finds them a little annoying. I'm sure I'm upsetting some true PNW natives as I type this. Let's just say I don't mind them, as long as their far away, even outside.
While we were BBQing the other night, we started attracting the usual bugs when we were eating. So typical me, I started brainstorming on what we might already have to keep the bugs at bay. Lo and behold, we had a can of citronella-scented gel fuel that we had never even touched. How it didn't get thrown out during our yard sale we had the other month is beyond me, but I'm so glad it didn't! Or I wouldn't be writing this post. Anyway, I got a little creative and made a super stylish firepit/ firepot using our large vessel, and it's perfect to use inside or outside.
The best part is that it's multifunctional, too! It makes a great centerpiece on the patio table, plus if you use a citronella scented fuel it will keep the bugs at bay, not to mention it provides a beautiful little glow, too. You can also use it to toast those marshmallows to perfection and make the smores all year long! (Cooking using gel fuel is only safe using the correct type of fuel- more on that below.) …and like this even needs to be said, but, sign me up for any excuse to make some smores!
I believe that it's all those details that make a regular ol' night a little more memorable.
Before I go into how to make this firepot, I thought a few tips for using gel fuel were necessary, just so no one ends up hurt. Because after all, it is an open flame, and a large one at that.
TIPS FOR USING GEL FUEL
The cans are made of metal, so they're going to get hot!
Be careful not to touch the metal can while it's burning and shortly after. If you need to place the lid back on while it's still hot, do so with a pair of tongs.
Do not store gel fuel in direct sunlight or in hot areas!
Due to the alcohol content in the gel fuel, it is flammable. This should be common sense, but maybe not. The sun or temperatures could change the gel fuel, and it may compromise the product. Just be sure store it in a cool place.
Not all gel fuels are safe for indoors or for cooking!
Wait, what? Yes, you heard it. Not all gel fuels are created equal. Depending on where you are using it at, make sure that you're choosing a can that says that it for indoor use or for food. Indoor gel fuel is alcohol-based, so it burns clean without any nasty fumes, so there's no need to vent. For cooking, the brand Sterno suggests their green ethanol gel , and says it's completely safe for cooking.
Seriously, proceed with caution
Use caution when using these indoors and outdoors, especially if you have kids. Make sure items are far away from the flame, especially if there is wind. Also be sure to put it on a hard, steady surface, free of tablecloths. If you need a little more cover for the flame, try placing a glass cylinder around it.
Ok, now let's get into how to create this simple indoor/outdoor fire-pot in just three easy steps!
STEP 1
Start with one of our geometric concrete vessels. Our large vessel works the best. Insert the gel fuel canister in the center of the pot. Some of the sizes of the gel fuel cans may vary, so if you're using a shorter container, just double check the height. You want to make sure the height of the can does not exceed the pot or vessel you're using. 
STEP 2
Use small rocks and/or sand to fill the voids around the canister, making sure it comes all the way to the top.
STEP 3
Remove the lid and light the gel fuel with a long match or fireplace lighter. Give it a few seconds for it the frame to reach it's full size.
Wasn't this indoor/outdoor firepot so easy to make? This is probably one of our new favorite ways to use our concrete vessels! I'm a little obsessed. And the fact you can also use it indoors is a game changer. That means smores and mini bonfires all year long!
So tell me, what are your favorite things to do in summer? Or, since we're almost heading into fall, maybe a better question is what are some of your favorite ways to bring the outdoors in, from summer to fall?