There have been a lot of changes going on over here lately, have you noticed? Among the changes, we added an entirely new section to the blog, called Interiors & Styling. I've been getting back into the swing of things and slowly diving back into a passion of mine, interior design. I can't wait to start sharing more of it on the blog! It's a bit more than just a passion, I actually have a bachelors degree in interior design, too, which you probably didn't know.
That's why we slowly shifted our product collection into the home decor realm of things a couple of years back. You may also have noticed a couple of interior design related posts on our blog and you-tube channel over the past year.
This addition to the blog is something I've been excited to explore for quite some time, and I think this post is an exciting way to start it off! I'm currently working on a couple of projects of our own in my spare time, mainly our kitchen design.
We moved into our house almost four years ago to the day, and we've completed a handful of small remodel projects, but nothing major. With Jacob working a day job and having events on the weekends, it's hard to find the time to complete some of these larger, more daunting projects. In the meantime, little by little, I'm getting the designs out of my head and on paper in hopes of creating a realistic budget and knocking out some details. So, hopefully, when the time comes to renovate, most things will be figured out, resulting in a smoother remodel. And lets, be real, I love doing this, and thought it would be fun to show you the process!
The goal, for now, is to have the floorplan and schematics figured out, and a plan for materials and appliances. It'll end up being very similar to an e-design. Which, if you aren't familiar, it means hiring an interior designer online, giving them the measurements of your space and an idea of what you want. The designer then comes back with the plan and material selections, ready for you to execute whenever the time is right.
I don't know why I decided to tackle the kitchen first, but that's just how my brain rolls sometimes. The kitchen, in particular, is one space that we've put a lot of thought into. Mainly because we use it multiple times a day and it's the heart of our home, like many other families. Plus, there is so much potential in the space, it's insane!
The first part of the process is to show you what we're working with. The dramatic and all so ugly before photos. So here we go…
Phew, I'm glad that's over with. I do love a good before photo, don't you? But, it'll be even better when we can pair it with the stunning after photo!
As you can see, we're working with some weirdness, and some very orange counters at moment. There used to be upper cabinets above the stove, which we ripped down. And if you take a look at the floorplan above, there used to be a bar that extended from the eastern wall to the western wall. We ripped that out, too, if you couldn't already tell.
When we moved in, we initially thought we wanted a galley style kitchen to make it feel more open toward the dining room. It wasn't until we started playing around with the layout, and moved our refrigerator around that we started to kinda sorta want the bar back. It just made the kitchen seem a little more "grand" and gives a nice place for guests to linger and hang out while I'm cooking and prepping. I'll get into more about some floor plan options below because there's a lot to cover, but first, here's a peek at my mood-board and vision for this kitchen.
If you follow us on Instagram, then you know how much I love black kitchens, so it shouldn't be much of a surprise that we had to make our own kitchen black, duh! I'm keeping the palette simple and sticking to mostly grays and blacks. It's all about simplicity, adding lots of texture, but also keeping things as sleek as possible.
Like anything in life, you know how there are some non-negotiables? Especially when making an important, lasting decision like finding a husband, buying a house, a car, etc. Well, this kitchen is no different, and we definitely have our must-haves that we don't really want to budge from. Here are our four non-negotiables.
1 – COUNTER DEPTH /INTEGRATED APPLIANCES
I want to maximize the amount of space in the kitchen. Having all counter-depth and integrated appliances will visually help to achieve the look of a larger kitchen. I want the counters and cabinets to feel absolutely seamless….meaning I don't want a bulky stove, oven, or refrigerator protruding an entire inch from the countertop. To achieve this look, the fridge and dishwasher will have cabinets mounted to the front of them. In the end, they'll look like a regular cabinet!
2 – HANDLE-LESS CABINETS
Knobs, handles, stove grates, or whatever it is, we'd like to keep it to a minimum. This means no handles on the cabinets, and an ultra smooth cooktop that blends in with the counters. And if i'm being honest, not having knobs or handles means one less place for dirt to hide, and one less thing to clean.
3 – NO UPPER CABINETS
No upper cabinets, please! A bold decision, maybe? It's a small kitchen, so with no upper cabinets, I think it will make the space feel even bigger. I'd like to have open shelving in place of upper cabinets, but realistically, it wouldn't be a place that we store our plates and glasses, it would be a fun place to style and decorate….obviously!
4 – MAX AMOUNT OF STORAGE
Kind of contraindicating to the last one, right? But, if we're planning on having no upper cabinets, then I need to maximize storage below. Somehow between the two us, Jacob and I have collected our fair share of kitchen gadgets we use a few times a year, but I can't seem to part with them, because well, we still use them! So bring on the storage!
Ok, with our must-haves out of the way, are you ready to see the three floor-plans and options for the space? I can't wait to get your opinion!
Kitchen Layout Option 1
PROS
With the bar area back in, I feel like it creates more of a grand and official kitchen area.
We could incorporate bar stools by the bar for extra seating.
Tons of open countertop space for entertaining purposes.
Lots of space in the middle to walk around.
CONS
I worry that we won't have enough storage and countertop space without utilizing that eastern wall.
The refrigerator is situated right up against a wall, which isn't an ideal spot. Plus, it could be a little close when someone's using the sink.
Potentially a weird, large blank wall?
Kitchen Layout Option 2
PROS
Max amount of storage possible with zero upper cabinets.
Max amount of countertop space.
The bar allows for extra seating and a nice place for lingering guests.
The back wall is simple but also makes a statement with the two long shelves. They'd be fun to style, that's for sure!
CONS
Utilizing the eastern wall creates less room to walk around.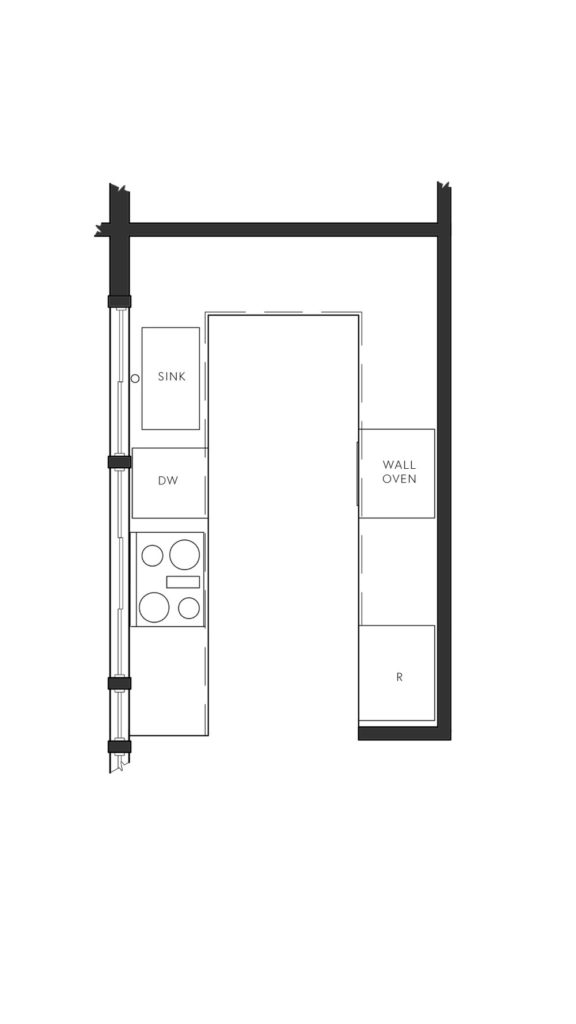 Kitchen Layout Option 3
PROS
All the appliances are spread out nicely
Max amount of storage and counter-top space
Lots of vertical space above the counters.
CONS
The wall closes off the kitchen from the rest of the house a little bit. This layout mostly reminds me of a kitchen that both Jacob and I had at a few different apartments in our early 20's. Not exactly sure that's what we want to recreate for our house.
No place for guests to stand and linger. We all know people love to gather in the kitchen area!
Lots of vertical space above the counters. I put this on the con list, too because it might just be too much vertical space, especially on the eastern wall. It could be a bold statement with the right back-splash or piece of art, but it would need to be just right.
It's a lot to take in and think about, isn't it? It's funny, Jacob and I both went into this project thinking that we'd like the kitchen laid out a certain way, but after mocking it up and playing with tape measurements on the floor, we might be changing our minds!
I'd love to know your thoughts on which floorplan is your favorite and why?
Let me know in the comments below! I know that this post was the first of it's kind, but tell me, are you guys interested in seeing more posts like this?
If so, then I'll keep blogging about the design as we go, and branch out into other rooms of our house!
If you're looking for some more inspiration like this kitchen, be sure to check out our Pinterest boards, Our Kitchen Remodel, and Kitchen Goals.