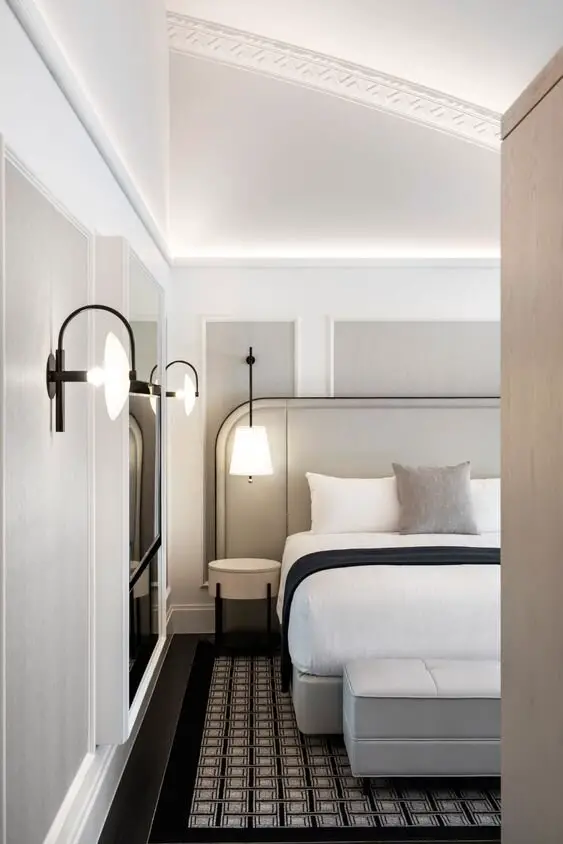 Images via SJB & Jonas Berg
If you've ever wondered how to arrange furniture in a square bedroom, I got you covered with five different bedroom layout ideas!
These floor plans are based on a 12' x 12' square bedroom, but they could easily be modified slightly for a larger or smaller bedroom.
And I know…there are a ton of different bedroom scenarios – maybe your closet is huge, maybe you don't have a closet at all… whatever the case, I hope to give you some insight and ideas on how to layout your own bedroom.
Before I go into detail about the five floor plan scenarios, I thought it'd be good to give you a couple of quick tips beforehand-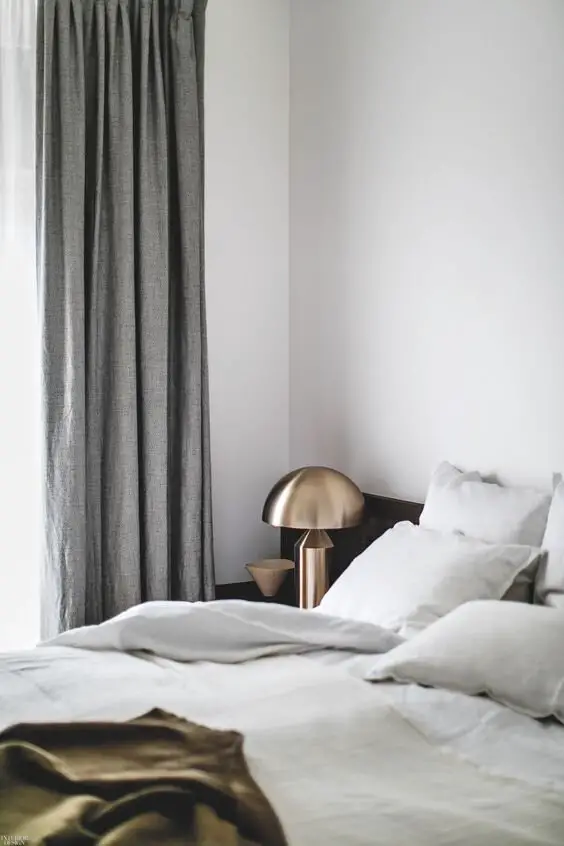 Images via Studio Jean Charles Tomas & Banda Property
Tips for arranging furniture in a square bedroom
Start with the scale of the furniture. First, figure out what size bed would be best. I think this is where most people go wrong, and they automatically assume they can fit a king-sized bed in every room. Unless that's the only piece of furniture you want in the room, you gotta be honest… what size bed will actually fit?
Leave at least 3' of room between the bed and a wall or closet. If there's less than 3' of space, then you might want to think about a smaller bed.
If you don't have room for a nightstand, think about putting a simple end table next to your bed. This could be a glass table or even a small stool.
Ok, ready to see some floor plan ideas for a square bedroom?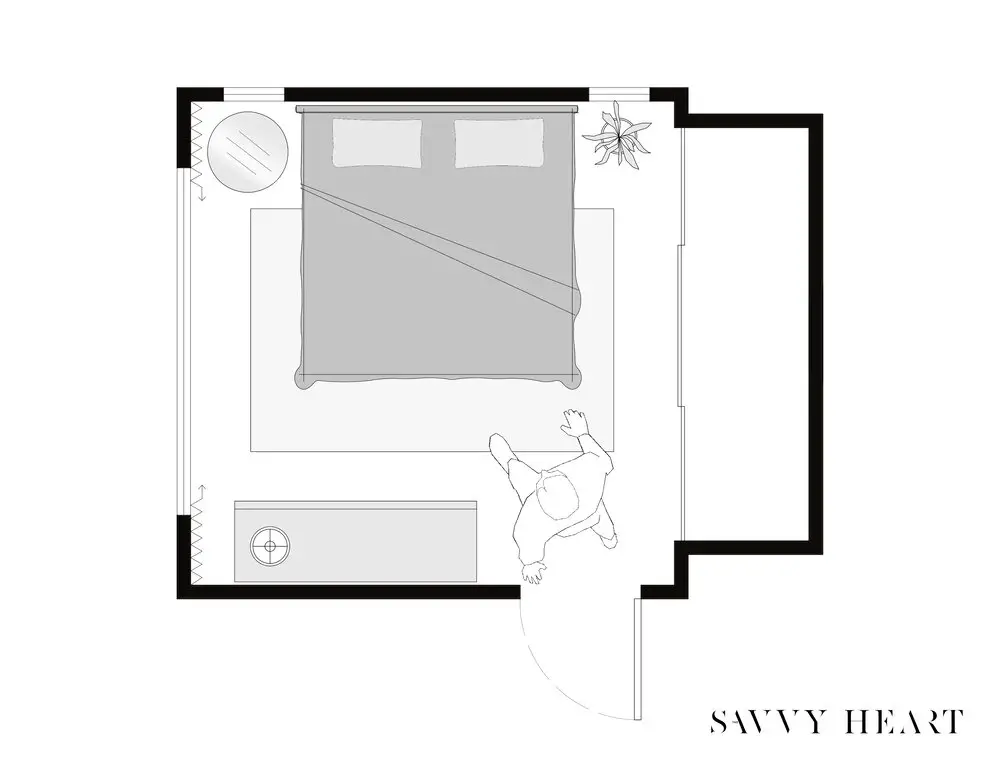 12×12 bedroom with wall of closets
In this scenario, there's a closet wall and multiple windows, so I placed a queen-size bed in between the two windows to center it in the room. I placed a round bedside table to the left of the bed, just to break up all the straight lines. And on the other side of the bed, I opted for a small plant so the closet could be accessible. Plus, a pop of greenery is always a nice touch.
And on the shortest wall, I placed a dresser. If you don't need the extra storage, you could opt for a chair and table for a cute reading corner.
12×12 bedroom with a wall of windows
In this scenario, there's a full wall of windows and the client requested a king-size bed. There are two empty walls, which you'd think would be great for placing a bed…. but since it's a king-size bed, I placed it on the window wall. This made the room feel larger since you wouldn't be walking directly into a bed as you entered the room.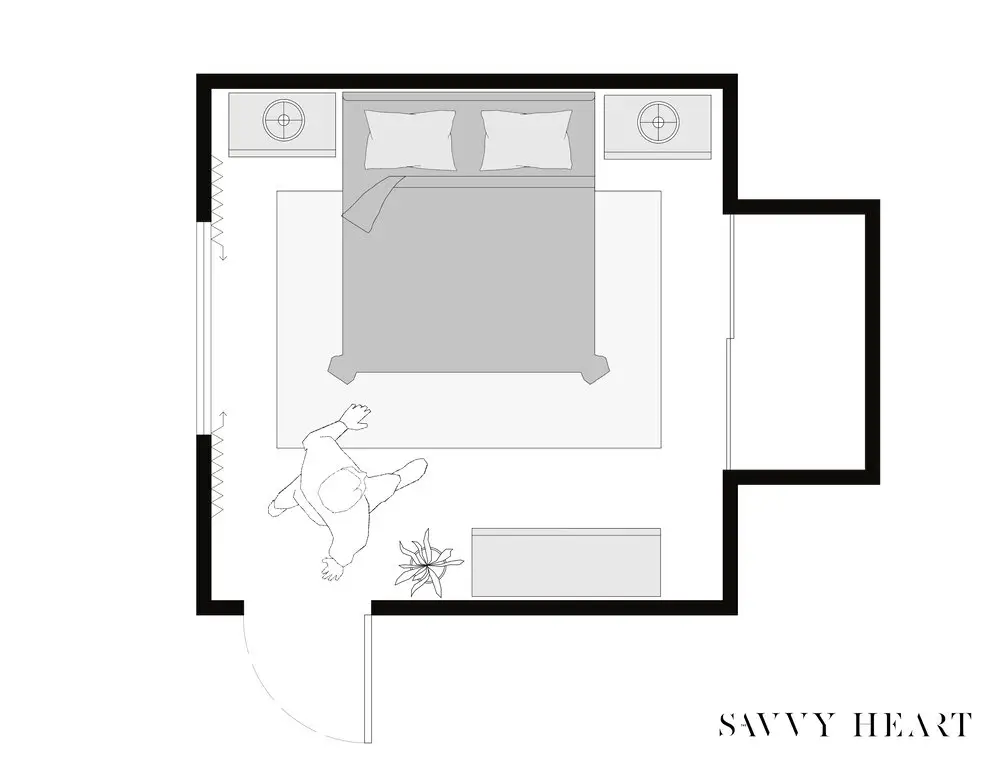 12×12 bedroom with one small window
In this bedroom, there's only one window, so looking at the plan, it's pretty easy to figure out where the bed should go. Hint: the biggest, most unobstructed wall!
To balance it out, I added two nightstands on both sides of the bed and a dresser by the door. If you need more storage, you could nix the plant and opt for a longer dresser, instead.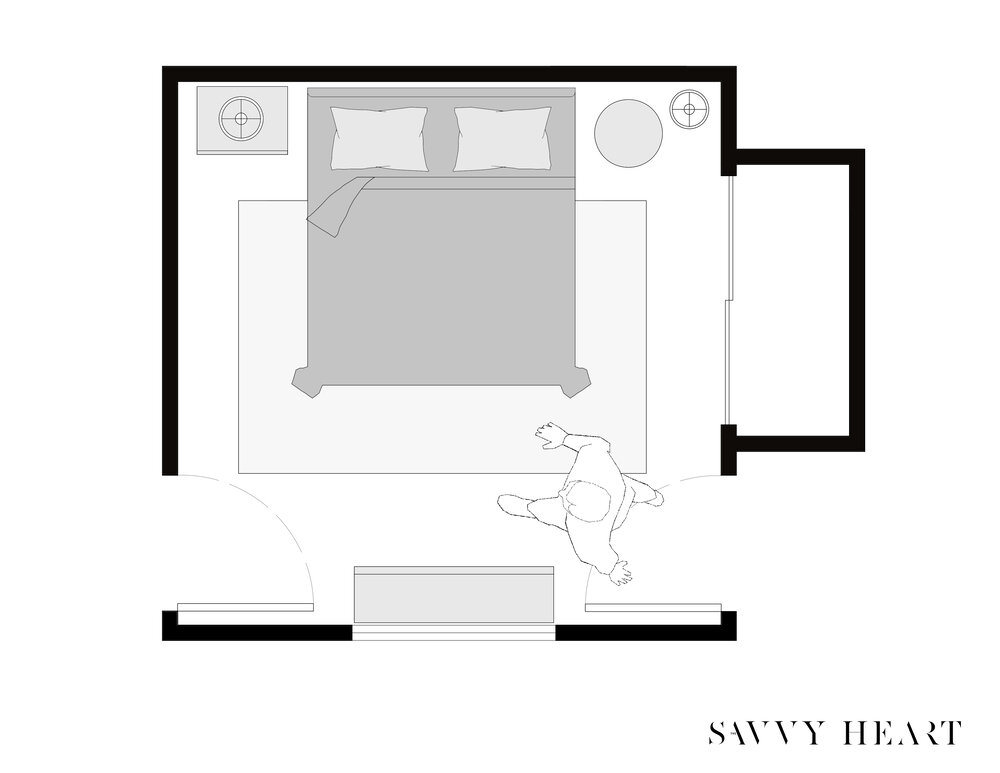 12×12 bedroom with two doorways + a closet
Just like the other scenarios, I placed a queen-size bed on the largest, most unobstructed wall, and balanced it with two bedside tables. In between the two doors there is a small window, which is perfect for a dresser or console table.
12×12 bedroom with one window wall + a wall of closets
Can you guess where the bed should go in this scenario?
You got it! I placed the bed on the biggest, most unobstructed wall. Are you seeing a theme yet?! The bed should always go on the biggest, most unobstructed wall.
After the large pieces were in, I filled the small void in the corner (by the closets) with a small plant. You could also do a display pedestal, or even put a bench under the window.

There you have it- five bedroom layout ideas for a square room. Pretty simple, right?
I hope this post gave you some ideas for how to layout your own bedroom. If you have any questions, feel free to drop them in the comments below or if you need help with your own space, check out my e-design services.
And if you're looking for an easy way to make a scaled floor plan of your space, be sure to check out the Savvy Room Planner! It's my printable space planning kit that allows you to test hundreds of ideas in a matter of minutes.
Until next time,
Cheers!