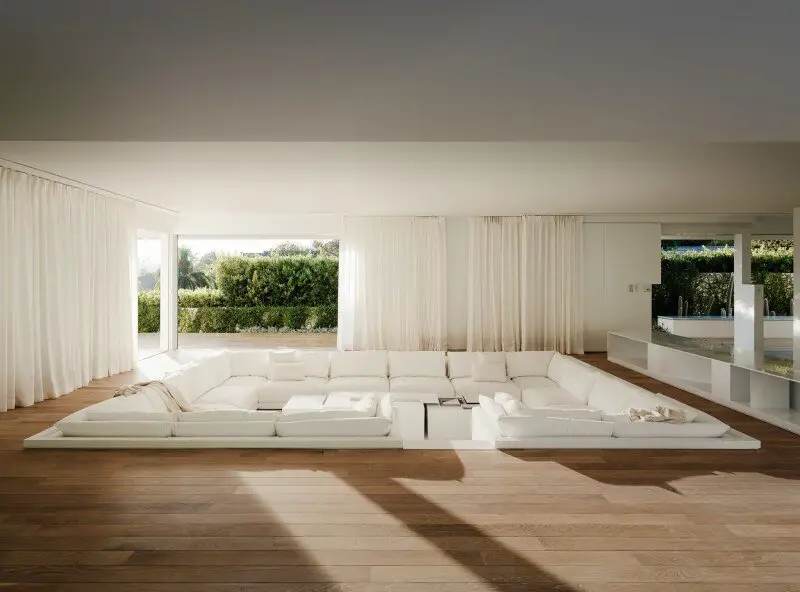 Image via Miguel Angel Aragonés | Taller Aragonés
Sunken living rooms, also known as conversation pits, are typically found in either mid-century style homes or brand-new builds that are ultra sleek and contemporary. It's also one of those things that people seem to have very strong opinions about- either they love them or hate them!
Whether you have a sunken living room or you're just curious about what it's all about, I've rounded up five of them that'll make you love this modern trend!
No. 01
This mid-century modern living room feels super light and airy thanks to the floor-to-ceiling windows and those sheer curtains! I'm always a sucker for sheers.
The fireplace draws you into the sunken living room, which really makes this space feel cozy- even with the minimalist style.
Design via Dina Malathounis
No. 02
This sunken living room has a minimal color palette, but it's anything but boring!
The wood-paneled walls, fireplace, and ceiling warm up this tiled-floor living room. The designers also outlined the sunken lounge area with more wood, which helps create a distinctive border while tying in the wood.
Design via Design by Studio Ezra | Photography by Jaime Diaz-Berrio
No. 03
This one is giving me Mediterranean beach vibes!
I love the casual feel of this sunken living room area, don't you?
The stairs are made with simple wooden blocks and since the cushions don't cover the entire seating area, it gives it a much more casual and modular feel…. Like you can move things around, depending on the activity happening.
Design by Unknown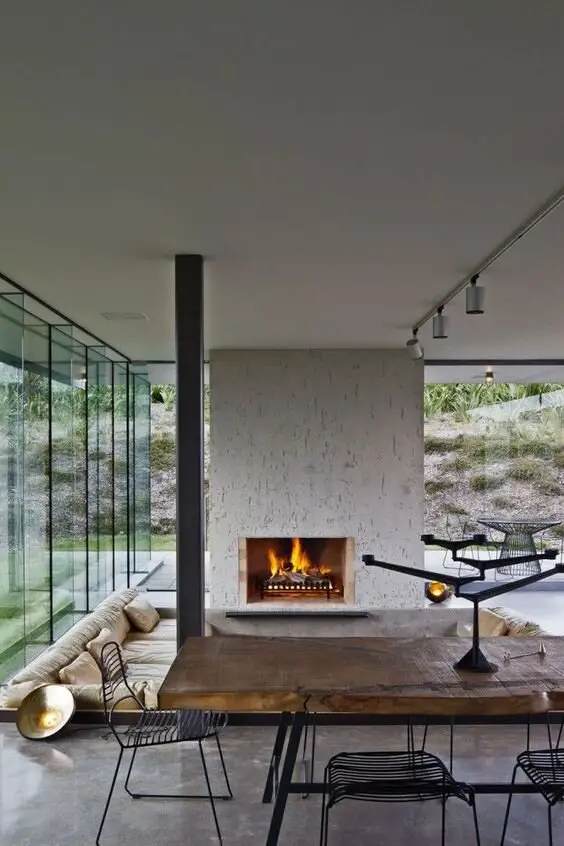 No. 4
This sunken living room is so chic!
I love the mix of materials- the leather lounge area, the stone fireplace, floor-to-ceiling windows, and that wood dining table.
The burning fireplace and wood table help warm up this all-glass living room.
Design via Fearon Hay Architects, Photo via Patrick Reynolds
No. 5
Doesn't that black fireplace just draw you in? It's a major statement against those gorgeous floor-to-ceiling windows.
Again, you'll notice a wood border around the sunken lounge area, which not only helps to warm up the space but it also creates a functional area to place drinks or decorative items.
Design via Marmol Radziner
So what are your thoughts about these sunken living rooms?
Are you a fan or do you think they should stay in the 60s? I'm kind of loving them! I think I just enjoy their uniqueness and the architectural interest they bring into the space.