Image via Residence & Residence
Want to instantly make your space look more high-end? Look no further than a modern pedestal! They're perfect for displaying art, sculptures, branches, a vase of flowers…. basically anything you want to look like a million bucks!
I just wrote a blog post about how I DIY'd my own pedestals, but if you're not into DIY projects, don't worry- I rounded up nine of my favorite plinths from all around the web so you can get this chic look with the click of a button!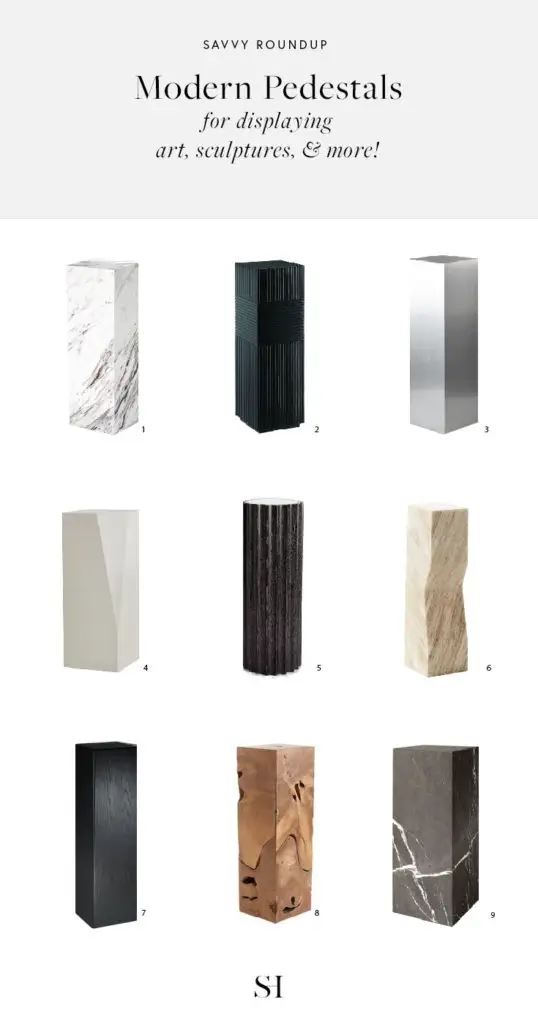 Shop my picks
Modern Pedestals
1- Marble Plinth via Pedestal Source
2- Odense Black Pedestal via Burke Decor
3- Metal Pedestal via Etsy
4- Albin Pedestal via McGee & Co.
5- Reflective Pedestal via Perigold
6- Vesta Marble Pedestal via CB2
7- Black Oak Pedestal via Etsy
8- Square Pedestal via Perigold
9- Marble Plinth Table via Burke Decor
If you're having trouble deciding which plinth would be right for your space, try to think about the look and style you're trying to achieve…
A white pedestal will give you an ultra-modern museum look, while a wood one will help warm up your space and make it feel a little more collected.
And if you want to make a statement then look no further than an all-marble pedestal!
Images via Menu Space & Nordic Knots
 Like I said before, you honestly can't go wrong with any of these pedestals! They will all add so much style to your space!
I hope you enjoyed this random roundup of modern pedestals, and I hope this post inspires you to try this look in your own home! If you get one, tag me on Instagram so I can see it! And if you want to learn how to DIY your own, hop on over to this post.