You know that room in your house that feels a little neglected? Well, for us, that room is our master bedroom.
Not only has it been a little neglected, but there are also several unfinished projects we've been meaning to knock out for at least a year now!
But now that we have a little pep in our step after finishing Phase 1 of our side-yard makeover, finishing this bedroom doesn't seem as daunting anymore! Plus, we gotta keep that momentum going!
Before I get into the design plan and DIY projects I have up my sleeve, I want to share a couple of before photos so you can get a sense of where we're at with the room-
Ok, so here's what we're working with…
As you can see, it's a mish-mash of colors from me testing some paint samples. But would you believe me if I told you that this is the only room in our house that is this finished?!
And honestly, it was a TON of work to get to this point! We replaced the drywall, added insulation (because it had none), and installed all new electrical. So now it's just missing some final details… like paint and an overall concept to fix the mess I've got going on.  
Ready to see what I envision for the space along with some inspiration?
Images via Sabon Home & Architectural Digest
Images via Behance & Coco Lapine Design
Master Bedroom Makeover – The Inspiration
I tried to narrow my vision down to a very specific look – light and neutral with minimal pops of black. 
There's something about a light and bright room that just gets me every time. I love how easy on the eyes it is, yet a few things keep it interesting, like the different textures, sculptural elements, and those beautiful pops of black! Swoon-fest, right?
I also love the idea of using a side table as opposed to a traditional nightstand. Sometimes I feel like nightstands can make that one wall feel a little heavy, ya know?
All-in-all there are a few things in common that I want to emulate in my space, and those are:
a light and neutral color palette
lots of texture – linens, velvet, cotton, etc.
interesting lighting
minimal pops of black
simple, white bedding
Ok, now that you've seen where my head is at, ready to see the concept I pulled together?
Shop the look: A Minimalist Bedroom
Master Bedroom Makeover- The Floor Plan
The floor plan is pretty straight forward… since we have a king-size bed, there's only one wall that works, and that's the window wall. And while this isn't the first place I'd typically put the bed, it's the only spot that makes sense.
As for the rest of the room, I want to keep it as open as possible.
I'm going to opt for some bedside tables that are a little more sculptural looking. Long term, I want to have some nightstands custom made, but in the meantime, I think it'll be fun to use a couple of accent tables I have lying around the house.
Next to the closet, I snuck in a large floor mirror and small stool. The mirror will help make the room look slightly bigger, and the stool will be nice to sit on while figuring out my outfits!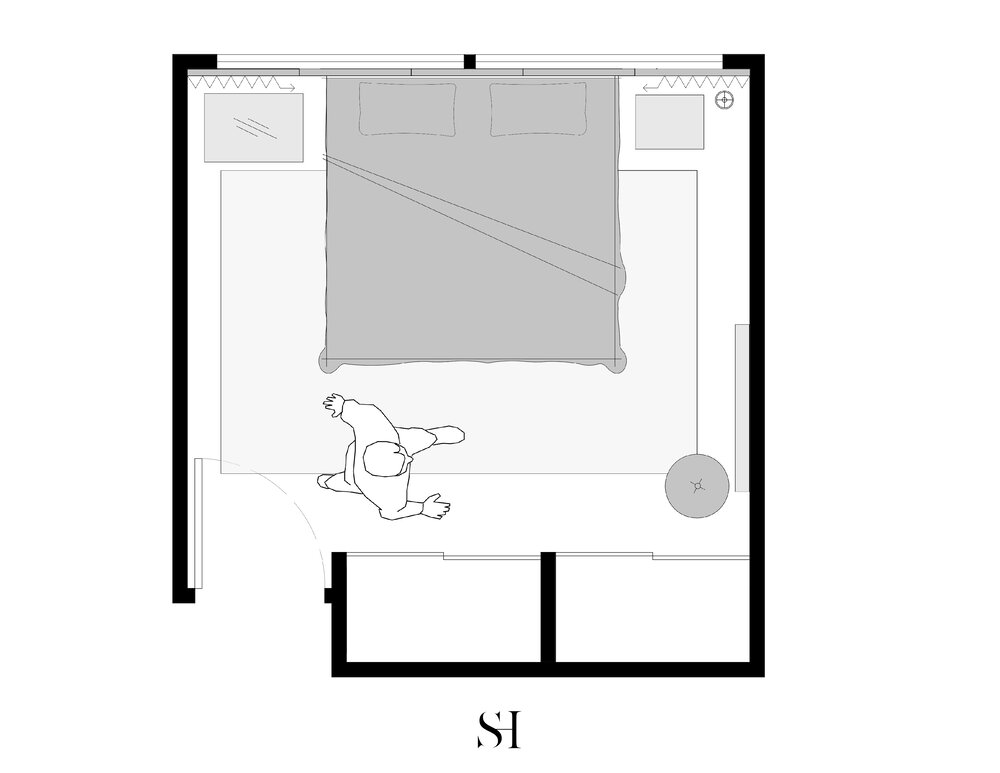 DIY Project: A Wall-to-Wall Headboard
One statement piece will be this fabulous wall-to-wall headboard!
I plan on upholstering five individual panels and hanging them separately to create the look of one long headboard. Cross your fingers this works out as well as I have planned…if it does, it will look so chic!!
As for the bedding itself, I'm teaming up with AllModern to outfit our bed with all new bedding. 
I couldn't be more thankful to get some new bedding because we've been consciously trying to buy clothing, blankets, towels, etc. with all-natural fibers. So I plan on finding some 100% cotton or linen bedding, which will allow our skin to breathe. Plus, I've been a little obsessed with linen lately… I just love the texture it brings! And doesn't it just feel right for summertime?!
As for the color- I'm sticking to white. Call me boring, I don't care… I love white sheets! Anyone else agree?!
Jacob doesn't really understand why I like it, and neither do I… I think it might just be a mind thing.
The white makes me think I'm jumping into a perfectly fresh and clean bed every night. Maybe? I don't know… Either way, there's nothing better than some clean sheets, right?!
Well, there you have it- my plan and design concept for our small master bedroom! P.S… if you have a square bedroom like ours and need some layout ideas, check out my post, '5 Layout Ideas for a 12 x 12 Square Bedroom'
And if you're interested in watching me transform this space in real-time, be sure to follow me on IG and stay tuned for a full reveal on the blog!
Until next time,
Cheers!